6 things to know before building a shipping container home guide, Small property tips, Home design advice
6 Things To Know Before Building A Shipping Container Home
15 Jun 2021
Building a home out of a shipping container seems to be a great idea. However, it's not as easy as you think. Unlike building a traditional home, there are several things you should know before you decide to build a shipping container home.
Since shipping containers aren't widely used to construct a home, it's wise to be aware of the following. This is to ensure that your home is beautiful, structurally sound, and sustainable.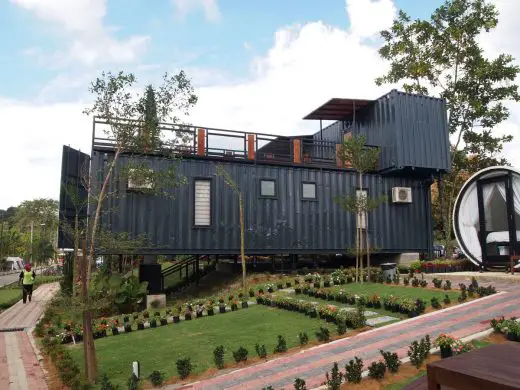 6 Things To Know Before Building A Shipping Container Home Guide
Not All Shipping Containers Are Made Equal
One of the things you should know before you build a shipping container home is that not all shipping containers out there are made equally; there are many types of shipping containers. However, the most commonly used for buildings are refrigerated, standard, and high cube.
Basically, high cube containers are the same dimensions as the standard containers, but they're an extra foot taller. A high cube container is also more expensive than the standard one. However, the extra foot of height is worth it, particularly if you want to insulate the base of your shipping container.
Other than determining the kind of shipping container to use, you'll also need to decide on the container's condition and choose the one that's most appropriate for your case. So, when building a shipping container home, choose a supplier that offers quality containers. If you don't know what's best for your needs, you can ask for recommendations from the suppliers.
Hire A Contractor
Finding a contractor may be hard because building a shipping container home is a fairly new method to construct homes. Hence, there are several contractors with relevant experience. Still, a knowledgeable contractor can make your project run smoother and will help you enjoy the benefits of living in a container home.
Plan Ahead For Electrical And Plumbing
When building your shipping container home, ensure that you know where the electrical and plumbing lines will leave and enter your house.
Thus, before you finish your interior, ask your contractor to cut the holes for electrical and plumbing lines. Once you do this, you'll be able to avoid moving your kitchen cabinets to cut a hole to run another pipe you forgot.
Research About The Building Regulations And Codes In Your Local Area
Another thing to know before building a shipping container home is to be aware of the local codes and regulations in your area. Failing to do so can cause problems in the long run. This is especially true with shipping container homes since not all communities have addressed such problems before.
So, the best thing that you should do is to visit your local area's planning office to know how receptive they are to the concept of shipping container homes. Depending on the rules in your local area, you may need a little persuasion to start your project and get permission.
Avoid Cutting Your Shipping Containers
Since shipping containers are made out of solid steel, they're extremely strong and the walls can be load-bearing. This is vital to note if you like to add a second story or create another roof structure.
Thus, before you cut a hole in your shipping container for an extra window or door, you have to keep in mind that you're also affecting the structural integrity of your container. In this case, you might need to invest in a good-quality steel beam for reinforcement. This can also cost you more over time. If you don't want that to happen, avoid cutting too much on your shipping containers.
Pick Your Insulation Wisely
When you're constructing any kind of shipping container home, you need to consider insulation. You have to pick the right insulation to prevent moisture from entering your shipping container.
More often than not, the most known insulation type for shipping container homes is spray foam insulation. It isn't only thinner compared to insulation panels once applied properly, but it'll also serve as a vapor barrier.
Generally, you can spray the container's exterior base and interior walls. Such layers provide enough insulation. But the only disadvantage of using this kind of insulation is that it's expensive.
Fortunately, there are other options you can consider if your budget is limited. Just take note that other insulation options don't offer the same vapor barrier that spray foam insulation does. So, if you're willing to spend an extra dollar for your shipping container home, you can never go wrong with choosing spray foam insulation to insulate your house properly. Doing so enables you to make the most of your shipping container living experience.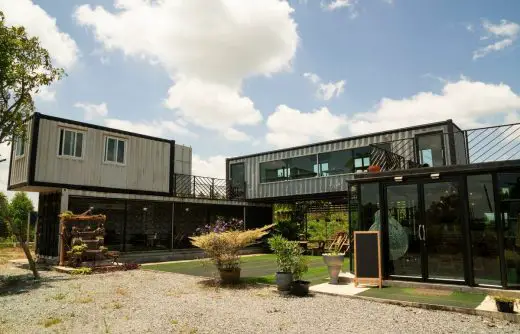 Conclusion
Before you start building your preferred shipping container home, spend more time researching the building codes in your area and what kinds of containers you'll have to purchase. Also, it's essential to remember that you should see the shipping containers first before you decide to get one. This will help you avoid getting a shipping container that's rusty, damaged, and dented.
Comments on this guide to 6 things to know when building shipping container home article are welcome.
Modular Homes and Cabins
Modular Home Posts
Modular cabins: fast and affordable home
Five innovative applications for modular buildings
Building a new home? Custom vs Modular
Modular building like a shipping container cafe
Building Articles
Residential Architecture
Comments / photos for the 6 things to know when building shipping container home page welcome