Ten tips for optimizing your living space guide, Property style tips online, Home design advice
Ten Tips For Optimizing Your Living Space
17 Jun 2021
People have different preferences when it comes to houses. Some people like small rooms while others prefer space to work with. Though the size of the house isn't relevant, it's how you use the area is what matters.
Intelligent use of space helps make crowded areas look spacious, and on the other hand, overcrowded rooms could make open spaces look congested. It's how you manage your living space, whether it's your bedroom or the family room; if you know a thing or two about interior designing, you can transform your living space and make it appear larger than it is.
Here are ten tips to help you manage and optimize your living space: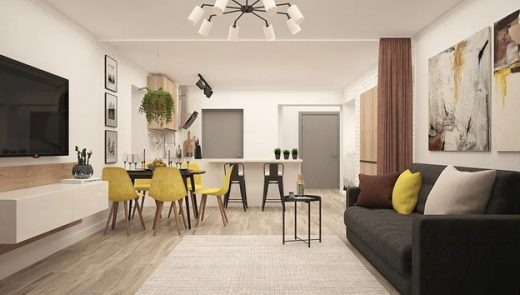 Ten Tips For Optimizing Your Living Space at Home
Keeping the Tone Light:
Colors always play a significant role in making anything visually appealing. Besides this, they tend to make things either look smaller or bigger. Keeping this in mind, the walls and roofs can be painted white to open the room.
The color white gives an open-space vibe to rooms, but it isn't necessary to go for pure white because every lighter shade would do that. Moreover, you can opt for transparent furniture to make your space look less congested and give the area a cleaner, more minimalistic look.
Replace the old stuff:
When it comes to the public or family rooms, various things should be kept, and the rest should be discarded. Also, the more times people use a room, by nature, the more stuff they end up putting in it, which would make the space look congested.
It is better to replace the unwanted stuff with only the required stuff or minimal furniture in this scenario. But you don't have to sell off the old stuff either. There are solutions for self storage if you're short on space in your house.
Using stuff that is only needed will help bring a cleaner look to the area and make it look less congested.
Decorate your walls with paintings:
Hanging the paintings or photo frames a bit higher than eye level can make the walls look taller. Yes, when people raise their heads to look at something, that space eventually feels bigger. Moreover, it saves space on the floor, which can be further utilized to place furniture and even use carpeting. Along with that, the walls can be used to install a television so space can be used more efficiently.
Opt for Curves:
Tables with curved edges tend to provide more space to make moving around easier than sharp-edged tables. Moreover, smaller round tables take up lesser space as compared to ordinary ones. You can place these tables between chairs or stack one on top of the other to save space when not in use without them looking messy.
Additionally, round tables make your living space look stylish when placed in the center of the area or used as a dining table.
Go for High Placement of Objects:
If you want to organize various things, installing shelves and cabinets on the walls would help without consuming a lot of space. Furthermore, higher placement of shelves and cabinets help the respective room look cleaner and less congested. Hence, frames and wall-mounted shelves add to the beauty of your space, enhance space while making the area look bigger than it is.
Simplicity Is Charming Too!
It isn't essential to have a massive piece of furniture to beautify your room. However, having smaller and simpler furniture can give a much cleaner look. Moreover, it tends to occupy less space if you have a simple table, making the room look simpler and more elegant. Simplicity has its charm, and while you can add sofas and chairs to increase seating capacity, you'll still have enough space to move around without making the area feel crowded or messy.
Look for the Availabilities:
When you want to decorate your sitting area with indoor plants, yes, that extra window frame will look fabulous with some pots on its surface. Decorative items look tremendous and adjust quickly, even on small surface areas. So, you don't need to install any more tables or desks to place them.
Install a mirror
A mirror mounted on the entrance wall affects the overall look of your home and makes it look wider. Moreover, mirrors can be used inside a wardrobe to maximize its size too. You can try a partition door with a mirror for increased transparency to help make the area seem more significant.
It's interesting to note that hanging mirrors are one of the best ideas to optimize your living space, and they also enhance the overall look of your interiors – making them look more appealing.
Increase the Brightness:
The brighter the room, the better it looks. Similarly, the darker the room, the lesser space it seems to have. So, installing a good amount of light bulbs and lamps can work effectively. Moreover, the increased brightness adds to your productivity if you're in a study room.
With more light, you'll be more energetic and productive when you work. Along with that, installing innovative and unique light bulbs enhances visual pleasure and affects moods. This simple but effective tip makes the area look bigger and more accommodating.
Maintenance Is a Must:
The most crucial aspect of optimizing your living space is its maintenance. Yes, an area that is kept neat and clean naturally looks better and more prominent. Here, the removal of clutter and organization of the necessary stuff is the key.
With regular maintenance, your area looks well-maintained and optimized. So, whether the place is big or small, it seems wider when it is clean.
Overview:
Having a small living space isn't bad if you know how to work with it, because at times, even bigger areas look congested if they're not maintained or optimized. Be creative, experiment, and see what works for you. The process of de-cluttering has a positive impact on your space and yourself as a person. You'll feel better, more energized, and productive if you're using lighter shades, mirrors, and wall hangings.
Comments on this guide to Ten tips for optimizing your living space article are welcome.
Living Rooms
Living Room Posts
Trendy Living Room Design Ideas
Top 10 innovative living room decorating ideas
Ideas for arranging a living room with corner sofas
Building Articles
Property and Architecture
Comments / photos for the Ten tips for optimizing your living space advice article page welcome