7 luxurious and affordable details to take your bathroom to the next level, Building Design Profession Tips, Online Advice
Take Your Bathroom to the Next Level
23 Feb 2021
There's nothing more unsatisfying than to get in the bathroom that's plain and simple. Without any character and premium details, it can look bland and too ordinary. Undertaking a bathroom remodel is an exhilarating experience, but once it's done, it will make you and your family feel much better every time you get in.
If you want to make your bathroom more luxurious, but you don't want to overspend, we've got you covered. With seven ideas on how to upgrade your bathroom design, you'll have all the necessary tools to make it happen.
Add LED Lights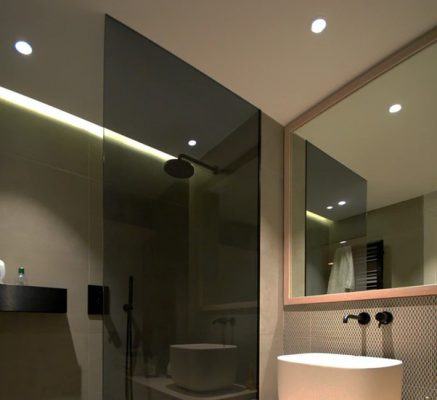 Long stripes of light running along the ceiling's length, around the mirror, or above the shower provide lots of warm ambient light. If your shower is in the corner of the room, the LED light will accentuate its lines as if it were a central piece.
Should you place LED lights around or behind your mirror, they'll provide you with enough light for skincare and makeup to create the perfect vanity corner. They're best if you use them as an additional light since you can choose their shade and even opt for ones whose color you can change.
Get a Good-Looking Shower
Using two types of tiles in a walk-in shower can result in lovely visual contrast. You can choose tiles of different shapes, sizes, colors, or patterns, but there has to be something that will harmonize them. Furthermore, you can choose from a variety of shower enclosures to replace the old ones. New enclosures can have different types of glass and a frame with a matte finish.
Currently, black metal enclosures are trending, but golden ones can add a touch of glamour to your bathroom. And if you combine them with matching faucets, you'll notice how your bathroom looks and feels a lot different.
Get the Details Right
Once you're done with the bathroom essentials, it's time to decorate it right. Every luxurious bathroom should have all the matching details to have a calming effect.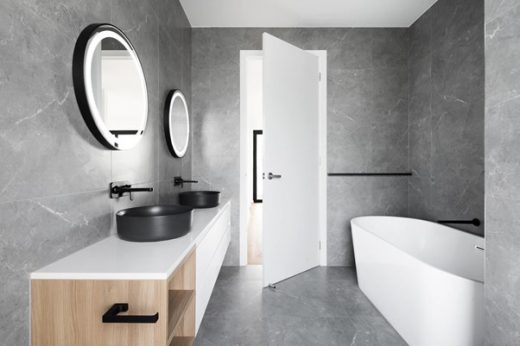 That's why if you want a luxurious feeling, you'll have to spend some time changing the details. One of the first important details is knobs. Try to connect them with the material or color of the faucets. So, if the faucets are black, opt for a simple black knob. On the other hand, if you like simple metal faucets, the knob should follow the same line.
Next on our list is a bathroom rug because it's so easy to wrong with that one. If you like to step on a soft and comfortable surface after showering, you'll have to find something that looks good and matches the rest of the room. It would be best to get the one that has the same color as the tiles or a similar pattern.
Last but not least, an important accessory is the baskets. Since you'll have to place your fresh towels, toilet paper, or other necessities, baskets are the way to go. Whether you prefer metal ones or natural ones, made from rattan or wood, all of them will look good as long as they go well with the rest of the furniture.
Use Wallpapers
It might sound a bit strange, but using wallpapers in your bathroom can make all the difference. In bathrooms that have on the floor and up to half of the wall, they're an ideal solution to make your bathroom stand out. If you're unsure how to use them, ask an architect for professional advice or help with the redecoration process.
Should you want to create an accent wall in your bathroom and don't want to splurge on new tiles, wallpapers could be the right solution. However, you have to be careful and use them only in bigger bathrooms since if there's too much vapor, wallpapers will start to peel off.
Wall-Mounted Faucets
A wall-mounted faucet is a mounted tap coming out of the wall above the sink, bathtub, or kitchen sink. They're available in a variety of styles, finishes, and sizes. Many people like to use them because they have a simplistic modern look that's considered premium. They can also look very sculptural and easily become the centerpiece of any bathroom.
The main advantage of using this type of faucet is that you can clean your sink easier as dirt and calcium don't have anywhere to accumulate. Plus, you can easily replace them with new ones due to their universal design.
Floating Vanity
To make your bathroom appear more spacious, instead of getting a wall-to-wall cabinet, try to create a floating vanity. Without a traditional vanity, the room will look more spacious and cleaner.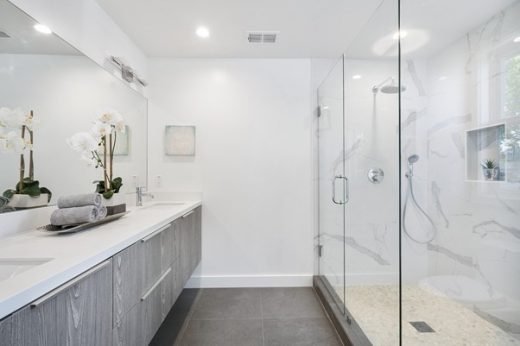 When you're chasing the vanity, you can use the change to get a new, modern sink with simple lines.
With a floating vanity, you'll easily declutter your bathroom and place everything in its drawers or stylish boxes. Adding pull-out drawers with a lot of storage will help you store all your day-to-day necessities and have them close.
And, if you're living in a small apartment, you can place your washing machine under the sink and save a lot of space. With an easy water connection, you can simultaneously use them or even place the machine in a specially designed cupboard next to the vanity.
Premium Details, Premium Feeling
Completing a bathroom renovation is an equally exciting and complicated project. When you don't have enough space for everything, you'll often have to make compromises. However, if you don't always play safe and splurge in the right places, you'll end up with a project you'll feel good about every day.
Since a bigger budget means more space for refurbishing, try to do as much as you can with the budget you've set. Sometimes it will require you to use your tools, paint, or do things by yourself, only to save money you would spend on a painter or tiling professional.
Now, with a guide on how to add premium details and uplift your bathroom design, you'll have all the essential tips to start a new reno.
Comments on this 7 Luxurious and Affordable Details to Take Your Bathroom to the Next Level article are welcome.
Home Articles
Residential Architecture
Comments / photos for the Luxurious and Affordable Details to Take Your Bathroom to the Next Level page welcome