Single bathroom vanities designs for small bathrooms, House decorationg tips, Property renovation design advice
Single Bathroom Vanities Designs for Small Bathrooms Tips
2 April 2022
When your bathroom is small, the appropriate vanity may help you feel more spacious while staying within your budget. In a small area, smart vanity designs may pack a lot of elegance and storage. These vanities for small bathrooms make a huge impression without overwhelming the space. Your bathroom need a vanity, but that does not mean the construction has to be uninteresting.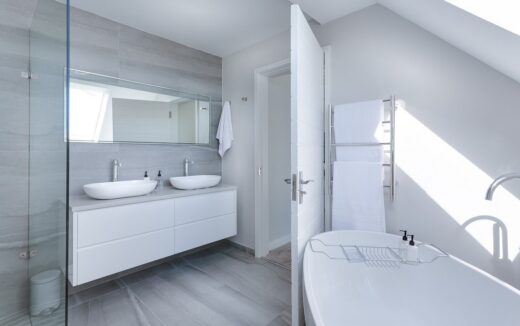 Single Small Bathroom Vanities Designs
With so many tiny bathroom vanity designs to pick from, finding the appropriate vanity that looks beautiful and does not take up too much space in your bathroom is simple. Furthermore, if you really are looking for Single Bathroom Vanities Designs for Small Bathrooms then, you can check out Vanderloc.com Vanities. These vanities are one of the best vanities that are available in the market. Nevertheless, here are some of the best as well as Single Bathroom Vanities Designs for Small Bathrooms.
Consider your layout from the inside out.
A single-sink vanity may often make the most of a little space. This bathroom's design maximises floor space while also taking use of the ceiling height. Behind the deep-navy vanity, a wall-to-ceiling pattern tile makes an eye-catching exhibition. Blue-black penny rounds provide a glossy finish underfoot.
With all the trappings of traditional style
Venetian mirror, exquisite moulding, timeless furniture-inspired vanity, and basketweave floor tile — but in a fresh, modern way, this bathroom updates the conventional classic. The narrow mouldings are painted spring green, the vanity has statement-making chrome knobs, and the sconces are literally linked together with a bow.
Assemble a Counterweight
This bathroom has a very contemporary atmosphere thanks to a little asymmetry. A bubble pendant light hangs on the other side of the sleek grey vanity, which is contrasted to one side by a slick brass wall-mounted faucet and sink. The enormous mirror mirrors the rest of the bathroom, giving the impression of more space.
To Order, Add Containers
Another one of the essential as well as most important vanity design is adding containers to the vanity. To keep open shelf in your vanity tidy, use baskets or boxes. A clean-cut basin sink sits atop this natural wood vanity, which is set against a watery blue wallpaper backdrop. A huge circular mirror optically expands the room and bounces light throughout the room.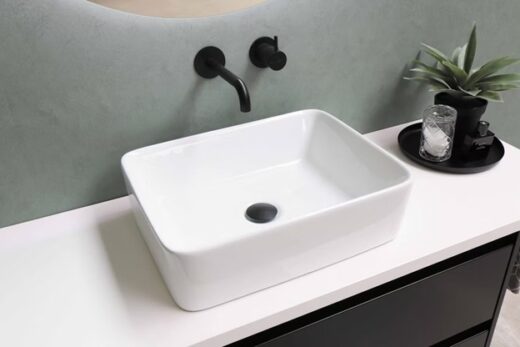 Incorporate Modern Elements
Replace obsolete fixtures and hardware with on-trend brass pieces for a quick and easy upgrade to an existing vanity. Two brass sconces flank the mirror, complementing the modern fittings on the wooden single-sink cabinet, while an eye-catching wallpaper offers a burst of print behind it.
Maintain a Practical Way of Life
You do not have to give up storage just because you have a single vanity. This rustic piece offers plenty of drawer capacity as well as open storage beneath it for storing new towels. The bathroom is a wonderful blend of natural materials — blue-hued wood panelling and rustic mirror framing — and nautical inspirations — lantern-inspired sconces and striped window curtains — reflecting its lakeside location.
Comments on this guide to single bathroom vanities designs for small bathrooms article are welcome.
Bathrooms
Bathrooms Posts
Bathroom Flooring Best Options Guide
Top ways to upgrade and update your bathroom
Buildings
Residential Architecture Articles – selection:
Comments / photos for the Single bathroom vanities designs for small bathrooms advice page welcome