Surface & Materials Show 2017 Birmingham, NEC Event, Architecture Design Show
Surface & Materials Show NEC Birmingham, UK
West Midlands Architectural & Interiors Event, England, UK
5 Oct 2017
Surface & Materials Show 2017 at NEC Birmingham
Surface & Materials Show at NEC Birmingham
Event dates: October 10-12, 2017
The finishing touches are taking shape at the
Surface & Materials Show 2017
The essential show for specifiers returns to NEC Birmingham, October 10-12 2017
The countdown is on to all the variety and fascination of The Surface & Materials Show, the feast of colour, texture, pattern and high-performance finishes at UK Construction Week, which offers nine key exhibitions under one convenient roof.
There is much to discover from both leading names and emerging brands, and much to learn from an extensive programme of talks, demonstrations and CPDs.
Fascinating products to experience at the show range from elegant wallpaper in on-trend botanical themes from rising star Kit Miles Studio, to hi-tech grids for pergolas and 'air walls' by I-Mesh and woven wire solutions with a retro feel from Amron Associates. Innovators such as Pintark by Loco Design explore the use of texture in materials with beguiling coverings in leather and metal. For the best in exterior finishes look to Sant Anselmo and Flowcrete and for the glamour of metallic effects head to Ay yapi to discover SolideSignature.
Here's a selection of the many innovative products and designs at this must-visit industry gathering:
Sant Anselmo's high quality terracotta tiles include ranges ideal for exterior façades, as shown here in Corso Terra Dragwire Smoked, on the Celine building in Seoul, South Korea.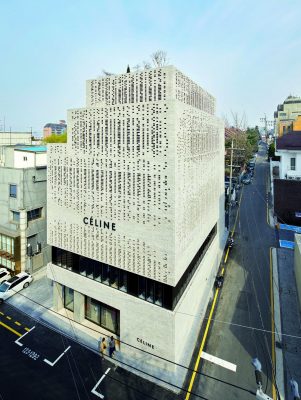 Kit Miles Studio's Biophillia wallpaper design captures the majesty, complexity and beauty of plant life across the globe. Available in five colourways. Shown here in Jade / Pink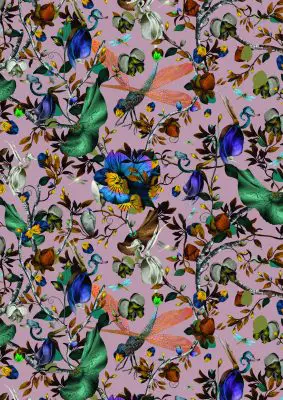 The innovation hub at the Surface & Materials show is curated by the experts at The Material Lab, who have chosen a variety of intriguing new materials to showcase at the exhibition.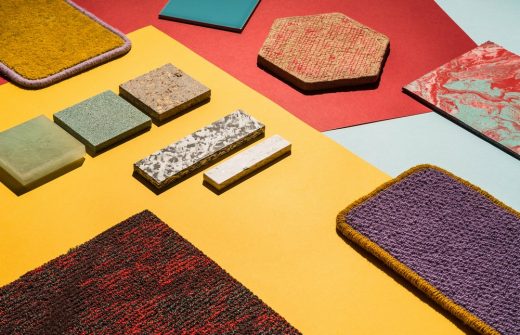 I-MESH produces hi-tech grids to create striking 'air-walls' or pergolas, as show here in 3 Golds White in a Basalt Facade Finish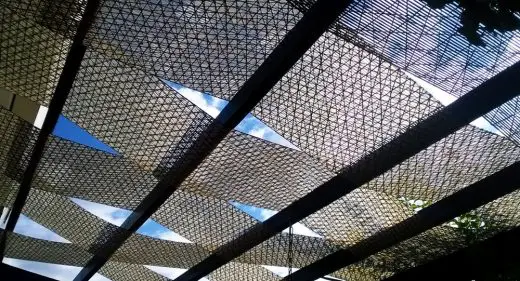 L-80 black copper plated metal mesh and L-3 brass mesh, two woven wire mesh products installed around the lift in a renovated Victorian building by Squire & Partners. Bankers Wire by Amron Associates.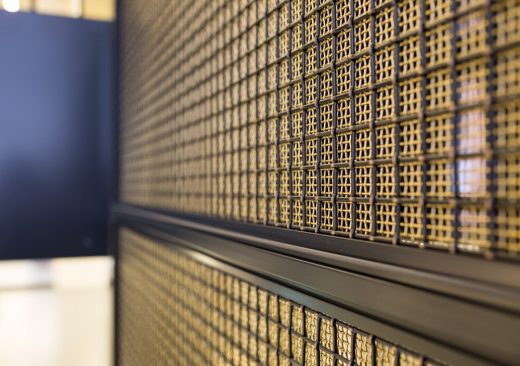 Kit Miles Studio's Ultraviolet Garden wallpaper design describes the wonders of physics and the natural world through ornate and surprising hand drawn imagery. Show here in Atomic Blue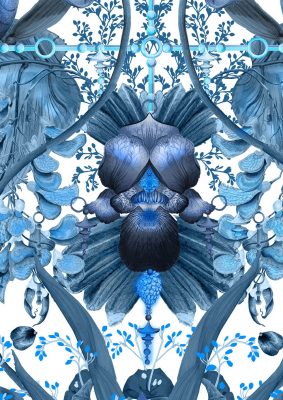 Ay yapi's chemical-free coating procedure uses 100% natural metals, creating an ultra-thin yet water-proof, corrosion-resistant finish. It can be applied to any hard and soft surfaces that meet the adherence criteria, creating countless possibilities for interior and exterior use.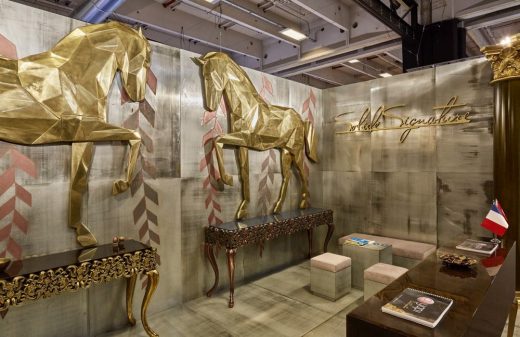 Mondeco Mirrazzo by Flowcrete is a seamless, hardwearing, epoxy resin terrazzo floor finish comprising a blend of aggregates to deliver a contemporary aesthetic.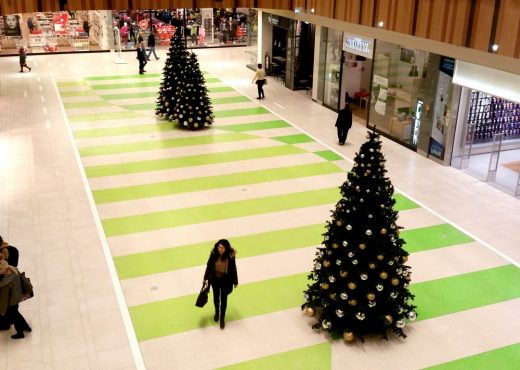 Kit Miles Studio's Ultraviolet Garden wallpaper design describes the wonders of physics and the natural world through ornate and surprising hand drawn imagery. Shown here in Aspirational Autumn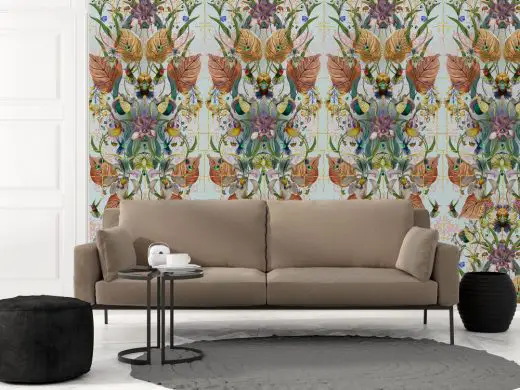 The Surface & Materials Show will also host informative talks, debates and CPDs from event partners, including BRE, Grimshaw Architects, The Design Concrete Centre, The Cambridge Graphene Centre, Canon 3D Printing, and Bath University among many other. Meanwhile, on the main stage at UKCW and three dedicated CPD hubs a key programme on building and fire safety will run.
The Surface & Materials Show will take place at NEC Birmingham, 10-12 October 2017 as part of UK Construction Week. Now in its third year, Surface & Materials will showcase the latest surface solutions for architects, interior designers, specifiers and industry professionals seeking a broad range of in¬novative and high-performance products.
Harlem from Pintark by Loco Design. Undulating 3D surface formed from hexagonal leather components. The effect is created through a selection of textured and metallic transfer leathers.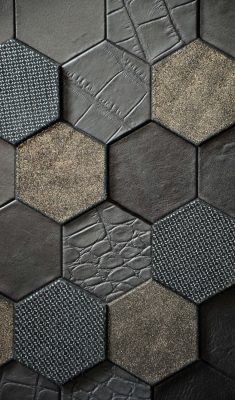 Foliage from Pintark by Loco Design: Freeform technique where individual hand pinned petals create an organic ruffled surface. The materials are leather and metal. Max panel size: 2440 mm x 1220 mm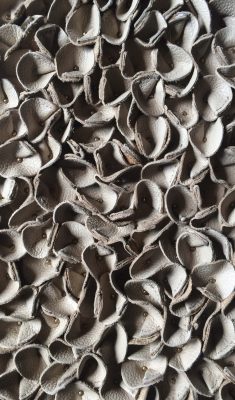 Application of various choices from the Cover Styl decorative films range, a quick and easy solution for updating interior design, as seen Architextural's new Inspiration Centre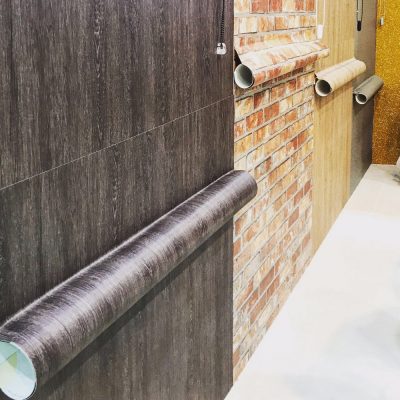 Karak tiles by Sant Anselmo. This captivating repeating geometric pattern is inspired by the century-old Japanese raku technique. A combination of clay and loam mixed with quartz sand and fireclay, these tiles are retouched by hand after the designs are applied by silkscreening.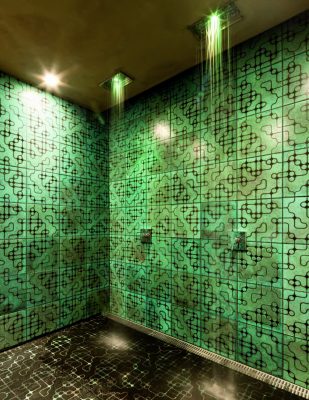 Please click: The Surface & Materials Show
Surface & Materials Show 2017 at NEC Birmingham
Knowledge Sharing at the Surface & Materials Show 2017
The Surface & Materials Show 2017
The Surface & Materials Show in Birmingham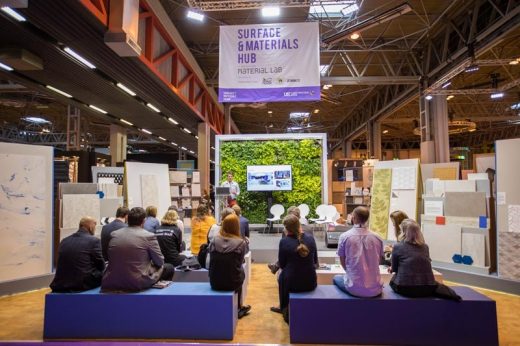 Surface & Materials Show 2017 information received 051017
www.surfaceandmaterialsshow.co.uk
Instagram: @smshowUK #SMShow
Address: Perimeter Road, Birmingham B40 1NT, UK
Phone: 0121 780 4141
Architecture Articles
Architectural Articles – Selection
Real Synthetic Architecture : article by Brian Carter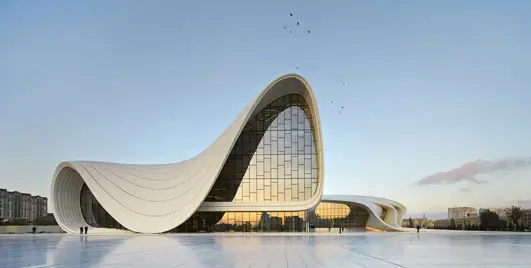 photograph : Hufton + Crow
Architectural Narrative : article by Trevor Tucker
Old World / New World Architecture : article by Brian Carter
Surface Design Awards
The Surface & Materials Show Programme 2016
Surface Design Show 2017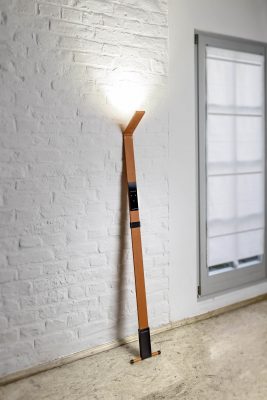 Surface Design Show 2017 UK
Website: Surface Design Show
Comments / photos for the Surface & Materials Show NEC Birmingham Article page welcome
Website: NEC Group