Selling Your House – 5 Ideas to Increase the Value of Your Property Advice, Design Tips, Home Sale Guide
Selling Your House – 5 Ideas to Increase the Value of Your Property
11 Sep 2020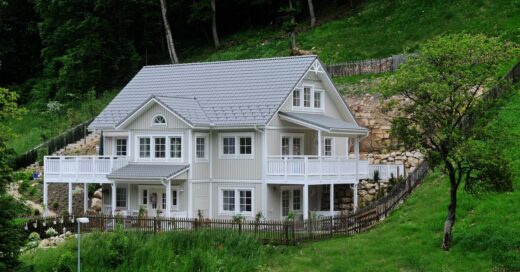 Selling a house is usually a slow and time-consuming process. "Most homes remained on the market for an average of 65 to 93 days in 2018, from listing to closing. This was way down from 140 days in 2010 on the heels of the mortgage crisis." say specialists from thebalance.com.
The main goal is to sell the house for the highest possible price. Whether you're selling directly to another homeowner or an agency like Burlington House Buyers, the value will always be determined by its current appearance and condition. So, if you want it to be worth more, you need to get ready for some small investments.
There are a few ways to improve the overall look of your house and speed up the selling process. Below, you can find 5 handy tips on how to increase the value of your home.
Boost Your Curb Appeal
Let's start with the first thing potential buyers are going to see. Whenever you welcome any buyer to have a look at your home, the front yard is what will strike their eyes first. Therefore, by improving the curb appeal of your house, you'll arouse the interest of potential buyers. Make sure to refresh the outside of your house before you list it for sale. Take a walk around your place and check what should be renovated. The most important part of the curb appeal is the main door.
According to highestcashoffer.com, "Replacing an old door makes a huge difference in upgrading the appearance of your home, but entryways can be expensive (several hundred dollars or more in most areas). If your budget allows, you can go ahead and purchase new ones altogether. However, not all doors need replacements; some require a few repairs, and you're good to go.
For a quick fix, add a fresh coat of paint and some new molding. Painting can enhance your entryway without requiring you to shell out all the cash. For an even quicker, and practically free, fix, consider washing your door."
Another good step is cleaning all the walkways and sidewalks from weeds and dirt. Consider renovating your doorstep or painting a fence. What always looks good is the greenery around. Plant some trees and flowers; they will surely enhance your property's attractiveness and give you a little privacy from the neighbors.
Selling Your House – Clean It Until It Shines
Even though your house might look spotless at first glance, there are many hard-to-reach places that you never paid attention to during weekend cleaning. If you want to increase its value, you should check all the places that might be full of dust and clean them thoroughly.
Sometimes, you might think that these areas might not have an impact on your sale, but they're among the most frustrating factors. Keep in mind that serious buyers will want to go through every corner of the apartment. Dirty and smelly corners, no matter how small, can be a dealbreaker for your potential buyers.
So, try to get rid of old carpet stains, polish the floor and make sure that all the windows shine, and that they are spotless. And, don't keep your windows closed – let the fresh air in! The smell of the apartment matters as well. Don't let it throw shade on the home value.
Be Smart About Storing Your Things
Another step that can help you increase home value is placing the furniture and decorations in the best possible setting. The proper placement is the key to optically enlarge a room and save more space for visitors' imagination.
If you keep your rooms cluttered, the potential buyers might not think highly of your property because of the mess. As a matter of fact, they'll be forced to believe that the house is smaller than they thought. A well-arranged house, on the other hand, can be quite appealing for any buyer, especially those who have families.
Wondering how to declutter your rooms? One thing you can do is consider a temporary storage unit to store all the essential belongings and keep your house spacious and fresh-looking. Another option is to sell what you don't need. You might think everything in your house is important, but after keen consideration, that might not be the case. Also, those items that you feel should be replaced can be sold in the meantime as you wait to relocate to a new home.
Selling Your House – Renovate Your Kitchen and Bathroom
The kitchen and bathroom's condition is very important for potential buyers because these two rooms most often need renovation. You should check if everything works, but also whether there are no leaks. Don't invite potential visitors before you make sure that everything works as it should.
If you have old countertops, a small kitchen remodel is a good idea. Make sure all the gaskets and pipes work correctly, if not, invest in new ones. It doesn't cost a lot of money and will raise the worth of your place.
Create an Outdoor Spot
Arranging outdoor space can increase the attractiveness of your property without putting too much effort into the process. If the effect is enticing enough, the potential buyers will want to stay in this place for longer, and your house will linger in their imagination for longer.
Creating a cozy area outside will make them want to hang out there with friends, chill during sunsets with a glass of wine, and invite family for Sunday barbeque.
Sheila MacDonald, a realtor with J Barrett & Company, said: "Set up a deck or porch as an outdoor living area with comfy cushions on outdoor furniture rug, a grill…or a TV if the area is covered". "This expands the square footage of your home in a buyer's mind."
The Bottom Line
Increasing a home value is not as complicated as it seems, and you don't necessarily need a real estate expert's help to do that. Focus on the worst looking areas, and put effort into decluttering and renovating to breathe a new life into them! Sometimes a little fresh paint can totally change the appearance of the room.
Don't you worry about the money you spend on the renovations. The worth of the house grows along with them so you can surely count on investment return. Once it's all done, it's finally time to sell. You can gladly invite the potential buyers, show them a house in its best shape, and negotiate a considerable amount of money. Good luck!
Comments on this Selling Your House – 5 Ideas to Increase the Value of Your Property advice article are welcome.
Buying Property Articles
Buying Property Posts
5 step guide on how to find perfect new home
What are main reasons to invest in income property
Things to consider when selling to cash house buyers
Buildings
Comments / photos for the Selling Your House – 5 Ideas to Increase the Value of Your Property page welcome