Seasonal Architecture Article, Building Seasons, Global Projects, Design Property Image
Seasonal Architecture
Architecture Discussion by Trevor Tucker
15 Feb 2011
Seasonal Architecture – Building Seasons
Seasonal Architecture article by Trevor Tucker, Ottawa, Canada
"Do you use the front room much," I ask a friend the other night, over a glass of wine as our kids rumble away upstairs. Six of us are sitting by a huge hearth in his back room mellowing out as the heat makes its way into our bones. "Well, not much…in the summer we're there a lot."
This is how my grandmother used to talk. There were rooms in her house that, come winter, were practically off limits. As the sun and temperatures shifted, so did the way you lived inside the big homestead. This is far from the experience of my urban peers. In their sea of tract housing, one can barely notice all the subtle changes of the changing seasons.


Trevor Tucker
"The teleological argument for the existence of God," says a Sunday morning preacher this week, "is that the earth is at just the right angle to permit the changing of the seasons." As if God wants us to have different seasons.
It's February and many of the projects listed this week intersect in a rather seasonal fashion, at least for my part of the world.
I live in arguably the coldest capital on the planet—this morning the thermometer reads – 19 degrees Celsius. Still February is a golden month. The sunlight is different, suddenly stronger. It's higher in the sky. Our front rooms warm up so much faster these days. The birds around have a different song. And when we sit down to supper there is still daylight.
CFPS Building Belgrade, Serbia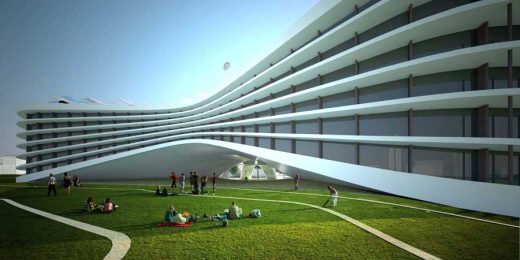 render from SADAR+VUGA
So what I'm drawn to this week is how our architecture embraces this basic human need for seasons and change. Have a look, for example, at The Centre for the Promotion of Science in the Republic of Serbia. The interplay of man and nature is at the heart of this complex of buildings placed on eight islands. Garden atrium at its core? I'm there.
Am Krautgarten Vienna, Austria


photograph : Hertha Hurnaus
And thank goodness that someone still loves colour. The Am Krautgarten in Vienna. On this multi-faceted site the architects have created terraces with a colourful façade and varying placement of windows. You can imagine how the shadows shift musically across the surface. Each room will have a different light. I love the texture, the variety, and especially the humour.
Strusshamn Askøy, Norway



image from architect
Details and complexity, and a shaping itself to the community at large. These are the things that nature takes into account and which seem such hard work for the rest of us. But the Strusshamn development in Askøy, Norway seems to have got it right, and the attention to detail is obvious. They want to allow for an organically shifting community at the edge of this fjord, right down to the small boathouses, artists shops, and re-establishing a hidden river. Very little seems imposed here, but rather arising out of this community and land both past and present.
Over here, as spring approaches, five minutes away from us another strip mall encroaches upon our semi-rural bliss. A dollar store, another drug store. I will be tapping trees in three weeks, and I'm told our birch sap—which will follow the maples by just over a week—has great cancer fighting properties. Pine tea is what kept early North Americans in Vitamin C through their own winters.
The Angel Building Sculpture, London



photo : Peter Cook
So "Out of the Strong Came Forth Sweetness", a new and highly unique sculpture at the Angel building in London, is something I can practically taste when reading through the article. A strange sight, this elongated sculpture with a name from the Old Testament, but one which anyone that has taste buds can connect with on a visceral level.
Boston Treepods, MA, USA



image from architect
Meanwhile they won't be tapping any trees on the streets of Boston, but perhaps staring rather agog at The Boston Tree Pods. The writeup is at least worth a look for those interested in how these CO2 vacuums work. Mind, you won't find a justification for using artificial trees instead of real ones.
Its weird how our perspective changes. Some people will love these things and find nothing odd about calling them trees—probably the same types that call human beings 'resources' or 'assets'. For me though, watching my trees, watching the buds, watching for when the chickadees hang on the underbelly of the maple branches and sip the sap so that I'll know when to get out my taps and buckets, these Boston "interventions" look foreign and absurd. Sure, call them pieces of art, but don't call them trees.
With March coming, my students have their heads in the books and their eyes pasted to their laptops. You wonder how much they will get out and breathe in the fresh air. Sometimes you wonder how much our architects do that, too.
Trevor Tucker
Trevor Tucker is an editor and sessional professor of English literature at the University of Ottawa
ttucker(at)rogers.com
Comments on this Seasonal Architecture article are welcome.
Contemporary Architecture
Architecture Context : article by Trevor Tucker. 21 Sep 2010
Architecture Narrative : article by Trevor Tucker. 24 Aug 2010
Sustainable Building Design : article by Trevor Tucker. 18 Aug 2009
Sustainable Design : article by Trevor Tucker. 15 Sep 2009
Nature Architecture : article by Trevor Tucker. 15 Sep 2009
International Architectural Designs
Sustainable Buildings – Building Issues : article by Adrian Welch
Website: Architecture City Walking Tours
Comments / photos for the Architecture Seasons – Article page welcome