Polished Concrete Treatment Examples for Large Surfaces Guide, Flooring tips, Paving surfaces advice
Polished Concrete Treatment Examples for Large Surfaces
5 August, 2020
Polished concrete is ideal for flooring large areas such as warehouses and industrial buildings.
The versatility for this kind of flooring and the great resistance and durability are just some of the main benefits that your choice provides.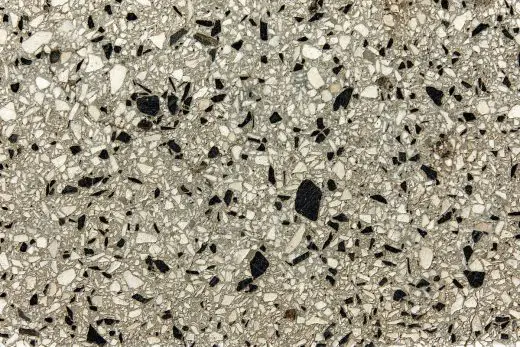 Why choose polished concrete?
The main reason for choosing this material for paving surfaces is the multiple advantages that derive from its use, which can be summarized in four aspects: durability, resistance, material aesthetics and price.
Some key aspects of BECOSAN polished concrete floors are the low maintenance that the surfaces require, the high resistance to road traffic and the possibility of applying colour and adapting the solution to the specific needs of each client.
Polished Concrete Benefits
Polished concrete is ideal for industrial facilities, such as warehouses, stores, as well as other types of facilities such as parking lots, commercial spaces, dealers and offices.
There are many benefits of paving with polished concrete:
The material itself provides a great capacity to resist atmospheric agents, and physical, chemical and/or biological attacks. The polished concrete surface does not degrade or wear out.
Low maintenance. The smooth structure of the polished concrete pavements, allows an easy maintenance of the same one. Furthermore, as the pore is closed, it prevents the accumulation of dust.
Polished concrete is resistant to intensive use, all types of grease and detergents. And thanks to its easy maintenance, it can resist longer than other types of material.
Decoration of pavements thanks to polished concrete allows different alternatives of finish and textures. You can play with colour, achieve a marble effect or even combine it with other materials, such as tiles or glass.
The quality-price ratio of this type of material is optimal. It varies depending on the finish you choose, as well as the surface to be paved and the level of polishing desired.
Polished conocrete projects: Warehouse and logistics areas
Below are two examples of polished concrete projects carried out by BECOSAN, a leading brand in the treatment of Polished Concrete.
In this project, we have an existing floor where the client had problems with marking the tyres on the floor. The porosity of the concrete meant that when the forklifts turned, they left marks on the floor that were impossible to clean. The BECOSAN treatment not only removed these tyre marks, but also created a sealed floor so that these marks were not so dirty and easy to clean.
Full case study: https://www.becosan.com/projects_becosan/rebice-sl/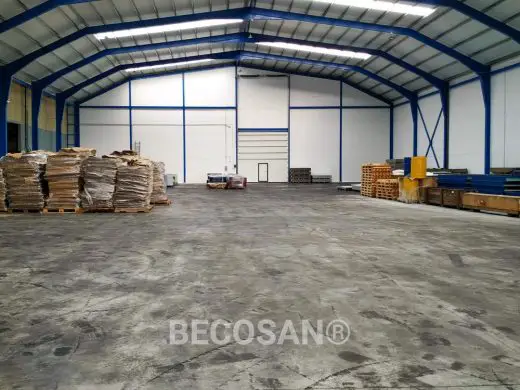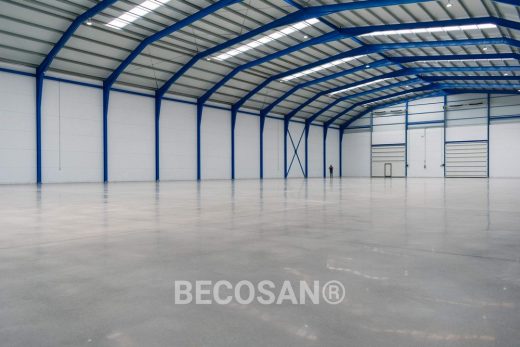 This case was about an between-tenant refurbishment for a 16.000 m2 warehouse, the floor was so damage and it was necessary a total reparation.
There were lines, marked and old anchor bolts (racks) that needed to be repaired before polishing the surface.
In these photos you can see the floor before, during and after the BECOSAN® treatment that consists of a system of sanding, hardening, sealing and polishing process that provides a strong, durable, and dust-free finish.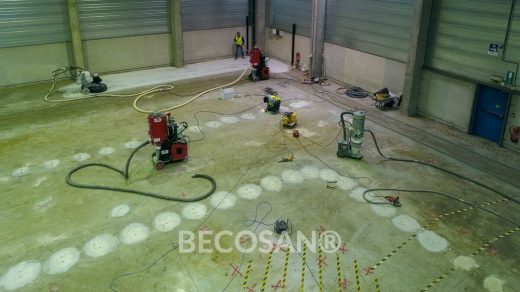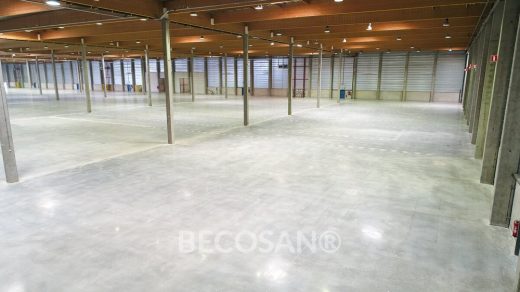 Full case study: https://www.becosan.com/projects_becosan/16-000-m2-warehouse-floor-refurbishment/
Comments on this Polished Concrete Treatment Examples for Large Surfaces article are welcome.
Architecture Designs
Building Design Posts
How Investing in Precast Concrete Can Benefit Your Business
Benefits of BIM in construction
Sandblast With A Pressure Washer
The best flooring options for wet spaces
Ultimate checklist for renovating your home
Property Articles
Castellana 77, AZCA district, Madrid, Spain
Architects: luis vidal +arquitectos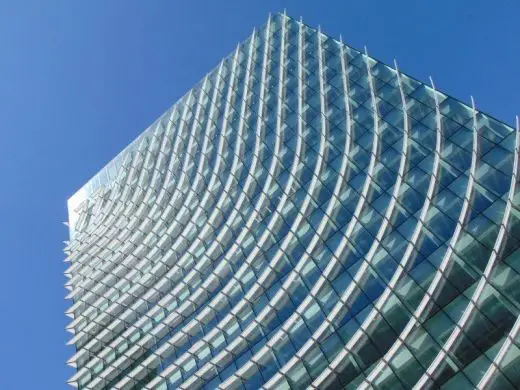 photo © luis vidal + arquitectos. All rights reserved
Castellana 77 Building
Comments / photos for the Polished Concrete Treatment Examples for Large Surfaces page welcome