Moving Into Your First Home Advice, Starting On Your Own Tips, Flat Living Guide
Moving Into Your First Home; Tips For Starting On Your Own
26 Aug 2020
It's one of the most exciting times of your life; purchasing your first home and anticipating the big move. You have finished school, you have your first job, and now you are moving into your own place. There are a ton of things you are going to have to take care of yourself, and unfortunately, schooling did not prepare any of us for the day to day task of taking care of the essential things we need to do when we are out on our own for the first time.
There may be a few obvious things, like pay your utility bill and don't set your kitchen on fire, but there are a good deal of responsibilities and tips that we wish we had known beforehand. With this in mind, we have put together this list of must-know tips for anyone that has recently purchased their first home.
Regular Maintenance And Replacements
There's a good chance your first home is no newly built mansion, and even if it is, you will still need to be aware of the responsibility of routine maintenance and repairs. This means having the electrical and plumbing systems assessed every so often, among other things. It would be best if you got hold of a reasonably detailed home maintenance check-list to ensure you have everything covered.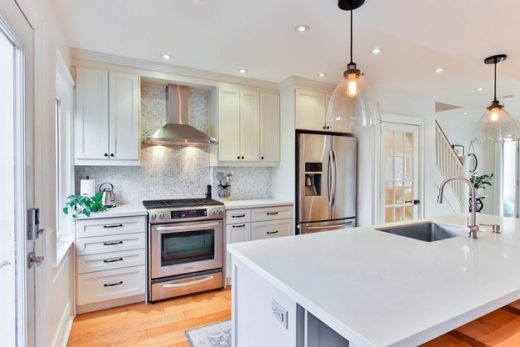 In addition to maintenance and repairs, you should also make a point of replacing certain home features when necessary. You don't need to be conducting renovations to replace the doors and window frames. When considering that updating interior features will boost property value, UK Oak Doors and other similar retailers are an excellent choice when searching for quality home upgrades.
Good Habits
The first thing that the freedom of being out on your own does is open a world of opportunity. Keeping good habits is more important than you may realise, and will affect the course of your life going forwards.
Because your new home is hardly a purchase that should be neglected, your good habits should include the maintenance as mentioned above and repairs along with seemingly less significant details such as good household hygiene. Keeping your home clean will prevent unnoticed neglect that could soon become a costly endeavour.
Really Do Make It Home
When it comes to making your home your own, you can play with various favoured interior design trends. It is best to avoid mimicking home design suggestions as you will want to add personal touches to your space. When managing the interiors of your home, consider interior design trends as mere guidelines and personalise as you go.
The internet is bubbling with unique and playful trends to choose from, and even merging a couple of ideas can be an option. Regardless of how you want to decorate your interiors, it is vital to decorate according to your preferences rather than attempt to decorate to impress guests. Your home should be your sanctuary in which you can relax, unwind, and truly enjoy your investment.
Comments on this Moving Into Your First Home; Tips For Starting On Your Own article are welcome
Moving Home
House Moving Posts
Finding right long-distance moving companies
8 benefits of using moving company services
6 Stress Beating Tips for Moving House Day
Property
Houses Articles
14 Common Kitchen Design Mistakes to Avoid
Common Kitchen Design Mistakes
3 big interior design trends for August 2020
Interior design trends 2020
Comments / photos for the Moving Into Your First Home; Tips For Starting On Your Own page welcome