Neighbourhood Spotlight, Bethesda, MD's most sought-after residential areas, Maryland home advice, US property tips
Neighbourhood Spotlight: Bethesda, MD's Most Sought-After Residential Areas
Sep 9, 2023
Bethesda, Maryland, is a town renowned for its vibrant and diverse neighborhoods that offer a desirable place to call home. Nestled just outside of Washington, D.C, Bethesda, Maryland neighborhoods embody a unique blend of urban amenities and suburban charm. With a rich history, thriving arts scene, excellent schools, and an abundance of recreational opportunities, these neighborhoods have become some of the most sought-after residential areas in the region.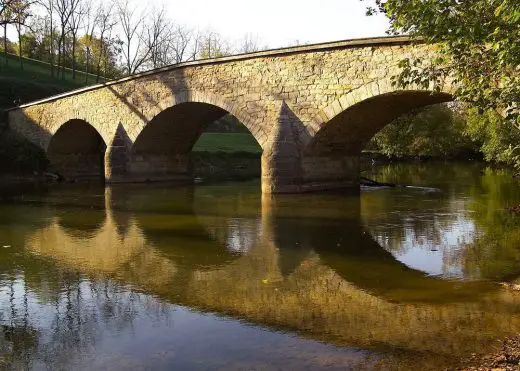 Best Bethesda neighborhoods offer something for everyone, catering to a variety of preferences and lifestyles. Whether you are drawn to the elegance of Chevy Chase, the family-friendly atmosphere of Bethesda Heights, or the vibrant energy of downtown Bethesda, there is a neighborhood that suits your needs. Each neighborhood has its own distinct character and allure, providing residents with a sense of community and a high quality of life.
Luxury Living in Chevy Chase
One of the premier residential areas in Bethesda is Chevy Chase. This neighborhood boasts elegant homes, tree-lined streets, and a strong sense of community. Residents of Chevy Chase enjoy the convenience of nearby upscale shopping and dining options, as well as easy access to parks and recreational facilities. The neighborhood's proximity to downtown Bethesda and its excellent schools make it a top choice for families seeking luxury living.
Family-Friendly Bethesda Heights
Bethesda Heights is a family-friendly neighborhood known for its beautiful homes and welcoming atmosphere. The area is characterized by its spacious yards, well-maintained sidewalks, and close-knit community. With its top-rated schools and numerous parks, Bethesda Heights provides an ideal environment for families to thrive.
Vibrant Downtown Bethesda
Downtown Bethesda is the bustling heart of the town. This vibrant area offers an array of shopping, dining, and entertainment options. With its trendy boutiques, art galleries, and lively nightlife, downtown Bethesda attracts young professionals and urban enthusiasts. The neighborhood's modern apartments and proximity to public transportation make it a convenient and desirable place to live.
Serene Living in Westmoreland Hills
Nestled amidst lush greenery and mature trees, Westmoreland Hills provides a serene and tranquil living environment. This neighborhood offers spacious homes with large lots, creating a sense of privacy and exclusivity. Residents of Westmoreland Hills appreciate the peaceful surroundings while still being within easy reach of downtown Bethesda's amenities.
Coveted Battery Park
Battery Park is a highly coveted neighborhood known for its picturesque streets and well-preserved historic homes. The area's charming architecture and meticulously manicured gardens create a timeless appeal. Battery Park's location, just steps away from downtown Bethesda and its proximity to the Capital Crescent Trail, further enhance its desirability. Residents of Battery Park enjoy the perfect balance of historic charm and modern conveniences.
Woodmont Triangle – A Hub of Entertainment
Woodmont Triangle is a lively and dynamic neighborhood that serves as the entertainment hub of Bethesda. With its diverse range of restaurants, bars, theaters, and art galleries, Woodmont Triangle offers residents a vibrant and engaging lifestyle. The area is also known for its modern high-rise apartments and convenient access to public transportation, making it a popular choice for young professionals and urban dwellers.
Suburban Charm in Wyngate
Wyngate is a charming suburban neighborhood in Bethesda known for its picturesque streets, well-maintained homes, and strong sense of community. The area features a variety of architectural styles, from classic colonial to modern designs. Wyngate's tranquil setting, excellent schools, and proximity to parks and nature trails make it an ideal choice for families seeking a suburban lifestyle.
Close-Knit Community of Ashburton
Ashburton is a close-knit neighborhood in Bethesda that offers a warm and friendly atmosphere. With its tree-lined streets, community events, and active neighborhood association, Ashburton fosters a strong sense of belonging among its residents. The area's diverse housing options, including single-family homes and townhouses, cater to a range of preferences and lifestyles.
Green Spaces in Kenwood Park
Kenwood Park is a neighborhood renowned for its lush green spaces and beautiful parks. Nestled along the banks of the Potomac River, this area provides residents with ample opportunities for outdoor activities and recreation. Kenwood Park's stately homes, quiet streets, and proximity to nature create an idyllic setting for those seeking a peaceful and nature-oriented lifestyle.
Glen Echo – A Historic Gem
Glen Echo is a historic neighborhood in Bethesda that preserves the charm and character of yesteryears. Known for its restored Victorian homes and the famous Glen Echo Park, this area offers a unique blend of history, art, and natural beauty. Residents of Glen Echo appreciate the neighborhood's cultural events, art festivals, and its proximity to the C&O Canal National Historical Park.
Quaint Living in Edgemoor
Edgemoor is a quaint and picturesque neighborhood that exudes elegance and charm. With its tree-lined streets, beautiful gardens, and a mix of architectural styles, Edgemoor showcases the timeless beauty of Bethesda. The area's proximity to downtown Bethesda, upscale shopping, and renowned restaurants adds to its appeal.
Luxurious Homes in Avenel
Avenel is a prestigious residential neighborhood in Bethesda known for its luxurious homes and exclusive amenities. This gated neighborhood offers privacy, security, and a tranquil setting amidst meticulously landscaped grounds. Avenel's championship golf course, tennis courts, and club facilities cater to the recreational needs of its residents, making it a sought-after address for those seeking an upscale lifestyle.
Peaceful Living in Sumner
Sumner is a peaceful and residential neighborhood in Bethesda, characterized by its leafy streets and well-established homes. The area offers a sense of tranquility and privacy, away from the hustle and bustle of the city. Residents of Sumner enjoy the neighborhood's strong sense of community and its proximity to parks, schools, and shopping centers.
Close Proximity to Nature in Mohican Hills
Mohican Hills is a neighborhood in Bethesda that embraces the beauty of nature. Surrounded by lush greenery, parks, and hiking trails, Mohican Hills provides residents with a serene and nature-centric living experience. The area's diverse housing options, including single family homes and townhouses, cater to individuals and families seeking a close connection to the outdoors.
Most sought after residential areas Bethesda MD Conclusion
Bethesda, MD, offers a plethora of sought-after residential areas, each with its own unique charm and appeal. From the luxury living in Chevy Chase to the family-friendly Bethesda Heights, the vibrant downtown Bethesda to the serene living in Westmoreland Hills, there is a neighborhood to suit every preference and lifestyle. Whether you are drawn to historic homes, suburban tranquility, or urban excitement, Bethesda has it all.
The town's excellent schools, thriving arts scene, and abundance of recreational opportunities make it a highly desirable place to call home. If you decide to live or move to any neighborhood of Bethesda, you should contact movers in Bethesda, MD! Relocation companies will help you pack and unload if you need it. Their employees have received extensive training in packing techniques to ensure the safety of your items during travel. They will send over a crew and all the necessary materials to make packing a breeze.
Comments on this Neighbourhood Spotlight: Bethesda, MD's Most Sought-After Residential Areas article are welcome.
Maryland Architecture
Maryland Building Designs
Calvin & Tina Tyler Hall, Morgan State University, Baltimore
Design: Teeple Architects with GWWO Architects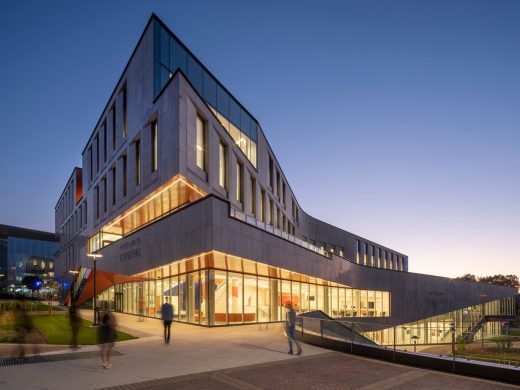 photo : Nic Lehoux
Calvin & Tina Tyler Hall, Morgan State University
Friary on the Severn, Severn River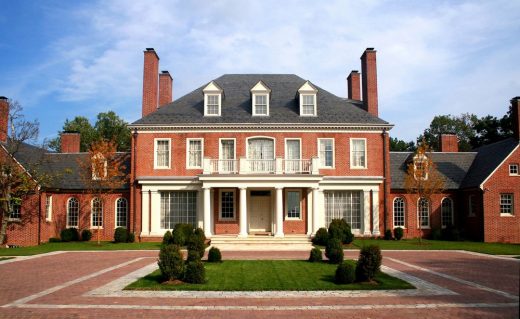 picture : TopTenRealEstateDeals
Friary on the Severn, Maryland Residence
Tom Clancy's Triple Penthouse, Baltimore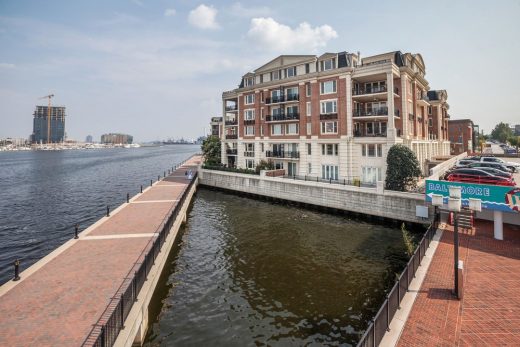 photo : Elite Auctions
Tom Clancy's Triple Penthouse, Baltimore
Building Articles
America Architectural Designs – latest building updates
Comments / photos for the Neighbourhood Spotlight: Bethesda, MD's Most Sought-After Residential Areas page welcome.