Outdoor Garden Tips, Property Landscape Advice, Beautiful Plants and Ornaments
7 Ways to decorate a Family-Friendly Outdoor Garden
29 August 2019
7 Ways to decorate a Family-Friendly Outdoor Garden Space
There are many essential features to include when creating the perfect outdoor garden for a growing family. Choose practical, flexible designs that will accommodate every age group. Using innovative, easy to maintain materials will provide you with a trouble-free environment for the years ahead. You can add an individual character to your space by including decorative accessories and a selection of beautiful plants and ornaments.
Family-Friendly Outdoor Garden Decoration Help Guide
Lawn
Make your lawn as large as possible to ensure there is ample space for family barbecues and boisterous games of football and cricket. Opt for a robust, general purpose grass seed mixture containing resilient creeping red fescue, rye and meadow grass. Sow the seed in spring or autumn when it will quickly form a dense, lush lawn that can withstand hard wear throughout the year. A quicker solution is to lay lengths of high-quality turf taking care to stagger them in a brickwork pattern to ensure they blend together effectively.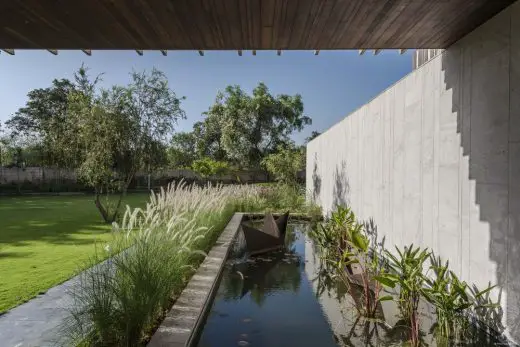 photography : Edmund Sumner, Umang Shah and Photographix – Sebastian Zachariah & Ira Gosalia
Using lengths of string or a hose pipe as a guideline, work with a half-moon edging spade to cut the perimeter of your lawn in either straight lines or curves. A new lawn will need regular watering until it has become established. It is quite acceptable for family lawns to have bee-friendly daisies, clover and buttercups growing in them so maintenance can be restricted to a weekly trim with a lawnmower during the growing season which lasts from spring to autumn.
Play Area
A corner of the garden with a level surface is an ideal location for a children's play area where you can place items such as a swing and slide. To prevent your children suffering minor cuts and bruises if they should fall over while playing, install a surface designed for such areas. Natural bark chips which have been specially cut and treated are an ecological choice. They last for several years and need only an occasional top up before being transformed into a flower bed or moved elsewhere when your children no longer require a play area.
Alternatively, choose safety tiles which are manufactured from recycled rubber to create a soft but firm floor. The tiles have interlocking edges which make for an easy installation and with a variety of colours available they can be arranged in interesting designs. The non-slip surface allows rainwater to drain away quickly preventing puddles forming. Rubber tiles are incredibly durable and are even suitable for adults to use with heavy keep-fit equipment.
Flower Beds and Borders
Opt for an informal cottage garden style which will withstand the rough and tumble of play time while providing hiding places for the family pets. Perennials such as delphiniums, phlox and hardy geraniums are excellent value for money as they increase in size each year and can easily be divided to form new plants.
Small conifers and evergreen shrubs such as the red-leaved pieris Forest Flame and the gold and silver of variegated euonymus provide interesting colours and shapes. Plant aromatic herbs such as sage, lavender and marjoram between slender trees such as Ballerina apple trees and Flagpole cherries.
Fill decorative terracotta tubs with bedding plants such as pelargoniums, marigolds and snapdragons to create a colourful display on your patio. Busy Lizzies and fuchsias prefer a location that avoids the afternoon sun. A large, low container can make an interesting miniature garden where children can grow unusual plants such as succulent houseleeks. They could also include Livingstone daisies which are easy to grow from seed.
Composite Decking Boards
A formal patio area is perfect for entertaining or relaxing and if it is made of innovative composite decking boards, it will retain its smart appearance for years to come. Composite decking from companies such as Ultra Decking is an ecologically-friendly material manufactured from polyethylene and wood. Both the materials are from recycled sources which saves energy, avoids adding them to landfill sites and prevents new trees being felled. The fibres are bonded together using an environmentally-friendly adhesive.
Composite wood-polymer (WPC) decking requires virtually no maintenance making it perfect for busy households. The tough, resilient boards last more than twice as long as traditional timber boards and remain unaffected by the sun's UV rays.
Resistant to algae and moss, the composite boards are water-resistant with a safe, non-slip surface that allows rain to drain away quickly. Ultra Decking can supply composite decking in a range of complementary colours such as anthracite grey and textured or woodgrain finishes.
Garden Furniture
Enjoying some free time in your garden is even better if you have plenty of comfy chairs and sun loungers to relax upon. Renovate an existing set of wooden garden furniture by giving it a coat of paint in a colour to complement your patio.
Using an alternative wood stain that sinks into the timber will provide additional protection from the elements while enhancing the natural grain of the wood. When your furniture is not in use always use a protective rain-proof cover to help prolong its life.
Heavy duty plastic garden chairs are versatile whatever the weather and only need cleaning with warm, soapy water. Concentrate on adding colourful accessories such as cushions and throws to update their appearance. It is quick and inexpensive to make your own cushion covers or look out for end of season bargains ready for next summer. Don't forget to include a miniaturised patio set of table, parasol and chairs specially designed for children.
Water Features
If you have small toddlers it is best to delay installing a pond until they are old enough to understand how dangerous a few inches of water can be. If there is already a pond in your garden, ensure it is safely fenced or covered over with a tough metal grid that will prevent them falling in.
However, there is an extensive range of charming outdoor water features available that are suitable for young families. A circular arrangement of pebbles with a small fountain in the middle provides a soothing background noise.
Designs for family-friendly water features include a variety of spheres or monoliths with cascading walls of water that disappear harmlessly beneath slates or rocks. Materials include contemporary stainless steel or natural stone.
The pump mechanisms that operate water features are powered by electricity or solar energy. Choose the latter if you want an inexpensive system that is much easier to maintain than a mains version.
Garden Accessories
For the finishing touch to a stylish outdoor garden space add an interesting selection of ornaments in stone or plastic. There is an extensive variety of cute animals, scarecrows and fairies available that are sure to please young children.
Adults might prefer sophisticated designs including decorative butterflies and peacocks in enamelled metal. Traditional statuettes or bird baths manufactured from stone will help to add an air of stately grandeur.
For added interest and a touch of humour choose novelty ornaments such as sheep, cows or frogs with added solar lighting. Inexpensive solar lights use batteries to store power from the sun during the day then cast a soft glow as dusk descends.
A set of lights in a simple torch design offers subdued illumination around the patio. Strings of solar fairy lights add a discreet twinkling in bushes or trees at any time of the year.
Building Articles
American Architecture Developments
Comments / photos for the 7 Ways to decorate a Family-Friendly Outdoor Garden page welcome