Mattress types and materials advice, House bed guide, Online property help tips
Mattress Types & Materials Advice
9 October 2021
We spend a third of the day on the mattress so as soon as you feel that its performance deteriorated, you have to buy a new one. But when you decide to buy a new one and visit some website or go to a brick-and-mortar store, mattresses can look like rocket science to you.
There are a large number of different types of mattresses on the United Kingdom market, and manufacturers further complicate the situation by using various terms that you are not familiar with. We will tell you the basics of mattress types and materials to make your search for a new mattress easier.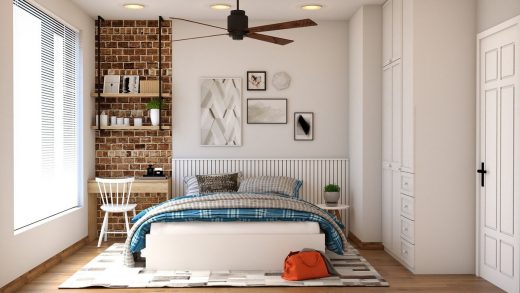 Mattress Types & Materials – 101 Guide
Innerspring
Innerspring mattress has been the best-selling type of mattress for decades, primarily because this type of mattress is affordable. It is constructed of steel coils that provide support, and what exactly performance it will have depends on the type, number of coils, shape and so on. Innerspring mattress can be noisy compared to memory foam, for example.
Continuous coils
This is a budget option because it is affordable and durable at the same time. All coils are made of single wire, and coils usually have an S-shape, which is different from standard coils.
Pocketed coils
Pocketed coils adapt much better to the body than other types of coils because they work separately since they are individually wrapped. Motion insulation has been significantly improved and support is better.
Offset
Offset is a better option if you do not want to hear coils when moving. Offset coils have an hourglass shape, as well as flattened edges on the top and bottom. So they are quite, and also very durable.
Bonnel
Bonnell coils are the oldest type of coils and that is why they are so common. They are an affordable option for your bedroom, and hourglass coils provide good support, although the mattress with Bonnell coils is certainly not the most comfortable on the market.
Hybrid
Why would we limit ourselves to just an innerspring or memory foam mattress, when we can have the best of both worlds? That is why hybrid mattresses are among the best sellers. You get comfort and pressure relief of memory foam mattress, and support and bounce like when you buy an innerspring mattress.
Memory foam
Memory foam was a material created for the needs of NASA half a century ago, and then it became the most used material for sleep products. It adapts perfectly to your body, giving you comfort and support. As you can see, among the Best Mattress UK each and every one is either memory foam or hybrid mattress, which in both cases means that memory foam is an indispensable part.
Polyfoam
Polyfoam is a type of memory foam, and there are different types of polyfoam that are all derived from petroleum. You don't need to worry about that, because everything harmful is neutralized during the production process. The characteristics are similar to memory foam, and density affects durability.
Gel
Hot sleepers don't like memory foam because it retains heat, so the gel is very popular as well. The gel is usually added to the foam to make the mattress cool and such material is called gel-infused foam. This is achieved by the gel absorbing heat. Other characteristics generally remain the same as with regular memory foam mattresses.
Latex
Latex can be natural, which is created as a byproduct of sap from a rubber tree, and it can also be synthetic. Latex is similar to memory foam to some extent, although it provides less pressure relief but bounce is better. If you don't want to sink and you are hot sleepers as well, then latex is better than memory foam and vice versa.
Water beds
During the 80s, waterbeds were everywhere, but over time they lost their popularity, although you can still find them on the market. They are very comfortable and you can adjust the firmness, but they also have a significant number of downsides which is why they are no longer so popular.
Air beds
Aribed probably associates you with camping or time spent in college, but today there are high-end airbeds that are very comfortable and not bulky like other mattresses. Also, most have a foam layer for improved pressure relief. Sometimes it is possible to adjust each side of airbed which is great for couples.
Adjustable beds
Adjustable bed is a great conception, but when it first appeared on the market it was not very functional. A lot of time has passed since then, and the adjustable beds have advanced significantly and no longer look as hospital beds. They are especially useful if you use bed during the day, not just at night.
Eco-friendly & sustainable
Planet Earth has never been as polluted as in the last couple of years and that is why we need to buy eco-friendly and sustainable products. Today you can find mattresses that are filled with fibres obtained by recycling plastic. In this way, you directly affect the preservation of our living environment, and you get a very comfortable and breathable mattress.
Comments on this guide to mattress types and materials article are welcome.
Beds and Bedrooms
Bedrooms Posts
Make Your Bedroom More Comfortable
Essentials things for a perfect master bedroom
Building Articles
Residential Architecture
The Bellhop Hotel, Rotterdam, The Netherlands
Architecture: local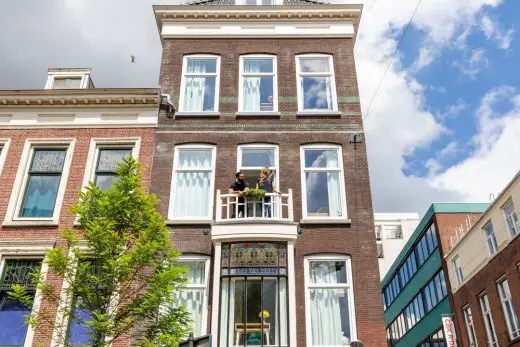 photo : Joey Van Dongen
The Bellhop Hotel
Comments / photos for the Mattress types and materials guide page welcome