Lighting Ideas For Living Room With A Low Ceiling Help, Home Design Tips, Online Property Advice
Lighting Ideas For Living Room With A Low Ceiling
8 Mar 2021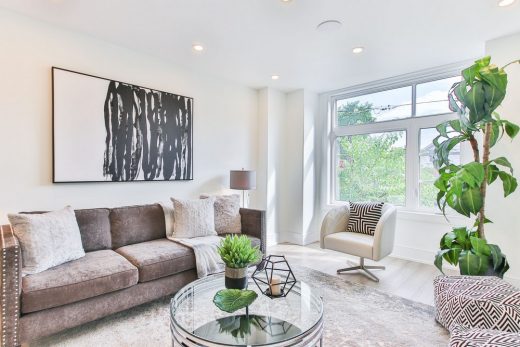 Light design plays a crucial role in the appearance and aesthetic of the home, particularly in a space such as the living room, where as the name implies, you spend a lot of time "living". However, it can be a challenge to apply lighting design trends in a living room with low ceilings as the lack of height limits you in terms of the types of light fixtures that you can use.
The good news is that there are still plenty of ways for you to play around with light and accentuate the beautiful details in your living room. Keep reading for more.
Consider Scale and Proportion
Scale and proportion are one of the most key ingredients when it comes to designing your space. Make sure that the size of the light fixture you choose is proportionate to the size of your living room. So, take out your tape measures to help you understand the size of your space and get the exact ceiling height before you get to each individual light fixture for your space.
For instance, you would not want an insanely large chandelier dropping onto people's heads in an 8-foot ceiling, and you would be better off opting for a flush mount fixture instead. That's because flush mount fixtures are attached directly onto the ceiling. Why not check out Kingdom Valley in Islamabad, a flagship project developing by Kingdom Group.
Style
One of the most important considerations to make when picking out living room light fixtures is your personal style and aesthetic.
If you're into glamorous style, consider something beautiful and bold such as statement light fixtures made from crystal or mercury glass for example.
If you're more boho-chic then look for something with fringes, chains or swags. Hey, you can even go full-on Burning Man if you like and opt for a unique, custom-made light fixture made from deep and detailed textures.
Homes with a modern farmhouse aesthetic will do well with light fixtures made from distressed wood, a little bit of metal, black matte, and brushed metal. The goal is to achieve a fixer-upper look.
If your style is more modern, then you definitely want fixtures that highlight a lot of glass. Go for something with clean, simple lines.
To accentuate a living room with traditional style décor, look for fixtures with fabric shades from Affordable Blinds or even crystals.
The eccentric modern look from the 50s is characterized more by bulbous glass and bubble glass light fixtures. Anything with a curved shape will work here.
If you live in a loft with a lot of metal and glass, then make sure to carry on that industrial-style theme with your living room light design as well, with light fixtures that are made with the same materials.
Show off with a ceiling lamp, as you can afford to hang it relatively low and accentuate it with identical or similar lamps in pairs to create a nice symmetry in the room. Finish the look off with decorative lighting of different sizes and looks placed on the coffee table, side tables or even the window sill.
When all else fails, just go with a chandelier because a chandelier has arms to appropriately fill out the space. You can easily find smaller chandeliers that will fit in a low ceiling living room and still look stylish.
Dimmers
Dimmers are an essential aspects of modern home design because they help you to control how dim or bright the light emits to set the mood of the space. Mood lighting is all about diffusing and reflect light to create a softer ambience. You can use a dimmer switch to set the mood as well as warm white bulbs. Reflected or diffused light creates a calm, inviting mood.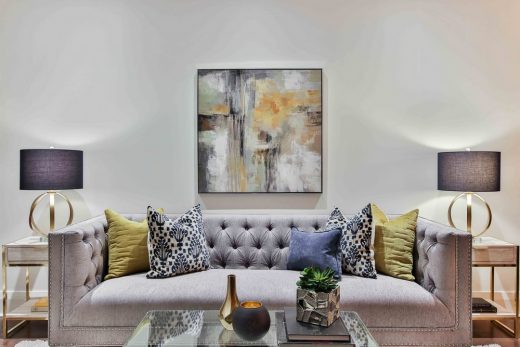 Lighting Ideas For Living Rooms Summary
Pro Tip! While candles are a great way to create instant atmosphere, never leave them unattended.
Remember, these are not hard and fast rules. Just helpful tips to help you take the guesswork out of choosing the right lighting solutions for your living room space, which is one of the largest common areas in your home. Replacing the light fixtures in your living room is a great way to replace the space without changing the furniture or spending on new wallpaper.
Comments on this guide to Lighting Ideas For Living Room With A Low Ceiling article are welcome.
Lighting
Lighting Posts
Getting your home filled with light
Tips To Choose the Right Lighting for Your Home
How to choose LED batten light fixtures
Living Room Design
Living Room Decor
A Cozy Atmosphere in your Living Room
Warm Up Your Living Room With These Decorating Tips
Home
Residential Architecture Articles
Comments / photos for the Lighting Ideas For Living Room With A Low Ceiling Advice page welcome