Latest kitchen cabinet ideas for stylish renovation tips, Home interior decor advice, Property cooking space decor
Latest Kitchen Cabinet Ideas For A Stylish Renovation
18 Oct 2022
The kitchen wooden cabinets are among the many lovely components of a kitchen, and they play a crucial role. When creating a kitchen cabinet design, you must consider all the elements of your room and how they will function as a whole. Finding the best cabinet retailer is important in this area as well.
This is an exciting moment to be considering this crucial decision for your house because there have been so many fantastic advancements in contemporary kitchen design. With a straightforward kitchen cabinet design, you have a fantastic opportunity to have a creative kitchen.
Our specialists will reveal their top five modern kitchen cabinet design ideas in this blog article, providing you with the motivation to personalise your area. You will have all you need from this post to finish a unique kitchen cabinet design that reflects your taste and individuality.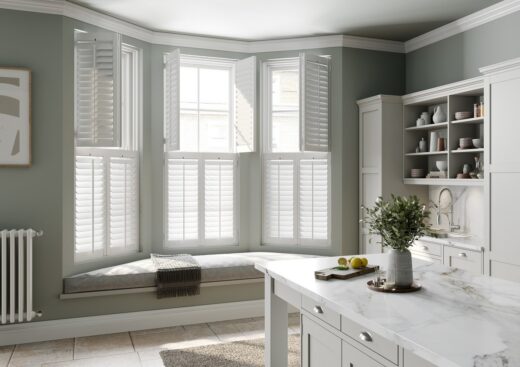 Latest kitchen cabinet ideas for stylish renovation guide
Kitchen with White and Wood Cabinets
A white kitchen can look stunning, but there is always a chance that it will feel too sterile or chilly. Having wooden shelves in the kitchen, which add warmth and softness and balance the room, is one method to solve that issue.
You can opt to only have the upper kitchen shelves be made of wood or to have both the upper and lower cabinets be made of wood, in a white kitchen with white counters and walls. A nice effect may be achieved by painting the bottom cabinets white to complement the white kitchen and leaving the upper cabinets in their natural, lovely wood.
In a white kitchen, there are many different types of wood that work well for the cabinets. There are numerous species of wood available for solid or veneer construction, including:
With its consistent grain and cosy light brown with touches of red or pinkish tones, red oak has a more classic appearance.
If you want a more striking contrast with your white kitchen, choose walnut because this wood species tend to be darker and browner.
With its light sapwood and crimson heartwood, which will darken with age, the cherry species is frequently regarded as one of the most attractive.
A block of warm wood with tight grains and a lovely tan glow, maple is one of the species.
Hickory wood can have lighter and darker areas on the board, giving it a more leather-like appearance.
An appropriate layout design for your kitchen wooden cabinet
The importance of the layout suiting your demands cannot be emphasised enough by our designers when they meet with homeowners to discuss kitchen wooden cabinets. For the creative process to be fully realised, you must consider how you will utilise your kitchen wooden cabinets and how they will blend in with the other elements of the space.
Each person uniquely utilises their cabinets, and every kitchen is unique. The following are some queries you might want to pose to yourself regarding your needs:
What are the locations of the workstations in the kitchen, and how might the kitchen cabinets facilitate movement between them?
What needs to be stored, and where is the most practical place to keep it?
How will the kitchen's cabinet layout affect how the room's windows function?
How high can you regularly lift yourself without feeling uncomfortable?
Do you have special things that require a drawer, door, or shelf that is a particular size?
Creative kitchen cabinet arrangement designs should meet your culinary preferences and the everyday goods you use. You'll be better equipped to make informed judgments if you have all of these inquiries ready before you consult with a kitchen cabinet design team.
Choose an unconventional colour for your kitchen cabinets
While kitchen wooden cabinets frequently blend into the backdrop of the room, they can become a striking focal point by being painted a bright, unexpected hue. Consider using glossy paint to help them sparkle under the lights in your kitchen and to make them stain-resistant.
If you choose a strong kitchen cabinet colour, you may want to keep the room's main colour white to make the cabinets stand out. Unexpected hues you might select for your kitchen wooden cabinets include:
Cobalt Blue is a sophisticated colour that also gives off the impression that you are in a creative kitchen.
Tangerine Orange is the only colour that will make the room feel sunny.
Barbie Pink is a colour that, depending on the lighting in your kitchen, can take on unexpected hues.
Of course, there are countless strong hues you may pick from to bring your imaginative kitchen cabinet design to life. There are incredible kitchen cabinet colour ideas that you may attempt if you enjoy adding colour to your kitchen.
Subway tile backsplash and flat kitchen wooden cabinets
A sleek and contemporary style may be achieved with flat kitchen wooden cabinets, and the subway tile backsplash provides the room with some texture. You will enjoy this original mix in your kitchen for many years to come.
To set the correct tone with your kitchen wooden cabinets, you need to pay attention to the grout you decide to use with your subway tiles. You might choose a colour for the grout that contrasts with the rest of the kitchen's hues to draw attention to the lines and texture.
To maintain a clean, minimalist look with your flat cabinets, it is advisable to avoid using handles or pulls, especially on the upper doors. This confines the entire kitchen in a small space and helps to focus the textural attention entirely on the subway tiles.
Backsplash glass tiles are also a very good solution as they give you Infinite design options. Whether you choose to combine several different colors or choose to use a single color, glass tiles will give your kitchen a luxurious look.
You may always express your creativity using chalkboard paint on your kitchen
You may go one step further with the current trend for black kitchen wooden cabinets by painting your cabinets with chalkboard paint. With this paint, you may leave some chalk around and let your family or visitors go wild by rearranging the area every day.
Writing letters to yourself or others, or creating lovely but fleeting doodles that keep your brain engaged, are activities you'll never get bored of. Chalkboard paint will help you keep your kitchen wooden cabinets fresh if you tend to get bored with your home after a while. Do your homework and start looking for modern remodelling ideas for the kitchen that will result in beautiful cabinet designs.
Comments on this Latest kitchen cabinet ideas for stylish renovation article are welcome.
Kitchens
Kitchen Design Style Posts
Design Ideas To Achieve a Luxurious Kitchen
Enhance Your Kitchen with A Dramatic Island Bench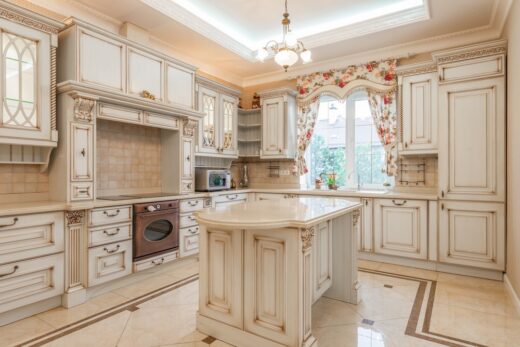 9 expert tips to nail your UK kitchen extension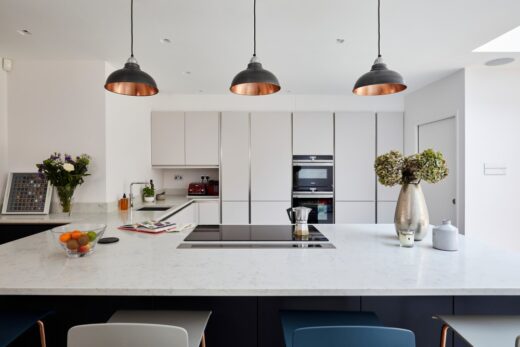 Buildings
Residential Architecture Articles
Comments / photos for the Latest kitchen cabinet ideas for stylish renovation – page welcome