Trusted Mall and Casino Design Functionality Advice, Enhacement Tips, Property Improvement
Increasing Functionality in Mall and Casino Design
17 Oct 2019
Increasing Mall and Casino Functionality
Architectural design has come a long way — from simply being able to support mass to be able to squeeze the most functionality out of a purpose-driven design. The early advances in Architecture were to simply support the intended weight. People then concerned themselves with finding new ways to use less material and bear more weight. Later on, the limelight fell on the safety and structural integrity of buildings.
Today, however, engineers and designers try to make their designs more functional. A building needs to serve more than one purpose and serve them well. Let's take a look at how malls and casinos are designed towards functionality.
Malls: Making the Retail World More Attractive
Whether customers want to research online and purchase in a brick-and-mortar store, buy online and collect from store, or use any combination of online and brick-and-mortar combinations, customers simply want to make their purchasing path to be simple and easy. Malls have recognized this very fact and are gearing their design to meet this requirement.
Bring the "Wow!" factor in the Mall's brand
Shopping alone doesn't bring consumers to malls anymore, especially in this era of online shopping. Hence, malls need to be about a place, convenience, and experience. They need to have an extraordinary design, improve their levels of servicing the customers, incorporate international brands, and decentralize food and beverage across the entire area. Anything from a 24/7 music system to a full-blown water park can be used to bring the "Wow!" factor to the mall.
Create more points where people can gather
One of the most common things that attract crowds of customers is open spaces that can host events. They have a lighter, neutral colour palette and use natural light to make for a welcoming vibe.
Give purpose to the malls
More and more owners are adding live/work components to their malls. These live/work components can include offices, hotels, and rentable apartments. The advantage of this idea is that they help make the mall a part of daily life.
Add various ways to generate traffic
As mentioned earlier, retail has become a secondary or tertiary reason for consumers to head to their nearest malls. Thus, malls need to incorporate more ways to draw traffic and revenue than relying on retail or anchors alone. One way of doing this is by providing customers with dining options.
Casino: Entertainment venues use strategy to earn more
Casinos have become an essential part of the travel industry and even one of the biggest sources of income for some countries. Entire ecosystems are anchored on casinos — hotels are located within or near casinos, entertainment and retail venues are launched close by, and even dining options try to attract casino-goers. However, over the years, casinos have gone from being confusing mazes to organized playgrounds. There are several reasons behind this.
There are different types of casino-goers a designer has to consider. The cash-laden high-rollers want to head straight to the big tables, the casual newcomer just wants to try his hand at small games and slot machines, and the hotel guest just to get through the casino floor to the elevator. Thus, designers segregate the floor such that every type of customer finds exactly what they're looking for effortlessly.
The initial theory adopted by casino designers to trap and confuse their customers inside the casino to force them to spend longer and spend more. However, the theory changed when the Bellagio found success with an open floor design that used beautiful design elements to encourage players to play more.
The table games in a casino need to be placed in the centre of the casino so that they can be centrally managed and secured. Also, table games should be placed close to each other so that a win at one table creates a party-like atmosphere and energises the players at surrounding tables.
Slot machines are usually in the ratio of 7 to 1 to table games. Thus, it's important that they attract casual players but don't' get in the way of high rollers. This is one reason why slot machines have gone from being grouped into confusing rows to neat clusters. Often, each cluster has a different theme and feature.
Thus, we can see how architectural design has and is being changed to increase the functionality of malls and casinos around the world. These designs have now become the biggest factor of success and growth for the ones that adopt them.
Comments for this Increasing Functionality in Mall and Casino Design advice article are welcome please
Las Vegas
Las Vegas Buildings
Vdara Hotel Las Vegas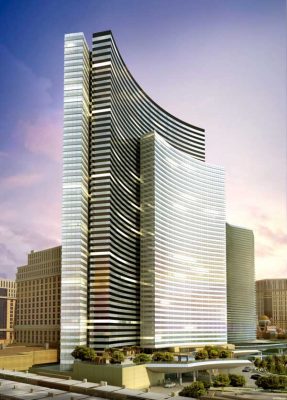 image : CityCenter Land, LLC
Monte Carlo
Monte Carlo Buildings
Hôtel de Paris Monte Carlo Reopening
The Pavilions Monte Carlo, Monaco Luxury Stores
Comments / photos for the Increasing Functionality in Mall and Casino Design page welcome