Ways to improve productivity through workplace design, Good office building design, Working space advice
Ways To Improve Productivity Through Workplace Design
18 Apr 2021
As the world is rapidly changing, so is the premise of the workplace and business in general. Working professionals nowadays tend to spend long hours in their offices on a daily basis, to the point where their work environment can become their second home. That is why in order for employees to be as productive as possible in the workplace, they need to feel comfortable and work in a relaxing environment that nourishes their skills and helps them do better.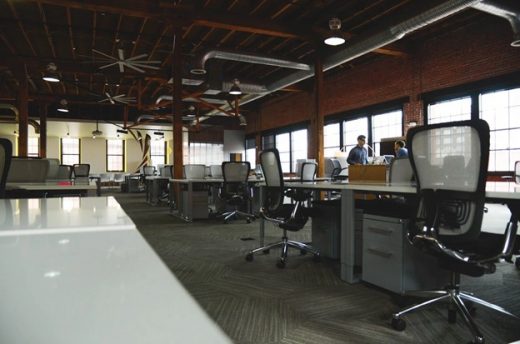 Ways To Improve Productivity Through Workplace Design – 7 Tips
The design of the office can be a huge factor in how productive the employees are and how well they get their work done. If you run or manage any kind of workplace, here are some tips to help you improve the working environment through designs that increase productivity.
1.   Let there be Light
One of the main things that can affect the productivity of your employees is how well-lit the workplace is. It is scientifically proven that natural light can bring out the best in people and help them stay motivated and keen on working hard. That is why you should consider allowing as much natural light in as possible when your workplace is being designed. This can be done through large windows and balconies, so the office can shine bright, giving your employees the boost of productivity they need.
2.   Bring Nature In
Plants have a magical effect on people; they can shift everyone's mood and make them feel energetic and ready to take on the world. As mentioned by the designers at Interior Avenue, when you are setting the design plans for any workplace, make sure you bring natural elements in so that you help your employees feel connected with the outside world, and motivate them to carry on their daily tasks. It is not just plants and landscape that can make a difference; things like fish tanks and water fixtures can also be a nice addition to your work environment as they will add beauty to the workspace as well as boost morale.
3.   Adjust the Temperatures
Many workplace managers or employers may not realize how important it is to consider the temperatures inside the office while it is being designed since it can directly affect the productivity of the employees. As you start designing the office where your employees will be working, think about how you are placing all the different office fixtures and how it can lower or increase the temperature of the place. Surely you can always adjust the thermostat in the office if you have one, but small changes in furniture can make the place feel colder or warmer, depending on the area where your office is located.
4.   Incorporate Colors
The colors used in any work environment can make or break the space. Workplaces that use dull or bland colors tend to have less motivated employees, who get bored easily and are not too keen on working hard. On the other hand, workplaces that incorporate different colors have more motivated employees, and the whole place looks a lot more vibrant. The key is choosing fiery colors that bring life to the workspace and allow your employees to be positive and more focused on work.
5.   Introduce Collaborative Spaces
Sometimes, the one thing that can get your employees to work harder and produce better results is if they work in teams and collaborate with one another. In order to encourage this, you can try to introduce collaborative spaces in your office designs, so that you give them the freedom to work together without any hassle. By introducing collaborative workspaces, your employees can get together in teams and work harder together to give you efficient results in the end.
6.   Add Aesthetic Cubicles
Certain workplaces require employees to work individually so that they can finish their required tasks as efficiently as possible. If this is the case for your company, then it can be a good idea to add some aesthetic cubicles to space where your employees can work in peace without disruption, and without getting bored either. You will need to make sure that the cubicles are comfortable and fun to be in so that your employees can be as productive as possible without feeling too much pressure from being on their own for long hours.
7.   Design Break Area
The employees of any company need to take breaks from time to time in order to stay energetic and produce high-quality work on a daily basis. That is why you should consider this fact when you are designing the work environment. Make sure you create a separate space for breaks where your employees can relax and unwind for a little while before getting back to work. This will have them return more energetic and ready to take on their assigned work.
Why Workspace Designs Matter for Productivity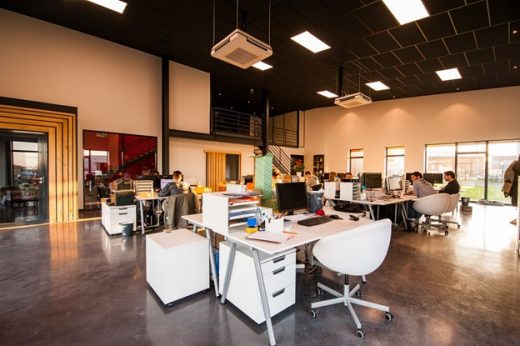 The satisfaction of employees is the key to the success of any business. When employers put some effort into the ergonomics of the workspace, the professionals working there will be more motivated to give their all to the company and will make the business more efficient. The design of the work environment will help make your employees feel more relaxed and inspired to become extra creative.
Any company is built by its employees, and that is why it is important for any establishment to give back to its employees by ensuring they have a comfortable and practical work environment that motivates them. The best way to get your employees to work harder and become the best and most productive versions of themselves is by designing a vibrant workspace for them with various natural elements and sunlight to boost their morale and keep them energetic.
Remember to invest in furniture pieces that keep the temperatures suitable in the office and try as much as possible to add lively colors to make the space look fresh. It can be a good idea to ask your employees for feedback, to know how you can adjust the space to better suit their needs and give them the workspace they want.
Comments on this Ways To Improve Productivity Through Workplace Design article are welcome.
Workplace Design
Workplace Design
How can you redesign your workplace with HRIS?
How to Increase Safety in Your Workplace
Accessible Workplace In Ontario
Common but avoidable workplace accidents
Building Articles
Residential Architecture
Can buildings and rooms in England become spaces of art?
Comments / photos for the 7 Ways To Improve Productivity Through Workplace Design page welcome