Hunting Lodge Design Tips, Hunters Weekend Building Retreat Guide, Outdoor exploration skills
Hunting Lodge Design
21 May 2020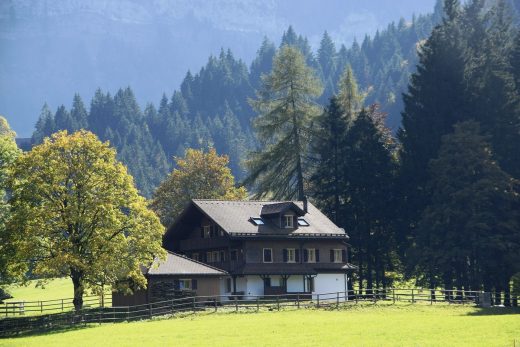 Hunting Lodge Design Guide
For centuries, hunting has been an unmistakable mark of nobility and a tradition with deep roots. Modern hunters practice it as a great way to escape the city life and to rediscover a spirit of adventure. Hunting holds a common ground for nature lovers and sports lovers and represents an exploration of the outdoors and of our primordial skills.
For true hunting aficionados, a hunting lodge is the place where they can really find themselves. It's the space where they can spend a hunting weekend, rest after an expedition in the wilderness and, also, keep all of their hunting paraphernalia. A hunting lodge is a great idea for both practical reasons and for enhancing the hunting experience.
Decorating a hunting lodge can be a challenging task because aesthetic as well as functional aspects need to be taken into consideration. The rustic design of such a lodge reflects the main interests of its owner, on the one hand, and facilitates rest and relaxation after a hunting expedition, on the other hand.
Here are some of the main aspects you should take into account when decorating or redecorating your hunting lodge.
Showcasing Your Hunting Paraphernalia
The essential feature that distinguishes hunting lodges from other types of cabins or vacation homes is the display of trophies and hunting equipment. Trophies are symbols of any hunter's success and that is why they give the space a personal touch. Each trophy marks a certain moment and memory in the hunter's activity.
Carefully displaying your trophies will not only give your cabin a sense of home but also enhance the rustic nuance of the design. Your hunting equipment and accessories can also be showcased. Instead of storing all your weapons and hunting gadgets, you should showcase them and a hunting lodge is the perfect place to do that.
The generous space of a wooden hunting lodge is the perfect spot for displaying some antique rifles or the best hunting crossbows. Any other hunting accessories, gear, cameras and photos that you are proud of can also be included.
Finding the Right Color Scheme
Since the design of a hunting lodge is undoubtedly rustic, earthy colors and neutral tones are the most suitable for complementing the hunting theme. However, within this large palette of nature-inspired colors, you can find certain combinations or contrasts that you will find more appealing.
The idea behind choosing the right colors for a certain atmosphere is to recreate a sense of the outdoors inside the lodge. Earthy tones such as deep browns, brick red, burnt orange, and soft beige provide a sense of comfort and a feeling of rustic nobility. Also, don't forget about adding pops of colors, particularly reds or greens, to bring more vitality to the whole ensemble and added brightness.
Selecting the Best Furniture
If your hunting lodge is already made entirely of wood and even has walls with exposed lugs, having too much wood furniture would be overwhelming. Instead, try to complement the walls with furniture that has glass or iron components.
Oversized pieces of furniture are always a good idea for a lodge. In terms of fabrics and textures, leather, fur, and cherry wood are some of the classic options for hunting-inspired decor. The warmth of the cherry wood shade, the softness of the leather and the sumptuous texture of fur mix well together and enhance the rustic atmosphere.
You can also go with other types of wood, such as oak or pine, or you can even choose masonry instead of wood. However, this is a more costly option. Floors are also an important part of decorating a hunting lodge. They need to be durable and resistant to stains and dirt. Due to the specific purposes of a hunting lodge, wooden floors without too many embellishments are typically recommended.
Hunting Lodge Design Lighting and Accessories
For any lover of the outdoors, natural light is the best light. Ideally, hunting lodges should have large windows with a great view of the forest. You can opt for wooden blinds, to match the rustic theme of the interior, or for iron rods and heavy curtains, for contrasting textures and an added feeling of privacy.
Rugs, decorative pillows, and sofa throws are important accent pieces, that add a personal touch and also increase your comfort level. Rustic designs need dramatic accent pieces, for depth and character. A bearskin rug or a white sofa throw could be some interesting options, as well as pillows in various shades of green.
A hunting lodge design cannot be complete without wildlife-inspired accessories. Add various items inspired by wild animals such as bears, ducks or elks, or other natural elements. Also, art with wildlife themes is one of the important finishing touches. Hang photographs or paintings on the walls and mix them with antique hunting accessories.
Comments on this guide to Hunting Lodge Design article are welcome.
Residential Property Articles
Original hunting lodge of Khedive Ismail that is now a hotel and located next to the pyramids: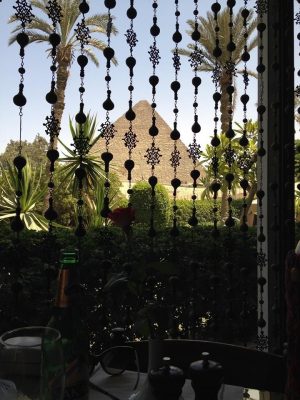 image courtesy of Traveland Agency
Norra Tornen, Hagastaden, north of Stockholm
Design: OMA / Reinier de Graaf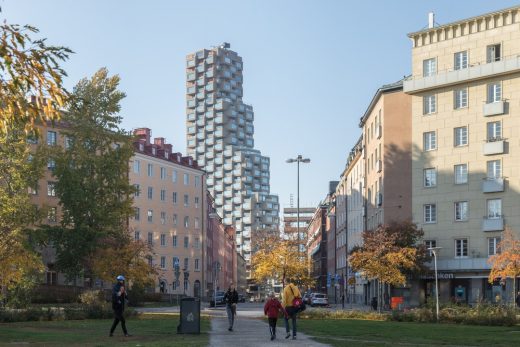 photograph : Laurian Ghinitoiu, Courtesy of OMA
Norra Tornen
Comments / photos for the Hunting Lodge Design Guide page welcome