Guide To How to Recover and Clean Up After a Water Damage, Home Flooding Advice, House Refurb Help
How to Recover and Clean Up After Water Damage
10 Dec 2020
Floods are a rather common occurrence, and many people lose their homes due to water damage every year. If your home has suffered water damage or flooding of any kind, it is important to know what to do to assess and deal with the damage. Depending on the amount of damage, you will either be able to fix everything yourself, or you will have to hire a water damage restoration service.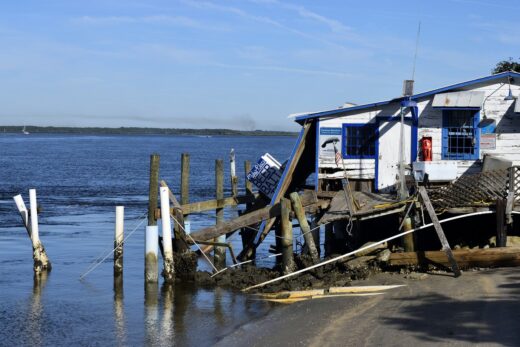 Whatever you end up choosing, it's important to stay safe, make sure everyone around you is as well, and then you can get to work. We will offer you a rundown of the most important things to know about dealing with flood cleanup.
Water Damage – First Steps
If water floods your home and business, it can damage various items and aspects of it. The ones that suffer the most damage are the walls, floor coverings, electrical wires, appliances, and so on.
But, before you begin cleaning or hire a water damage restoration service, there are several important things you need to do.
Make sure it is safe to enter the area
Document the damage yourself
Get all the water out (but make sure it's safe to do so)
Gather cleaning supplies
Get the mud and dirt out
After all of that is out of the way, you may start dealing with other damage.
Dispose of Damaged Items
The next thing you'll have to do is disposing of items that are damaged beyond repair. It is unfortunate, but not everything can make it, and some things you need to dispose of quickly. Examples are upholstered furniture, carpets, and anything else that can soak up water. You need to make sure these items are gone soon to avoid any hazards, bacteria, mold, or viruses.
When it comes to wood, the story is a bit different. You might be able to save it if it wasn't underwater for too long and if the wood's quality is high. But if the structure of the furniture was damaged, you'll have to throw it out.
Dealing With Damaged Flooring
As we mentioned above, if the water damage is severe, you will probably need to throw out your carpets. Apart from preventing mold growth, you also do this to protect your subfloor. In case you have wood or laminate floors instead of carpets, the story is the same. If they are too damaged, you will have to remove them too.
After removing the carpet or wood/laminate floors, you need to check the state of your subfloor. If you see damage, it is best to contact a professional.
How to Dry Out Walls After Water Damage
Firstly, it is important to check your walls for any bubbles or areas that feel soft. Then, you need ventilation and air-dryers. The tricky thing with drywall is that it could look fine from the outside, but be damaged and full of water on the inside. That is why cutting some holes in the wall is a good idea.
If you have plaster walls, you will need a hammer, and you'll need to work quickly on removing the damaged parts. If there is any damage near electrical outlets, contact an electrician immediately. That way you will know if there is any wire damage or hazards.
Still, no matter which type of walls you have, we suggest consulting with a professional before making any decisions.
Disinfect and Ventilate
Disinfecting is a crucial step in water damage recovery. Spraying and wiping everything down will ensure that no mold or bacteria remain.
After disinfecting, it is important to ventilate the room well. Ventilating will help with drying everything. So, keep the doors and windows open, if possible, and also use fans.
Keep Repairing the Damage: Hire a Water Damage Restoration Service
Your work isn't done here. There are many things that you still need to keep track of and fix. If you are not big on DIY, bringing in a water damage restoration service is the best idea. There are many to choose from, but we think Water Damage Restoration Kings are the best in the business.
Let them handle wall and floor reparations, and relax. You did your part. Now, it is all up to the pros.
Premiere Restoration wants to help businesses recover from their commercial water damage as soon as possible.
Comments on this guide to How to Recover and Clean Up After a Water Damage article are welcome.
Water / Floods
Water / Floods Posts
Water damage cleanup and repair service
Water damage restoration professional tips
Tips to protect your business from flood damage
Buildings
Contemporary Architecture
Comments / photos for the How to Recover and Clean Up After a Water Damage Advice page welcome