Make Best Use of Office Space Tips, Commercial Building Guide, Design Tips
How To Make Best Use of Your Office Space
31 Aug 2020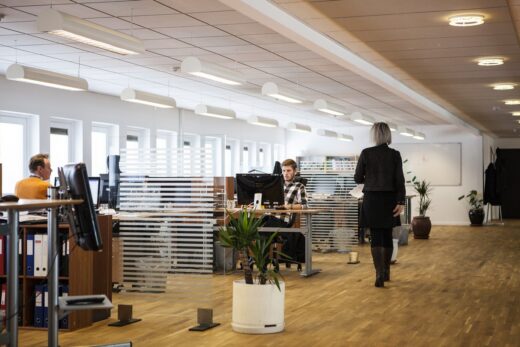 Make Good Use of Your Office Space
The outbreak of coronavirus is prompting companies to rethink their office design. Government directives urge boards to create a Covid-secure work environment and compensate for social distancing regulations.
Interior office design consultants note that most office space is vastly underused. The 'new normal' allows companies to utilise the entire office and create a workplace employees want to work in and feel safe.
In essence, enterprises need office space that works best for their employees. This is where interior office design consultants really prove their worth. Office refurbishments are an investment that can transform company culture, morale, productivity and profits.
The paradigm shift in the post-pandemic world will see companies downsizing offices and limiting the number of staff attending the office at any one time.
Repurpose Conference Rooms
The main conference room in any office is typically the largest space yet the most underused.
Companies can make better use of conference rooms by repurposing them as multi-functional spaces. Teams that are collaborating on a project can use conference rooms for brainstorming and planning whilst still having access to the tools they need to perform their job productively.
Create A Quiet Zone
Privacy and noise pollution are among the gripes that annoy employees in open-plan offices. With more floor space to work with, companies can rectify typical office problems by creating quiet zones and private spaces.
Introverts don't like to speak with clients on the phone when their team members are listening. A quiet space – or even a dedicated phone booth – is a simple solution. This also prevents other team members from being distracted by people talking.
Studies show it can take up to 23-minutes for people to regain concentration after they have been distracted. Open-plan offices are notoriously distracting places which quiet zones can rectify.
Dedicating space in a quiet corner of the office provides employees with space where they can go to focus and think in a distraction-free section of the office.
Break Out Spaces
Break out spaces are a product of the agile working strategy. They are the most flexible spaces in the office and should be factored into a floor plan with a broad number of uses in mind.
Because break out spaces are not typically designed for a defined purpose, they have to be suitable to serve a number of functions; a stop-off between meetings, a recuperation area, one-on-ones etc.
A trend among larger firms has been to install a break space which employees could use to reinvigorate cognitive function and engage in team-building games such as pool, darts and table Fussball. 
Essentially, break out spaces provide convenient pockets around the office which enables staff to be more agile and productive. For example, rather than returning to their desk after a meeting, break out space can be used for making a quick note, phone calls or follow up conversations.
Extend Into The Outdoors
In the post-pandemic period, interior office designers expect to see companies making better use of their space by knocking through walls and extending the office into outdoor areas.
Gardens, neglected terraces and balconies can be covered with sheltered conservatory-style exteriors that not only create more space but allows natural light to flood into the office.
Outdoor spaces can be used for meetings and other collaborative activities together with social interactions or even as a quiet retreat.
Contemporary office design solutions require a commitment for companies to protect their employees by installing measures that prevent the spread of Covid-19. Making the best use of your office space is the most sensible solution.
Comments on this How To Make Best Use of Your Office Space article are welcome
Offices Articles
Offices Posts
Useful Tips for Designing Office Space
7 tips to improve your home office productivity
Guide on how to hire office space planner
Property Articles
Comments / photos for the How To Make Best Use of Your Office Space page welcome