How to decorate your bedroom in a sexy way tips, Relaxing bed space advice, Building interior style guide
Tips on How to Decorate Your Bedroom in a Sexy Way
22 Sep 2020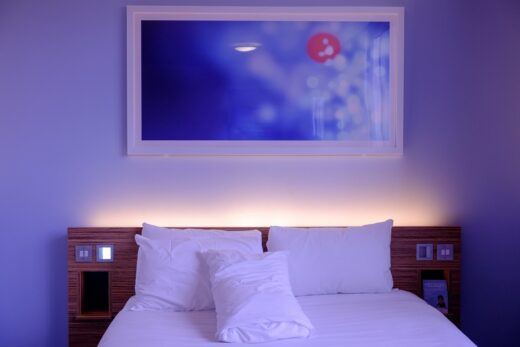 Obviously, you can think that the primary purpose of a bedroom is relaxation and sleeping, but most importantly, it's also the space for your sexy adventures! No matter if you're into one-night stands or monogamous, stable relationships, you should make your bedroom atmospheric, welcoming, and sexy. If your decor lacks that sensuous vibe, you should think about rearranging it so that it can set you and your partner in the right mood for some hot action. To make it a bit easier for you, we have prepared a list of tips on how to decorate your bedroom in a sexy way. Check it out!
Prepare a Gorgeous Bed
The central place of every bedroom is always the bed. Even though you and your lover may end up on the floor or by the wall, most commonly, you will enjoy each other in bed. Therefore, it shouldn't be dirty and messy – make sure it's really gorgeous and inviting! Most importantly, it needs to have a clean and comfortable mattress.
And it shouldn't be squeaky, as the only noise during the sexual intercourse should come from you and your partner! Therefore, you can check, for example, this Allswell Luxe Hybrid review, or choose another famous brand to provide yourself with the highest-quality product.
Apart from that, you should also get some new bedding. Remember the old song "Nights in White Satin"? Yeah, that's probably the best fabric for creating a romantic and sexy mood in your bedroom!
Make It Smell Sexy
Keep in mind that intimacy can be stimulated by all of your senses. Sensual aromas will certainly help you to set you and your lover in the right mood, so remember about getting some scented candles, fresh flowers, or incense. Also, instead of using synthetic fragrances, it is an excellent idea to go for more natural, aromatic essential oils, such as lavender, ylang-ylang, sandalwood, or musk to apply to your body. I would highly recommend using essential oils and have a diffuser from Kumi set up as well. Actually, you can even go further and use them on your bed as well to enhance the erotic energy in there!
Light the Atmosphere Up
Speaking about candles – the right lighting is also crucial for a sexy bedroom, of course! Candlelight is a well-known way to advance the mood, but you can do even more than that. For instance, think about improving your main bedroom lighting with a dimmer switch – you can buy a simple, non-expensive one in your local hardware store. Having it, you will be able to adjust the lighting to your current needs. When you're just reading in your bed, it can be very bright, but when you're having sexy time with your partner, it's cool to make it dimmer.
What is more, you can also get some colorful light bulbs, like red, purple, or pink ones. Such lighting will make your bedroom look different than usual, and it will undoubtedly help to make it special for intimate moments! Also, you will be able to see your lover's body in a totally new light (no pun intended!).
Make Room for Romance
This one may sound very earthbound, but still – apart from adding all the decorations, you should bear in mind to keep your bedroom tidy. Get rid of all the unnecessary clutter because there is nothing sexy about an interior full of stuff you don't really care about. Is there any unfolded laundry or messy, unfinished paperwork around? Hide it somewhere or take it to another room. Take into account that your bedroom should be the space for relaxation, romance, and intimacy, so avoid anything that can spoil the mood.
Conclusion
Your bedroom should be your little sanctuary – a special place where you can either rest or enjoy romantic moments with your partner. In order to achieve that, you have to make some essential preparations. Most importantly, it's a BEDroom after all, so you should make your bed as beautiful and comfortable as possible – take care of both the mattress and the bedding. To spice the mood up, add some sexy architectural lighting and sensual smells. Also, remember not to clutter this intimate space – when you're about to have some hot time with someone, get rid of all the earthbound, unnecessary items around!
A sexy bedroom can be beneficial for both monogamists and sex adventurers. In the first case, it can help you to keep the flame of love burning despite years passing by, and in the second one, it can serve as a girl or boy magnet. So, don't wait and turn your bedroom into a unique space for "some hot stuff baby tonight"!
Paulina Dolatowska
Comments on this Tips on How to Decorate Your Bedroom in a Sexy Way advice article are welcome.
Beds and Bedrooms
Bedrooms Posts
4 Colour Combinations To Enhance Your Bedroom
Essentials things for a perfect master bedroom
Touches of Glamour for your Bedroom
Perfect bed headboard designs for bedroom
Building
Property Design Style Articles
Comments / photos for the Tips on How to Decorate Your Bedroom in a Sexy Way Guide page welcome