How to Add a Timeless Style to Your Bedroom Design?, building style, homeowner tips
How to Add a Timeless Style to Your Bedroom Design?
31 Aug 2020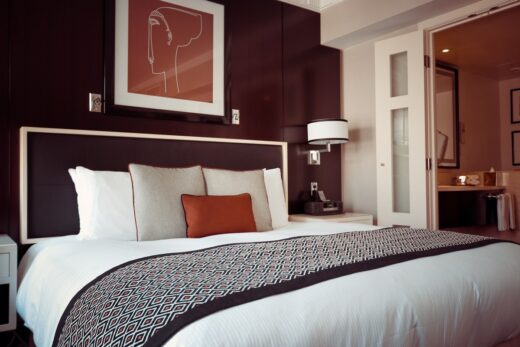 There are a plethora of designs to follow when it comes to styling your bedroom, and timeless style can never go out of fashion. With constantly changing trends and fashions, it can be very daunting to provide your bedroom design with a truly timeless style. That's why we have come up with a few most effective tips that will allow you to design your bedroom that will not appear to be passé in the years to come. So, without any further ado, let's get into it.
Always Select Neutral Colors
Neutral colors keep your bedroom style timeless, and they also provide you with a perfect background to add popular and seasonal trends. By keeping your room colors overall neutral, you allow yourself to add changeable sprinkles without any long commitments.
Bedding
The less stylized bedding you have, the less likely it will appear to be passé through the years. Think of creating your bedding with a simple line soft-mattress and overall neutral color scheme. Recent article from Sleep Standards revealed that the soft feeling of a mattress, in harmony with the achromatic colors, will turn the bedding vibe even more elegant. If you want to add a little more wild character to your bedding, you can also add some pop of complementary colors and different textures that you can easily change with time.
Bear in mind that your bedroom space needs to be calming, so choosing the colors that are coherent with your sleep is always a wise decision. So, consider styling your bedroom with neutral colors and light design.
Wall Paint
Trendy colors for paint undoubtedly add more character to your bedroom, but we all know that trends are meant to be changed. Changing your wall paint is always a mess, especially when the wall paint colors you chose were dark.
Choosing the light paint colors provides your bedroom the airy and spacious effect, and they never get obsoleted. You can embrace the latest trend colors through other ways if your wall paints are neutral. Adding a few pops of colors and little decoration pieces (which you can always change) can transform your bedroom according to the latest trends.
Wallpaper
Although, wallpapers with distinctive colors and large patterns appear trendy and add dramatic character value to your bedroom. However, then you can date your bedroom design very quickly. That's why opting for bedroom wallpapers with timeless factor, neutral colors, and delicate texture design is always a better choice. Not only will it allow you to follow the latest trends, but you can also transform it with new trends without spending a large amount of money.
Your Bedroom Design Should Reflect Your Personality
Regardless of the styling theme, your bedroom design must reflect your personality. If you are surrounded by the colors, textures, decorative pieces, and patterns that you love the most, it will allow you to live, feel, and sleep better. It is by far the most important thing while designing your bedroom because everything that you love will work.
Give Your Bedroom a Little Artistic Touch
Using contemporary art to modernize your bedroom is yet another effective way to achieve a timeless style. The blended mixture of antique decorative pieces, vintage side tables, and traditional furnishing perfectly balances your bedroom design timelessly.
Don't Follow the Trends Capaciously
We all know that trends come and go, and they become obsolete within no time. That's why you should never go big with modern trends. It certainly doesn't mean that you should not try the new trends at all. In fact, in order to shake things up a little, you should change your bedroom style every now and then, but the change should not be permanent. We recommend you not to make any long-term and expensive commitments with the trends.
For example, if the blue color is trending, you don't have to paint your bedroom walls with the blue color. Instead, you can add a few pops of colors that you can easily remove once the trend changes.
Keep Tidiness
Regardless of the design efficiency of your bedroom, if it is not tidy, it will appear to be a complete mess or clutter. A clean bedroom makes you feel serene and peaceful, even if it does not follow any trendy design. It does not relate to selecting the theme or design of your bedroom. As mentioned earlier, you won't be able to enjoy your bedroom if it constantly remains dirty.
A clean and tidy bedroom has numerous positive impacts, and one of the most important ones is that it allows you to start your day peacefully.
How to Add a Timeless Style to Your Bedroom Design – Final Thoughts
Going too big or too far into modern and dramatic trends is surely going to date the design of your bedroom. With time, even your likenesses are bound to change, and that's why opting for designs and styles that can be transformed easily with time is always advisable. A timeless style allows you to change your bedroom design with trends and seasons so that it never stagnates.
Comments on this How to Add a Timeless Style to Your Bedroom Design? article are welcome.
Are you looking for room inspiration? Check out bedroom style ideas at VisionBedding.
Bedrooms
Bedrooms Posts
Touches of Glamour for your Bedroom
Perfect bed headboard designs for bedroom
Make Your Bedroom More Comfortable
Vital rules of bedroom furniture placements
Articles
Common Kitchen Design Mistakes
Kitchen Countertops Tiling & Backsplash Design
Comments / photos for the How to Add a Timeless Style to Your Bedroom Design? page welcome