4 colour combinations to enhance your bedroom guide, Home decor design tips, Online property style advice
4 Colour Combinations To Enhance Your Bedroom
23 Dec 2021
The bedroom is where everyone begins their mornings and ends their days. The colour of your bedroom can help in unwinding and de-stressing you. But if you go for ill-advised shades, you will end up with a bedroom that is claustrophobic, dingy or dark.
This is mainly because colours have the power to invoke all positive emotions, and it can also make the room feel a lot more cheerful, cosy and welcoming at the same time. It can easily grinch the area you must choose wisely.
So, how to choose the best shades for your bedroom? You can go for the two colour combinations for bedroom walls, which can easily magnify the look and feel of the bedroom. These colour combinations are: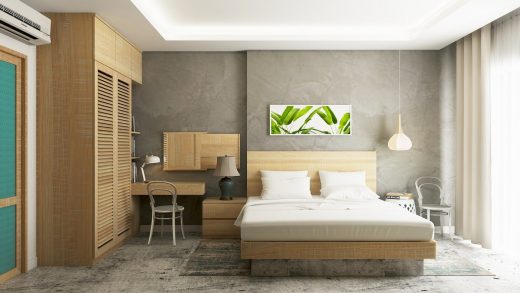 The mixture of blue and yellow is pretty and playing. Canary yellow and midnight blue combinations can make your room feel alive and allow you to have a cheerful mood. You can easily balance the vibe with a smattering of white furnishing. Yellow is a well-known shade to uplift a person's mood, and blue is known to offer a peaceful sleep and stability.
Another unique two colour combination for bedroom walls are the zesty pinks. They can add a bit of fancy flair to your bedroom. Zesty pink is ideal for all those who are in the mood to be daring. You can easily make this work by peppering the furnishings with this shade or using it on the accent wall. On the contrary, pink doesn't need to be gender-biased, and this is because the shade looks outstanding in all kinds of settings.
The mixture of white paired up with wood looks soothing and classic on the eyes. The white colour will work perfectly in small areas. But when you contrast that colour with wood finishes, it will give out a touch of warmth. Wood stands out as a natural shade, which offers a comforting feel, and it's one of those bedroom shades which is perfect for restful sleep.
Brown is an earthy shade that has the power to evoke tranquillity. Layering up your bedroom with the brown shade will give a natural glow to the space. Even though many people believe brown to be a flashy shade, the chocolatey shade will look inviting and warm at the same time. Brown is a shade of the earth, and when you cover your bedroom walls with it, the colour will bring a sense of calm and natural feel to the room.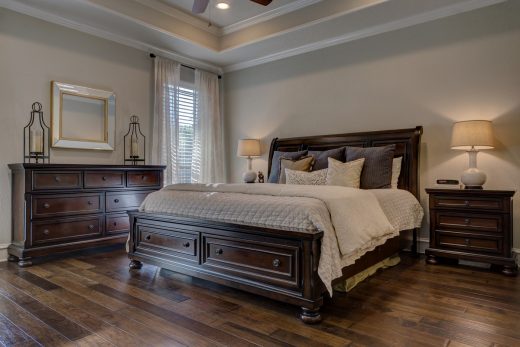 How to Make Your Walls Look Flawless and Alive?
When you wish to make the wall finish stunning and flawless, the best way to get that done is through wall putty and beautifying your dream home. Wall putty is a white cement-based powder made into a smooth mixture and then applied on the walls right before painting. How exactly applying white cement mixture to the walls can help you? Here are some of the ways:
Provides a Smooth Surface to Paint: When the wall putty for the home walls is applied appropriately, it will fill all the faults, imperfections and cracks on the walls. It forms a superior bonding for the plastered surfaces or base concrete. When it's applied over the interior or exterior walls of the house, the application of Wall Putty can make a smooth ripple-free surface to offer a unique paint finish.
Elongates the Paint's Life: Wall putty contains an outstanding tensile and adhesion strength. This means when you apply it to bedroom walls, it will add to the life of the bedroom wall paint. Wall putty can lessen the deterioration of the walls by making them abrasion, water and flake resistant.
Multi-Purpose Application: The Wall Putty can be easily applied on the exterior and interior walls. Apart from that, you can use the mixture on both new or old and wet or dry walls to receive a fault-free surface.
Ending Note
As a homeowner, you will look for many ways to enhance the appearance of your home's interior. So, if you want to give your bedroom walls a new colour, you can opt for the two-combination shades, as they are pretty popular these days. Make sure you opt for the right colour combination so that it can give your bedroom a unique look. But before you paint your bedroom walls, make sure to cover them up with wall putty as it will provide you with a ripple-free surface to paint on.
Comments on this guide to 4 colour combinations to enhance your bedroom article are welcome.
Bedroom Design
Bedroom Articles
Modern versus contemporary bedroom designs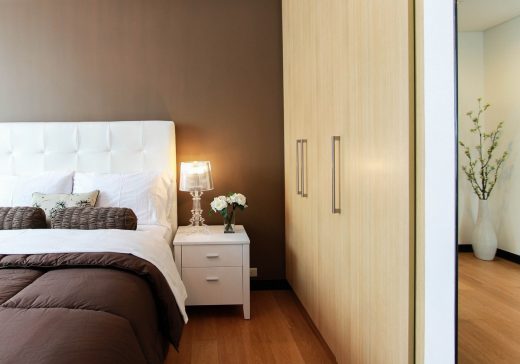 Essentials things for a perfect master bedroom
Make Your Bedroom More Comfortable
Touches Of Glamour for your Bedroom
Property Articles
Residential Architecture
Comments / photos for the 4 colour combinations to enhance your bedroom advice page welcome