How to deal with noise in the office, Workplace employees well-being, Staff productivity tips
How to deal with noise in the office?
31 March 2023
Employees, especially in open-plan offices, often complain of increased fatigue and concentration problems. Daily noise from conversations, telephones, keyboard sounds and printers has a negative effect on well-being and productivity.
This is why many companies are already considering at the design stage how they can tone down the offices and provide space for employees to perform their duties comfortably and productively. Several solutions are available to minimise noise in the workplace and create spaces that are effectively isolated from their surroundings. Read the article and find out how to ensure pleasant acoustics for work.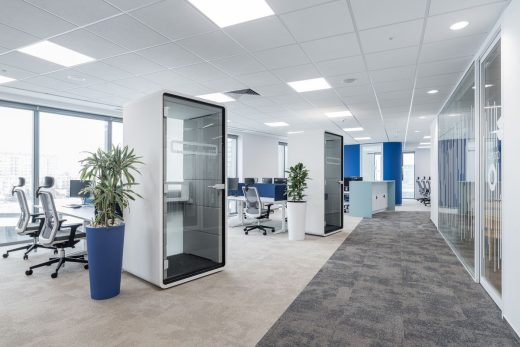 photos : Katarzyna Seliga-Wróblewska, Marcin Wróblewski / Fotomohito ; client: Hoof
An office might sound like a beehive – what are the sources of noise in a company?
In large company rooms and open-plan offices, various types of noise make it difficult to work efficiently. Noise does not only come from phone calls or lively discussions. Four sources can be distinguished: 
Created by employees – includes conversations, the sound of footsteps, doors closing and opening, tapping on a keyboard or pushing back chairs.
Office equipment – printers, scanners, photocopiers and other equipment often produce various noises during their operation.
Technical installation of the building – operation of air conditioning, ventilation, heating system and lifts.
Sounds from the outside – these are associated with traffic, trams or various work near the office.
The permissible noise level in the office is regulated by the PN-N-01307:1994 standard. According to the standard it should not exceed:
35 dB – in rooms intended for office work requiring intensive concentration,
40 dB – in areas designated for conceptual work,
55 dB – in administrative rooms,
65 dB – in secretariats and customer service offices.
In search of silence – how to deal with noise in the working environment?
Today, a range of office equipment provides many ways to reduce noise in the workplace. Office walls with sound-dampening properties, panels and mats are available, as well as the modern and multifunctional Hushoffice acoustic pods. With them everyone can find a solution that suits their needs and significantly improve the comfort of the office.
Correct positioning of desks relative to noise
Small distances between desks can lead to increased noise and unnecessary disturbance to other employees. The optimum distance between workstations should be at least 1.5 m. If it is smaller, acoustic panels can be considered. It is also a good idea to move or separate desks away from noise sources such as printers, shredders and air conditioners. The correct positioning of workstations is a compromise between ensuring privacy and the ability to communicate.
Organise venues for team meetings
Team meetings are part of the daily routine in many companies. If adequate meeting space is not available, the noise levels in the office and the comfort of others can be adversely affected. Consider a separate room or the use of special hushMeet.L conference pods for business meetings and discussions in a quiet and private atmosphere. Depending on the chosen configuration, they can accommodate between 4 and 8 people. The modular design allows the pod to be expanded in one day to an area of up to 9 square metres. The interior is equipped with electrical sockets and USB ports for charging mobile devices and a ventilation system to ensure adequate air circulation. Installation of hushMeet.L acoustic pods is very simple and quick. They can be efficiently relocated using a pallet truck.
Adequate space for telephone conversations
Nowadays, working in an office requires remote communication with clients and colleagues. However, making phone calls in open spaces can be problematic due to ambient noise and interference with other people. The solution is to set aside special zones for this purpose. These can be well soundproofed rooms in close vicinity of workstations so that they can be quickly accessed, or hushPhone soundproof phone booths. This type of solution not only enhances comfort, but also helps to maintain the privacy and confidentiality of sensitive telephone conversations.
Arranging a quiet zone
To ensure adequate acoustic conditions, consider arranging a quiet zone. Such a space allows employees to isolate themselves from their surroundings and focus on work that requires a high level of concentration. The quiet zone can consist of several individual workstations or modern acoustic pods for individual work. There are special materials inside the pod that absorb sound and prevent noise from spreading outside.
Green walls versus noise
Greenery in the office not only brings a pleasant atmosphere and aesthetics to the interior, but also helps to reduce noise. Plants absorb sound, as well as help to reduce stress levels and improve air quality. The greenWall is the perfect complement to the acoustic pods and is part of the biophilic design that is gaining in popularity.
Comments on this guide to how to deal with noise in the office guide article are welcome
Office Design
Offices Posts
Coronavirus impact on office working return
Office architecture and design trends
How to transform your office to make it comfortable
Simple ways to reduce distractions open-plan offices
Improving Office Wellbeing and Health
Buildings
Contemporary Property Articles – architectural selection below by type:
Comments / photos for the How to deal with noise in the office guide page welcome