Achieve a New Exterior Look without Exterior Landscaping guide, Landscape Advice, Garden Space Tips
How to Achieve a New Exterior Look without Exterior Landscaping
20 Jan 2021
How the outside of your business space looks makes a statement, first impressions are very important when it comes to impressing clients and customers. Most businesses lack the motivation to upgrade their exterior spaces for the fear that it will cost them a fortune and achieve very little. However, you can achieve a high-end exterior look from creativity and proper positioning of a certain elements, such as planters, in your entranceway.
Landscaping is not mandatory to achieve an impressive exterior. There are quite a few tricks to pull to enhance the appearance of your outdoor space.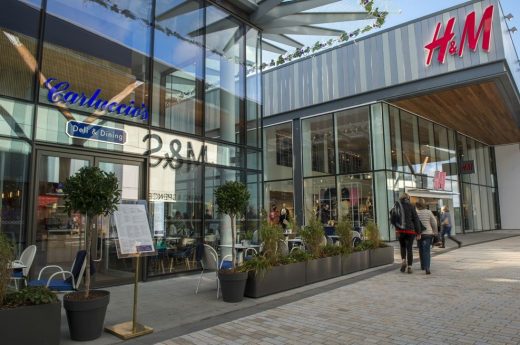 Choose green
Nothing compares to a green environment; it gives so much life to exterior spaces. In a situation where you lack time for landscaping, you can still go green by adding planters. For instance, if your business is in an urban setting, there are various styles of planter that can bring a luscious green glow to your business exterior.
Trough planters are a fantastic way to achieve a lot in a smaller area of space. Running a singular or even a series of large trough planters along the outside of your building wall can create an inviting and colourful look depending on what you plant in them. Trough planters also come in a range of different styles and materials to fit with any business, whether it's a rural brick and mortar shop or an urban office building.  To achieve the look you want, it is best to ensure that all the visual points have various plants and flowers.
Eyeline Not Shyline
A great way to make an impact is to put a lot of your external enhancements at eye level. This means the first thing a client or customer will see is that fresh and green look you've added to your establishment. A great way to do this is with large tree planters. Two tree planters covering the entrance to your building is a fantastic way to add a welcoming atmosphere to the exterior space. Depending on what you choose to put in your tree planters can make all the difference, some great options are:-
King Sago Palm Trees
Bay Tree
Italian Cypress tree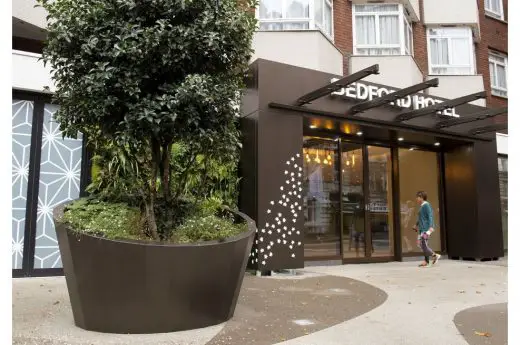 Add Colour
If it's feasible for your business, painting the outside of your building with a fresh lick of paint can enhance your exterior at a low cost. Stand out from the crowd with bold colours and entice people onto your premises.
Add lighting
Lights have a way of oozing elegance. Dark entryways are nothing to go by. Ensure that you install modern lighting fixtures to give a bright and clean entrance area for your business. Another great thing lights can do is make your building stand out when the darker evenings roll in during winter. Just make sure to clean off any cobwebs you might notice because a good light fixture will expose any dirt on the walls.
Design your path
If you have a path or small area of outside space leading into your business, by creating a luring design, you can direct customers right to your front door.  Adding a combination of large trough planters and low level lighting can create a beautiful guiding path into your entrance. Ensure to get super-sized statement planters as this way there won't be any mistake on where they are leading. It is vital to have statement plants within the planters as well, there are some fine hedges and trees that will work well for this purpose.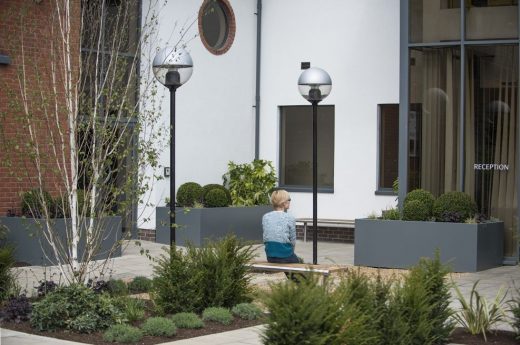 Be smart about your outdoor furniture
Outdoor furniture can upgrade or kill the exterior, make sure you choose wisely for both appearance and functionality. Proper positioning of a table or benches could make a massive difference in your outer space.
An outdoor bench or stools will do wonders for large exterior spaces; the functionality they provide will also add to that inviting atmosphere for your business and also provide a great area for sit down meetings.
So choose wisely when it comes to making your outdoor business space presentable, having the the right mindset will go a long way to help transform your exterior look without incurring massive landscaping costs.
Comments on this guide to How to achieve new exterior without exterior landscaping article are welcome.
Gardens Articles
Gardens Posts
Landscaping and garden design ideas for your outdoors
How to choose the perfect furniture for your garden
5 Best Garden Recliner Chairs in 2021
Home Articles
Residential Architecture
Comments / photos for the How to achieve new exterior without exterior landscaping advice page welcome