House Trends to Follow in 2021 Guide, Property Decor Tips, Home Style Advice
House Trends to Follow in 2021
10 Feb 2021
The year 2020 saw us spend more time than ever before in our homes. Our homes became multi-functional and had to accommodate a suitable work space for us to keep our career on track, space for us to exercise and some space for us to keep ourselves entertained, which is more important than some realise.
While stuck at home for the vast majority of the time, we need something to help us pass the time and relieve the boredom such as streaming the latest TV box sets, playing online games, or watching our favourite sports as we place bets online. Whatever it is that we choose to do, we need to ensure we make the time for it, as working and living in the same environment can become stressful.
With the ever changing dynamic in how we live and work in the 21st century, people are quite rightly asking, what are the 2021 architectural trends to follow when designing a home? Here, we'll take a look.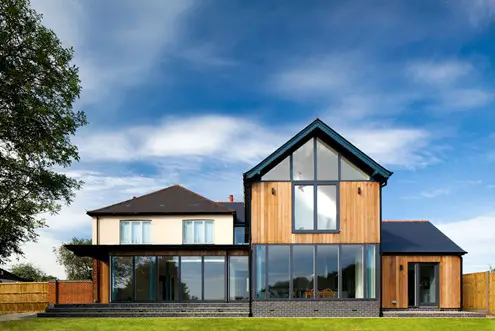 photo : Louis Sinclair
House Trends to Follow Advice
Industrial revolution
Industrial style, or industrial chic as it's otherwise referred to, is nothing new in the architecture world. Its popularity grew in the early 2000s, as more and more old factories and industrial spaces were converted into homes and apartments. This mix of the old and new is something that is becoming increasingly more appealing to those looking to design their own homes.
It's not difficult to see why. Industrial styled homes tend to have high ceilings and spacious rooms, offering owners a wide range of versatility in terms of what to do with the space. Exposed brick, when done right, can make a space feel more comfortable and homely and is a perfect tonic for the harshness and coldness of concrete flooring.
The simple, natural colours of an industrial styled home also make it very easy to dress up with furniture and fixtures. The mix of greys, rustic and neutral colours give owners the opportunity to mix and match with bold colours, such as yellow and red, that would look out of place in a more traditional bricks and mortar home.
Open spaces
Bigger isn't always better, but when it comes to a home that has to be multifunctional, it definitely is. Spacious kitchens and living areas are always popular with people designing their own homes, as the feeling of open space creates a sense of grandeur about the property. However, something that more and more people are taking into consideration is a spacious "miscellaneous" room.
At a time when people are required to work, eat, exercise, relax and sleep all under the same roof, it's become more important than ever to have (where possible, separate) spaces for these activities. Having a spacious room within a property allows owners to be flexible with how they utilise the space. Right now, it could be an office by day and a gym by night, while at other times it could be the main entertainment space of the home with the addition of a seating area, perhaps a bar, a stereo system and some lighting.
The options are practically limitless, should the homeowners have the relevant space, and that's why it's vital to now consider how this additional space could be used when designing a home. It's important to have your finger on the pulse in terms of the needs of working professionals. Today, it's to be able to work effectively from home, tomorrow, it could be a place to hold board meetings. The best way around this is to make the spacious as adaptable as possible. Easier said than done, of course.
Smart homes
This won't come as a great shock to anyone, but the demand for smart homes is booming. As personal technology and smartphones advanced so dramatically throughout the 2010s, many began asking how this tech could effectively be used in a home environment. Now, we have entire homes that can be controlled via an app on a mobile phone or tablet device.
Goods providers caught onto the trend and we now have everyday items such as kettles, toasters and more with built-in bluetooth to allow contactless control from anywhere in the home. A simple voice command can turn on the oven and heat it up while you're sat watching your favourite TV show. Now that's luxury.
Even without all of these amazing new gadgets, the vast majority of today's homes will have broadband WiFi that will need to reach every corner of the home. Even building materials need to be considered in today's world, as thick, concrete walls will block WiFi signals from reaching other rooms. It sounds simple, but is a mistake that is made all too often.
All in all, there isn't an expected boom in any new type of home design and the trends should pretty much overlap from 2020. It's always prudent to keep one's ear close to the ground though, to stay one step ahead of the game.
Comments on this guide to House Trends to Follow in 2021 article are welcome.
Home Improvement
Home Improvement Posts
15 easy home upgrades to boost home value
How to Remodel Your Child's Room on a Budget
Upgrading your property: home improvement projects
Home Articles
Residential Architecture
Comments / photos for the House Trends to Follow in 2021 Advice page welcome