Everything you need to know about Calacatta Marble guide, Italy stone for buildings, Home interior materials
Everything you need to know about Calacatta Marble
10 Nov 2021
Calacatta Marble: Quarries in the Apuan Mountains near Carrara, Italy produce Calacatta Marble, a white and gold-toned Italian marble, which in itself is unmatched in its beauty. Natural colours like hue, grey, white in Calacatta marble give it such a polished look that intensifies its elegance. In addition to its exquisite texture, Calacatta Marble stands out for its warm white backdrop and dark grey veins.
This heat-resistant natural stone has a tough exterior. When properly sealed, it is very long-lasting in both the kitchen and the bathroom. Its strength, purity, and aesthetic appeal are unparalleled in the world of natural stone. Given its unusual veining and gorgeous patterns, it's hardly surprising that this stone was utilised in some of history's most prestigious structures, such as castles and cathedrals. The stunning white colour and exquisite veining of this stone demonstrate its eternal allure. This stone was a favourite of legendary Italian artist Michelangelo for creating monumental works of art. As a prestige symbol, Calacatta Marble may be found in a broad range of high-end residential and commercial projects all over the globe. As much as marble requires greater care, its aesthetic qualities and tactile quality make up for it generously.
The five principal industries that use marble are the building industry, art sector, city planning, artefacts, and furnishing.
The construction industry
Marble is a material that is commonly used in the building industry. It can be found in the structures, the interior, or the entire flooring. On the one hand, the usage of marble as a supporting element of a building has declined significantly as a result of the competition of less expensive materials, but on the other hand, the marble collected from Carrara's quarries, like the calacatta marble, is still predominantly used as a construction material and the marble is highly prized for its aesthetic features. Calacatta Marble is a versatile material that may be used for flooring, wall coverings, portals, pillars, and fireplaces, as well as columns, embellishments, stairs, windowsills, and balconies.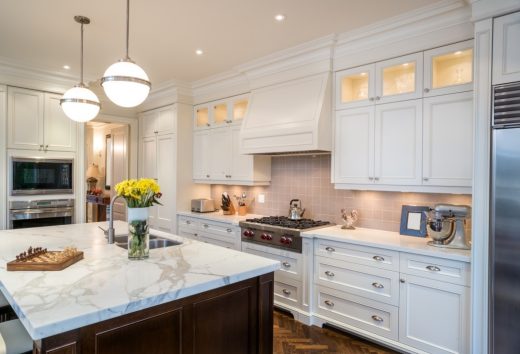 Image Source – Avant Stone
Due to its beauty and distinctiveness, marble flooring is often used in high-visibility areas. It draws acclaim and adoration from all who look upon it. Calacatta Marble flooring is widely used in entryways and reception areas of high-end corporate offices and medical clinics, such as cosmetic surgery facilities. Marble may be used throughout the home or to highlight certain places such as the entryway, pooja room, or even the kitchen. Due to their mellow patterning, our Calacatta  Statuario and Calacatta Oro are excellent candidates for floor applications.
Notable structures include the Duomo di Siena, a cathedral in Siena, Italy; the Manila Cathedral in Manila, Philippines, and the Sheikh Zayed Mosque in Abu Dhabi, the United Arab Emirates' biggest mosque.
Art
Calacatta Marble is well known for its application in sculptures, reliefs, architectural components, decorative elements, and monuments. Carrara's region is home to several marbles, which leads it to also be the home of workshops where artists from all over the globe create sculptures. The sculptures have been completed and are now on display at exhibits and museums. A particularly prominent use of Calacatta marble is in funeral art; it is an area with a strong demand for marble, and there are numerous artisan firms in Carrara devoted to satisfying clients' expectations. The look and the finishing that calacatta marble provides to the sculptures are worth all the effort put into them.
Michelangelo's Pietà and David, the George Washington monument on exhibit at the National Museum of American History, and the Akshardham Temple in New Delhi, India, are among the notable artworks.
Urban Planning
Marble is often used in urban design for monuments, squares, street paving, fountains, pavements, benches, gateways, and statue bases. Calacatta marble is used in some of the world's most beautiful architectural structures.
Natural stone is used to completely cover a wall or to give pattern to it, which helps differentiate them from one another. It lends the environment an air of cleanliness and freshness. The marble walls give a chilly or warm sensation for the eyes, depending on the kind of slab utilised. Color decisions are critical when it comes to creating a colder or warmer ambiance. Our Calacatta Corchia is ideal for a colder environment, whereas our Calacatta Vagli, with its warm veining, is more suited for a warmer environment.
A famous example is the Hill of Hope monument in Hiroshima's Onomichi district. It has a five-thousand-square-meter Carrara marble landscape.
Furnishings & Artifacts
Due to the beauty of marble, it is a perfect material for embellishing homes, offices, commercial activities such as hotels, bars, restaurants, and stores, as well as public institutions such as schools, hospitals, and museums. Vases, flower pots, lamps, tables, kitchen countertops, and storage compartments are all constructed of marble.
Despite Calacatta marble being a little expensive as compared to stones like granite or tiles, it can still be seen in use in many places, adorning the interior of houses or offices.
Industry
Calacatta Marble is also a fantastic option for industrial applications due to its versatility. Due to the unique properties of the calcium carbonate that makes up Apuan marble, the waste is reduced to powder and used in a variety of applications: calcium carbonate can be used as an abrasive (also in toothpaste), a base for cosmetics, pharmaceutical products, colourants, and paints, as well as a raw material for the production of paper, glue, plastic, and other materials.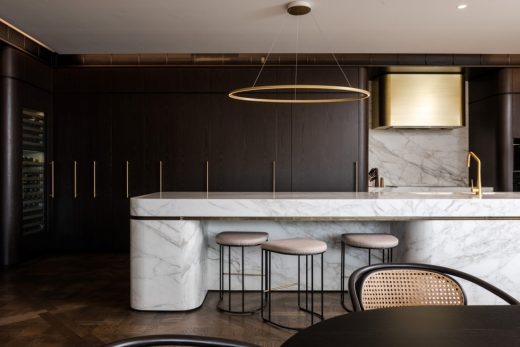 Image Source – Avant Stone
There are high Varieties of Calacatta marble options to choose from:
Calacatta Oro
Calacatta Vagli
Calacatta Corchia
Calacatta Statuario
Calacatta Oro
Calacatta Oro is a highly attractive marble with a clean white backdrop contrasted with dramatic grey veining. It is one of the most sought-after marbles in the world, and it is one of the most expensive. It looks stunning when used on benchtops, fireplaces, and bathrooms, and it exudes refinement in all its applications. This traditional Italian marble has been used in high-end luxury constructions all over the world for centuries. It is one of the most sought-after marbles in the collection. The ageless beauty and splendour of this marble will add a touch of elegance to your home's decor.
Calacatta Vagli
Calacatta Vagli marble is a warm white marble with gentle earthy grey-gold veining that has a dreamlike appearance to it. Despite its stunning look, this stone may be used for both large-scale and small scale projects due to its versatility. The elegance and richness of this stone can be seen in everything from benchtops to feature walls and kitchen islands, shower niches to fireplace hearths.
Calacatta Corchia 
Calacatta Corchia is a sophisticated marble with touches of cream in its veining, which is blended with silky wisps of grey, taupe, and charcoal to create a dramatic look that contrasts with its cold white backdrop. Calacatta Corchia is available in a variety of sizes and colours. Indoors and out, this lovely marble has a traditional and elegant appeal that works well in a variety of contexts. Suitable for both large and small formal applications, this stone is ideal.
Calacatta Statuario
Calacatta Statuario is popular because of its striking dark grey veining and crisp geometric designs, which make it stand out. It is a fashionable stone in today's kitchens, and it is the ideal marble to showcase your design choices. This stone is a highly sought-after choice for benchtops, feature walls, and kitchens, among other applications. This stone will improve the environment in which it is placed.
Comments on this help guide to everything you need to know about Calacatta Marble article are welcome.
Italian Architecture
Italian Architecture Designs – chronological list
North Italian Buildings on e-architect:
Hotel Silena, Via Birchwald, Valles, Bolzano, Italy
Design: noa*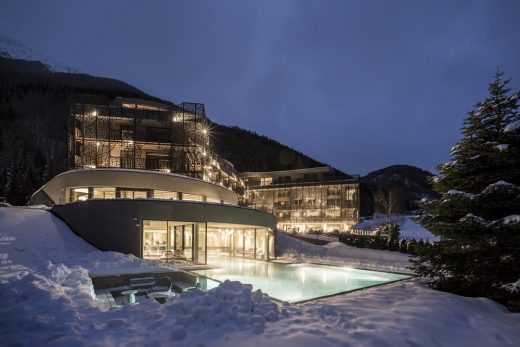 photograph : Alex Filz
Hotel Silena in Vals
Hotel Valentinerhof Building, Kastelruth
Design: noa*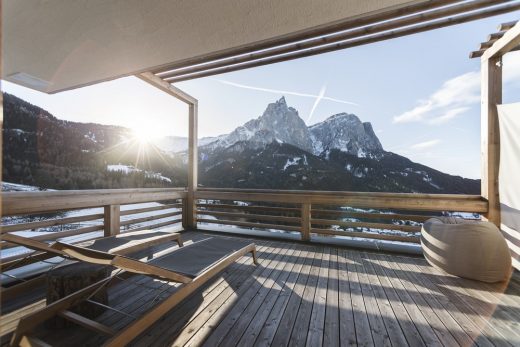 photo from architecture studio
Hotel Valentinerhof Building
Rosa Alpina Hotel SPA Penthouse, Dolomites
Architects: Vudafieri-Saverino Partner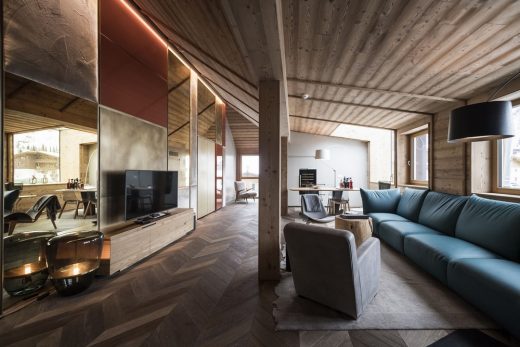 photography : Alex Filz
Rosa Alpina Hotel SPA Penthouse
House at Muehlen In Taufers / Campo Tures, South Tyrol, northern Italy
Design: Pedevilla Architects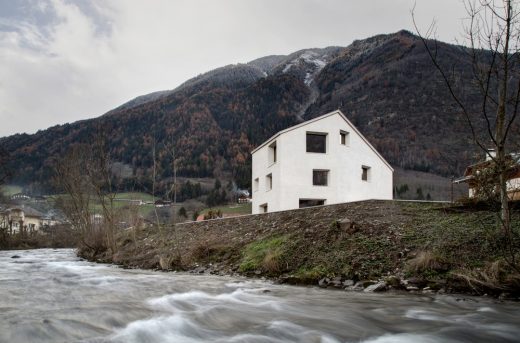 photograph © Pedevilla Architects / Photography by Gustav Willeit
House at Mill Creek Muehlen In Taufers
Italian Architecture in major cities : news + key projects
Italian Buildings : Projects outwith major cities
Comments / photos for the Everything you need to know about Calacatta Marble page welcome