Future Manhattan casino could look like this guide, New York City gambling venue
What a Future Casino in Manhattan Could Look Like
26 Apr 2021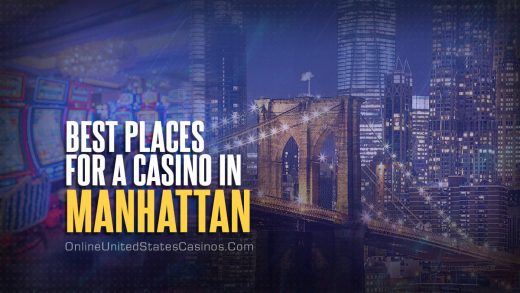 It is no secret that New York State officials are scrambling to deal with pandemic-induced funding shortfalls. Governor Andrew M. Cuomo's response to this crisis has resulted in him shifting his position on gambling and pushing through the legalization of mobile sports wagering in the Empire State.
Furthermore, his 2022 budget contains language that seeks to determine what gambling operators would seek a license to open a casino in New York. The NY Gaming Commission should release a report within six months regarding the parties interested in exploring this endeavor. However, it is still a waiting game to discover who the contenders will be and their architectural plans for a Manhattan gambling establishment. Online casinos have been the only option for NYC residents till now.
Beaux-Arts Brown-Brick Building
One of the bandied-about locations for a Manhattan casino is Herald Towers, the former Hotel McAlpin, located on 34th Street and Broadway. JEMB Realty owns this building, and its chairman, Morris Bailey, also owns Atlantic City Resorts Casino Hotel. Thus, he wants to kick off his NYC gaming journey inside his Herald Square property.
Edwin A. McAlpin, the president of tobacco manufacturer D.H. McAlpin & Company, built the Hotel McAlpin in 1912. At the time it opened, it was the largest one in the world, designed by respected architect Frank Mills Andrews, also noted for the Kentucky State Capitol, the George Washington Hotel, and the Dayton Arcade.
The Beaux-Arts movement was sweeping significant cities in the 19th century, and New York was no exception. At the start of the 20th one, NYC built its Pennsylvania Station and Grand Central Terminal, which transformed midtown. The city also created a trio of hotels (Biltmore, Roosevelt, and the Commodore) around these terminals that fell into a zone nicknamed Terminal City. The McAlpin hotel got designed in a similar style to these three. Architecturally, its exterior was on par, if not better than these three hotels. It has a four-story limestone base, and its top floors have limestone decorations. It has two light wells along Broadway, where a section of the façade is at an angle.
Modernist Architecture
New York may not have a ton of modern architecture, but it makes up for its lack of quantity in quality. Famous examples of modernist buildings in its five boroughs include One Chase Manhattan Plaza, NYU Silver Towers, The United Nations Headquarters, the Lever House, and the Seagram Building.
Given that vast empty lots are not widely available in Manhattan, many believe that a gaming venue would have to find a home within an existing building. The most apparent choice thrown around by laypeople is New York Hilton Midtown, the 47-story structure north of Rockefeller Center, located at 53rd Street and Sixth Avenue. Its 150,000 square feet meeting space could easily get converted into a gaming floor that would rival the Bellagio, the MGM Grand, and the Aria Resort and Casino in Las Vegas. The New York Hilton Midtown went up in 1963 and incorporated modernism with slight Art Deco thrown in.
An example of ultra-modern casino architecture is Costa Brava Gran Casino in Lloret de Mar, Spain. The venue looks like a massive granite slab naturally emerging from the ground, rising to face its more developed surroundings. It has a diagonal glass exterior on its main floor, and it extends underground. Its concepts could be adequate incorporating into an existing building in NYC, giving it an exciting vibe.
Art Deco Casino
You cannot have an article on New York architecture without mentioning Art Deco, short for Arts Décoratifs, which made its way from France and flourished in the Big Apple throughout the 1920s and 1930s. The Chrysler Building is a skyscraper that most people associate with NYC Art Deco. However, the city is full of such architecture.
When it comes to casinos, this is not a style preferred by investors as it is a bit too sophisticated and obscure. It does not scream thrills. Yet, worldwide, there are a few notable instances of Art Deco gambling facilities. The Catalina Casino in Avalon on Santa Catalina Island features a blend of it mixed in with some Mediterranean Revival.
Since even modest Art Deco buildings fall into America's architectural heritage, they are often preserved and unfit for a casino. Thus, operators will have to tear down an existing structure to build their Arts Décoratifs gaming venue that would fall in line with NYC's spirit.
Future Manhattan Casino – Final Thoughts
While it is fun to discuss styles and possibilities about an upcoming Manhattan casino, the reality is that, for now, its most likely location is the TSX Broadway at 1568 Broadway in Times Square. It has a 2024 completion date and will be a 550,000 square-foot venue with a 669-room hotel. Its developer (L&L Holding) is heavily pushing for it to be the location of Big Apple's first casino.
About the Author of Future Manhattan Casino could look like this
Shelly Schiff has been working in the gambling industry since 2009, mainly on the digital side of things, employed by OnlineUnitedStatesCasinos.com. However, over her eleven-year career, Shelly has provided content for many other top interactive gaming websites. She knows all there is to know about slots and has in-depth knowledge of the most popular table games. Her golden retriever Garry occupies most of her leisure time. Though, when she can, she loves reading Jim Thompson-like crime novels.
Comments on this Future Casino in Manhattan Could Look Like article are welcome
Las Vegas Buildings
Las Vegas Buildings
The Luxor Las Vegas: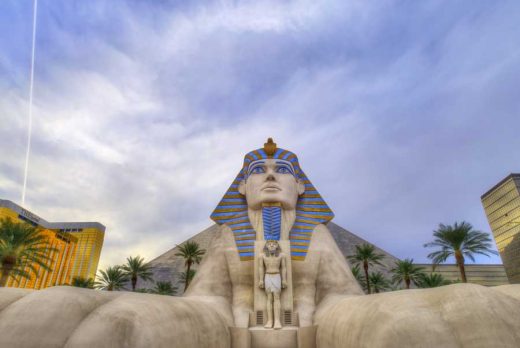 photo © Joe Lekas
Vdara Hotel Las Vegas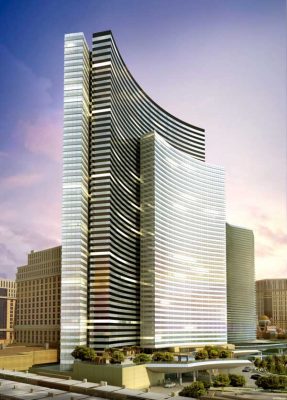 image : CityCenter Land, LLC
Casino Buildings
Casino Building Designs
5 tricks casinos use that make you spend more
Casino Architecture Design Guide
5 of most extraordinary casinos in world
Comments / photos for the What a Future Casino in Manhattan Could Look Like page welcome