Farmer's guide: all about agricultural loans tips, Online property finance advice
A Farmer's Guide: All About Agricultural Loans
25 Sep 2021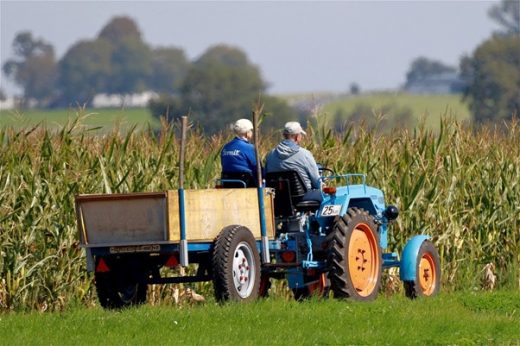 Are you thinking of opening a farm or expanding your farm? Either way, managing land isn't an easy deal. The things you have to pay for, which are numerous, can be expensive. No matter how enjoyable running a farm is, the reality can be saddening.
Thus, many farmers seek agricultural loans. By applying for farming loans, owners can now buy new farmland or expand their land. You can get your loans from government agencies and traditional lenders! To know more about farm loans, read on below!
Definition of Farm or Agricultural Loans
Agricultural loans are used for, you've guessed it, agricultural purposes. It makes the farmers' lives much easier since they can run their lands more productively. It's hard to keep up with the costs of purchasing land, expanding it, or simply running it.
To resolve this, farmers seek loans that have a low interest to keep their lifestyle afloat. Fortunately, some agencies offer farm loan programs where you can turn to them for these concerns.
What can you do with farm or agricultural loans?
Buy land.
As mentioned above, you can use the loan to purchase farmland. It doesn't matter if you're a novice farmer or a proficient farmer; you can use the agricultural loan you applied for to buy a lot and build a farm.
Pay for the operating costs.
Operating expenses are another thing that farmers have to pay for, and you can use the loan to pay for this. There's no denying that the equipment used in farming is costly. Although expensive, it's a necessary item on a farm since you can work faster and cover more places with good quality equipment.
Help endorse their products.
How can your target market purchase your product if they're not aware of your product? Farmers utilize effective marketing strategies to earn a profit. To endorse the product they create, they would need money to market and sell.
How can you apply?
Luckily for you, farmers have numerous places you can go to for agricultural loans.
Apply for an agricultural loan in central banks near you.
When you think about loans, the first thing that comes to your mind is a bank. Naturally, those in need of loans often go to local banks for their needs first. You can apply for an agricultural loan with an affordable interest rate if you have a good credit score.
Apply for an agricultural loan from the government.
There's no need to sell your farm if you can't get a traditional loan. You can apply for a loan from government agencies that help you become a successful business. Agencies like the Farm Service Agency offer financial aid to cover costs in a farmer's expenses.
How can you know if you qualify for the loan?
Follow these steps to qualify for a farming loan:
Speak with a lender.
You must know by now that a good credit score is a must, especially when applying for a loan. To be prepared before speaking with a lender, you must have a good credit profile to increase your loan chances.
Of course, every program has its requirements, and the first thing they're going to ask for is your credit score. Another requirement that lenders may ask is your business plan. Thus, be sure to prepare one when you meet with them.
Study the different types of agricultural loans.
There are different types of agricultural loans, including operation loans, farm ownership loans, microloans, youth loans, and many more! To determine what kind of loan you're going to get in the next step, you must do your research beforehand. You must know that there are different requirements to be asked with varying types of loans.
Determine what type of farming loan you would want.
The Farm Service Agency has credible employees that review farm loan applications. Their task is to examine the farmers' eligibility depending on the type of loan they want. For example, the applicant must have three years minimum in the farm business industry for individuals who wish to get a loan for farm ownership.
Tips and tricks for applicants who have bad credit
Applying for a loan and having a bad credit score may be one of the biggest hurdles a loan applicant may encounter. Don't let your credit score stop you because you can still apply for a loan. Read on below to know more:
Contact low-credit farm lenders.
Search for companies that still lend money to those with a low credit score. Speak with them and determine what things you can do to improve your credit.
Compile evidence of your experience in farming.
Government agencies tend to consider both your credit score and background in the agricultural industry. If you have credible experience, it increases your chances of getting your loan approved.
Apply for loans that look at a farm's income.
Rather than your credit score, some agencies will look at your farm's income. It varies between lenders, but they might let you borrow money if the farm's income is above the minimum requirement.
Agricultural Loans Takeaway
Don't let adversities stop you, use your skills and expertise to good use. If you're on this page, you're already on the right track. Apply for an agricultural loan to get your business started or to keep it running again. Challenges are present to teach us something and to make us wiser.
Comments on this guide to Farmer's guide: all about agricultural loans article are welcome.
Farm buildings
Farm Building and Farmhouse Property Posts
Constructing quality farmstead outbuildings guide
Loans
Loans
Cultivator you can apply for a loan
Renovate Your Home Through Loan
6 types of real estate loan you should know about
Take these steps before taking a loan
Dos and don'ts of getting advance loans
Building Articles
Residential Architecture
Comments / photos for the Farmer's guide: all about agricultural loans advice guide page welcome