Trusted FAQ About a New Roof in Arlington, Massachusetts Roofing Replacements Tips, Middlesex County Home Advice
New Roof in Arlington, MA – Roofing
Dec 13, 2019
FAQ About a New Roof in Arlington, MA – Must Know About Arlington Roofing
The roof provides enough opportunities for enhancing the value of homes. Moreover, it enhances the aesthetic appeal of homes, too, as you can communicate how your home looks and feels.
Regardless of the type of roof you install, it would require reliable structural support for proper installation, but since these remain invisible from the outside, what others feel about the home design depends on the choice of roofing material. There are many options to make your home style look exclusive by choosing the appropriate roofing material in consultation with the experts at http://www.farinaroof.com/ to balance the functionality and aesthetics well.
Depending on the color scheme, you must consider the available colors in the type of roofing material that you have in mind and consider its durability and longevity to match it with your budget. Next comes the compliance of the roofing material with the building codes, the maintenance and installation issues, and the warranties available.
Arlington, Massachusetts, USA, photo taken 10 June 2020: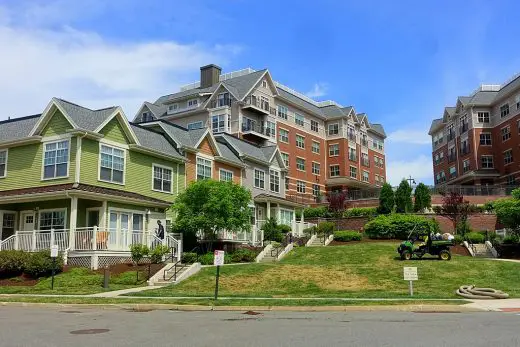 photo © Daderot, CC0, via Wikimedia Commons
Keep probing about the different types of roofing materials by asking a few questions.
What is the most affordable roofing material?
The only roofing material that matches all budgets is the asphalt shingles, which is the most popular among all roofing materials. The easy installation of asphalt shingles roof keeps the installation cost low. Shingles with fiberglass base topped with mineral granules and asphalt are the most common choice for all types of homes unless there are some unique design and style considerations.  
Although the shingles might get damaged, it is easy to replace individual shingles. 20-30 years is the average life span of asphalt shingles roofs. It is available in a variety of colors and is versatile enough to match with many architectural styles.
Which is the most elegant and long-lasting roof?
If cost is not a constraint, then homeowners can choose tile roofs made from clay or concrete that looks elegant and stands out from the crowd. Made from earthen clay, clay tiles are hardened by treating it with fire and comes in a reddish-orange color, often unglazed, that gives it the characteristic looks. 
Clay tile roofs are excellent in the saline environment and hot climates that are ideally suited for desert and coastal regions. Tile roofing is expensive and can cost $10 to $18 per square foot, and the premium variety can cost as much as $30 per square foot. Concrete tiles cost less, and both types are non-combustible and long-lasting.
Which is the finest roofing material?
For refined beauty and classic looks that reveal the elitist choice, slate roofs are simply incomparable. If you crave the finest roofing material, then slate is the only choice.
Slate roofs last the longest and can keep performing for more than a hundred years. But you must be ready to bear the cost because slate roofs are costly as it is made from authentic and real stones cut into thin sheets. Since slate is available in the form of thin sheets during quarrying, it is ideal roofing material.
Installing slate roofing requires exceptionally skilled installers that are hard to find.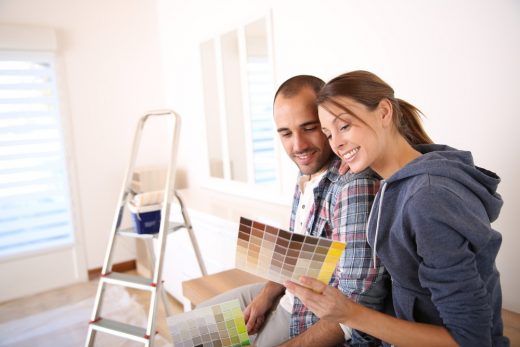 image courtesy of article provider
Comments on this FAQ About a New Roof in Arlington, MA – Must Know About Arlington Roofing, USA, home advice article are welcome.
Massachusetts Building Designs
Massachusetts Architecture Designs
Blackstone Visitor's Center, Worcester
Design: designLAB architects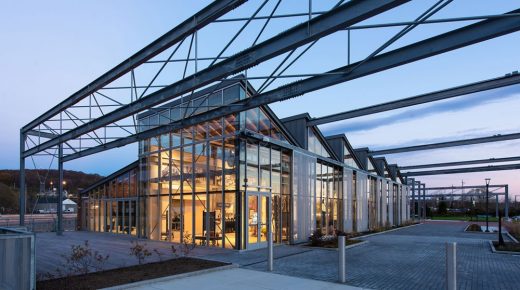 photo : Chuck Choi
Blackstone Heritage Corridor Visitor Center
Isenberg School of Management Building, Amherst
Design: BIG-Bjarke Ingels Group with Goody Clancy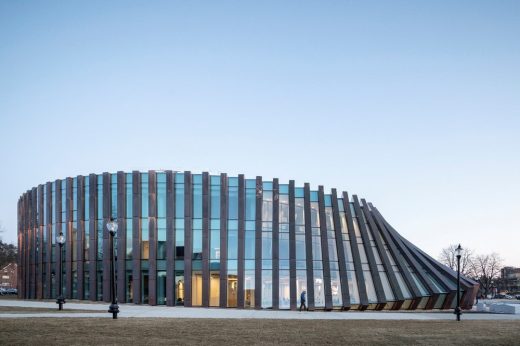 photo © Laurian Ghinitoiu
Isenberg School of Management Building
Architectural Designs
America Architecture News – latest building updates
Comments / photos for the FAQ About a New Roof in Arlington, MA – Must Know About Arlington Roofing page welcome