Designing a space for outdoor entertaining guide, Landscape design advice, Online home style tips
Designing A Space For Outdoor Entertaining
9 Sep 2021
Transforming your backyard into the entertainment center of your dreams calls for some special experience and creativity.
Being an important extension of the home, your private oasis should offer comfort as well as privacy in order to be a space your family and friends would love lounging in.
So if you want to give priority to your urban retreat, no matter if it is a country home or a townhouse, follow this expert advice for a smart and chic outdoor layout.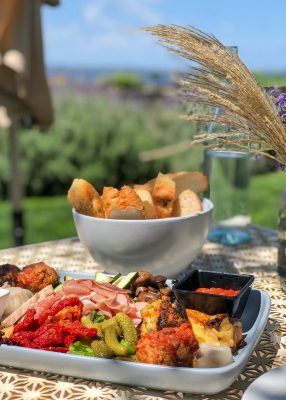 Designing A Space For Outdoor Entertainment
Take inspiration from nature
While the architectural style of the interior of the home may have a feeling of confinement, the exteriors are always open to new options. Nature, for example, provides an array of textures and colors to give an aesthetic look to your outdoor space.
To connect this place with the environment, begin by matching the furniture, patio stone, cushions, and accessories to the surrounding landscape. Use shrubs and flowers to infuse some color and uniqueness into your oasis.
Patio kitchen
Just as a kitchen is the heart of any home, the same applies to an outdoor cookhouse as well. An outdoor kitchen will not only allow you to prepare a meal but will ensure you are a part of the conversation as well.
Install a custom-built cooking station, complete with cupboard, shelves, mini-fridge, and elegant countertops for food preparation. If you want to keep it simple, just fit a small bar for entertaining and a grill for the snacks.
Have multiple seating areas
Having multiple areas for guests and family members to sit is an important design part of any outdoor living space. The patio furniture setup should be such as to allow for people to relax and talk discreetly and remain a part of the gathering at the same time.
The key is to provide comfortable eco-friendly wicker chairs, sofas and choosing an outdoor dining table to match. Having multiple places to sit and entertain should be the focus, no matter the size of your backyard. Plants and outdoor rugs can also be used to create a designated seating arrangement.
Connect the indoors with the outdoors
No matter how enticing your outdoor pleasure area is, the guests or family members would need to venture inside from time to time for various reasons. The key to making this experience seamless is by installing large patio doors.
Whether they remain open or closed, the wide doors would make your outdoor space seem like an extension of your indoors. Ensure that they slide easily as people, at times, may have to move with their hands full back and forth.
Get protection from the elements
If you want to keep the party going without interruptions, renting a gazebo, awning, canopies or screened porches will ensure protection in case the weather turns for the worse. Additionally, they will keep the place cool on harsh sunny days.
If you want to keep the costs low, put up a large patio umbrella, which can be moved or tilted, as and when required, against the direction of the sun or rain. Also, though the screens may not offer protection from the elements they will provide absolute privacy from the neighbors.
Make your space stand out
Give your guests something to talk about by adding some visually attractive elements to your backyard living area. These could include:
A grandiose fireplace or an affordable fire pit.
Fancy lighting like a chandelier.
Hanging chair or hammock.
Incorporate a water feature
Show off with some sculpture
Install A/V technology, speakers, TV and more.
Overhaul the landscape
Increase curb appeal with striking house numbers and new mail box.
Comments on this guide to Designing a space for outdoor entertaining article are welcome.
Dining room designs
Dining Designs
Modern dining room designs to choose in 2022
Different Types Of Dining Table Materials
Thonet High Level Dining with Range 118 Chair Design
Building Articles
Residential Architecture
Comments / photos for the Designing a space for outdoor entertaining advice guide page welcome