Creating flow between indoor and outdoor spaces, Real Estate Design, property style advice
Creating Flow Between Indoor and Outdoor Spaces
4 Sep 2023
Expanding your living space from the indoors and into the outdoors is one of the best ways to simply increase the amount of usable, liveable space you have to work with. Yes, you can leave your outdoor space as a natural habitat, but that is just a waste of potential. You deserve to want to spend as much time as possible outside in your own garden, which means you need to start rethinking your space.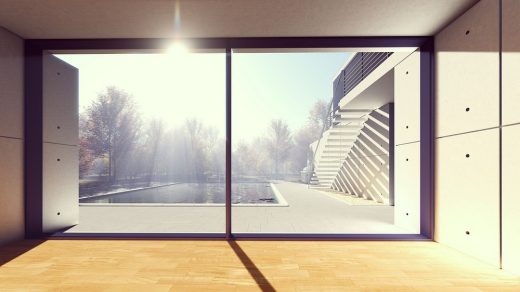 One of the single best ways to make better use of that garden is to expand your living space. This can be done practically by just adding a patio and using it as another room, but for the best results, you will want to visually expand your indoor space into the outdoors. Creating that flow, or at least removing barriers to maximize the flow, is one of the best things that you can do for your home. Not only will it make going outside a more attractive perspective, but it also adds visual interest and beauty to the view from your kitchen, living room, or open-plan space.
Designing such a flow can be a bit tricky. The good news is that there are design changes you make, both big and small, to help expand the flow and your view. Not sure how? Don't worry, as this guide outlines everything you need to know:
Use the Same Floors Indoor and Out
One of the easiest ways to expand the flow from your indoors to your outdoors is to use the same flooring. There are natural stone outdoor paving options that match the large-format indoor tiles you'd want to use in your kitchen. So long as it's your kitchen, conservatory, or dining room that opens up to the back, you can then create that seamless flow with ease. If your living room is what opens up to your garden, don't worry. Instead of a stone patio, use wood decking and hardwood indoors of the same shade to achieve a similar effect.
Install Large Windows or Doors
So long as you have the budget, always see about installing larger windows or doors. A popular addition to extensions today is having a large wall of windows that slide open in some way. This opens up the space in summer completely. So long as the floors match and you don't have a high step over the door ledge, you will then have a completely seamless flow that really expands your home's possibilities in the warmer months.
Color and Material Match
Matching shades and materials isn't only reserved for the floors, either. If your kitchen backs out onto your garden, match furniture and upper materials as well. If you have a built-in outdoor kitchen space, match the cupboard color to your indoor kitchen. The same applies to your countertops or even to your furniture. If you can't match material and color with big pieces, then at least do so with your décor. For example, say you have a red Smeg fridge and matching small appliances. You can then match that shade of red and choose that color for your outdoor patio cushions. Doing this draws the eye naturally through the home, which visually expands the space.
Create a Universal Focal Point
Focal points draw the eye. They are typically at the center of a space. A great example of a focal point is a fireplace in the living room. The eye is drawn there, and furniture is arranged around it. That fireplace is the focal point. You can add a fireplace outside to create that focal element that draws the eye. Just make sure you place it in a spot that can be seen from both the inside and outside of your home.
Use Lighting to Add That Sense of Continuity
Lighting will always play a crucial part in design. To add that sense of continuity, focus on lighting up your outdoor space from all sides and then tapering off that brightness the further back you go into your garden. For example, add deck lights to your patio floor or decorate a pergola with fairy lights above the living space. This will create a soft glow that carries light through, similar to how the overhead and table lamps brighten the interior of your home.
Comments on this Creating Flow between Indoor and Outdoor Spaces article are welcome.
Decking Articles
Backyards Posts
Where to Start When Designing a Backyard
Does Composite Decking Add Value To Your Home?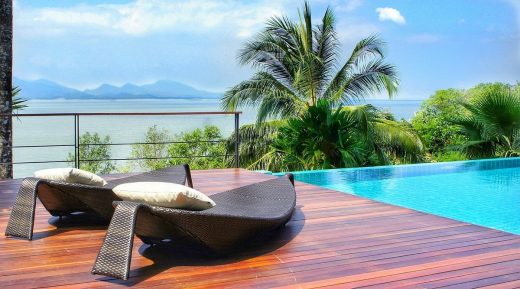 Backyard Deck Design Trends to Look for
Building Articles
Residential Architecture
Comments / photos for the Creating Flow between Indoor and Outdoor Spaces page welcome