9 breathtaking outdoor kitchen and swimming pool ideas, Home outside dining tips, Backyard style advice
9 Breathtaking Outdoor Kitchen and Pool Ideas
9 Jun 2021
Outdoor kitchens provide a fun way to cook during warm seasons. Combine this with an outdoor pool, and you have the perfect combination of entertainment and functionality.
You can talk to family and guests while whipping up culinary delights. It is also a fantastic way to keep an eye on younger kids who may be using the pool.
And, those are not the only benefits you get. An outdoor kitchen view adds to the aesthetic appeal of your patio or backyard. It could significantly improve the value of your home if you decide to sell.
It is a good idea to get the services of a kitchen contractor when designing one. You benefit from the advice that comes from their expertise. It's always good to seek advice from those who have been in the industry for a while. They have wisdom from years and years of experience.
According to a representative from Caterline Ltd, there are many outdoor commercial kitchens ideas available too and they are becoming extremely popular. However, an outdoor commercial kitchen layout is much more than just the equipment or personnel found in it.
A successful commercial kitchen includes specific components organized in a particular pattern to optimize performance and efficiency. Additionally, some restaurants may set up their kitchen a certain way to match their establishment's concept or design. Regardless of the style or layout, all commercial kitchens will have these components: Cleaning/washing, Storage, Food Preparation, Meal Cooking and Service.
But it also doesn't hurt to have a few ideas of your own. We have put together some breathtaking outdoor kitchen and pool ideas you can try.
9 Breathtaking Outdoor Kitchen and Pool Ideas Guide
Swim Up Kitchens and Bars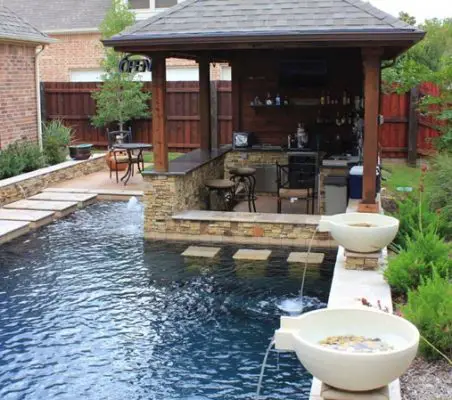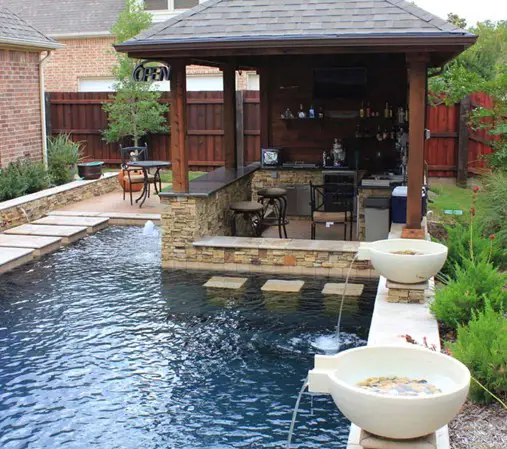 https://onekindesign.com/2016/08/12/swimming-pool-bars-entertaining/
Swim-up kitchens will add so much fun for your family and friends. They can play in the pool to their heart's content. When the food is ready, they simply swim up to the bar and eat. Your house will be the go-to place for those hot summer days when you want to spend endless hours in the water.
Use Bold Colors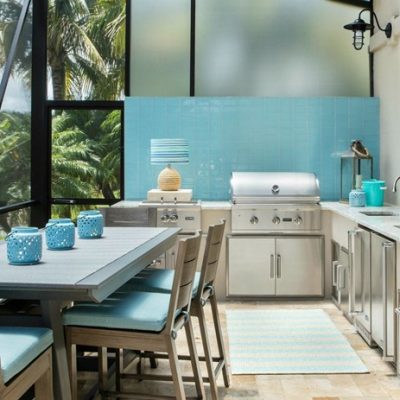 https://www.thespruce.com/outdoor-kitchen-designs-4158126
The advantage of an outdoor kitchen next to the pool is you have nature playing a big part. Your landscaping, for instance, adds tones of color depending on the plants. The turquoise blue water of the pool adds further dimension.
Outdoor kitchen cabinetry and surfaces come in a wide range of exciting palettes. Go crazy on bright reds, oranges, and vibrant yellows. But, if you love color, do not limit yourself. Outdoor kitchen cabinetry and surfaces come in a wide range of exciting palettes. Go crazy on bright reds, oranges, and vibrant yellows.
It will amaze you how much of an impact color has on your moods. The psychology of color shows that bright hues can energize and evoke feelings of happiness.
Artworks Will Transform Your Outdoor Kitchen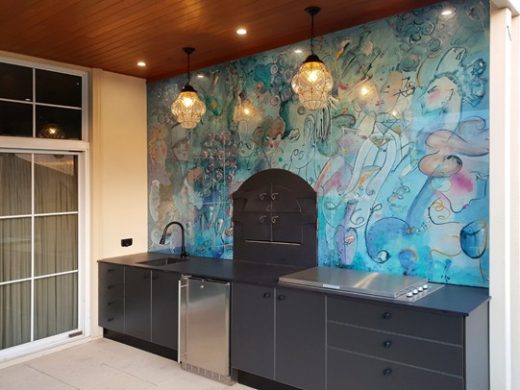 https://www.tailoredartworks.com.au/pizza-oven-splashback-ideas/
Your outdoor kitchen provides a fantastic way to share your love for art. Forget about boring, plain glass or tiles. You can use your backsplash to bring instant life to your space.
The abstract piece in the image above is an excellent example. It makes the kitchen a conversation piece while adding dimension to a small space.
The art does not have to be expensive, though. It could be something that has a special meaning for your family.
Here's an idea, get the kids to explore their creative side with some paint jobs. You could go as large as you want, depending on the surface area to cover. Now look for a fantastic canvas that will fit, get together with the family in painting the canvas, and voila! You get cost-effective artwork that will bring the family personality to life.
Use Natural Material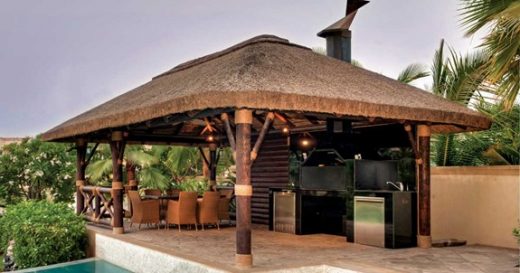 https://capereed.com/tag/outdoor-kitchen/
Natural material will make your outdoor kitchen look modern and sophisticated. Instead of the standard roofing, consider a thatched one. Add a few plants, and you will feel like you are on a beach holiday.
Stonework Adds an Element of Class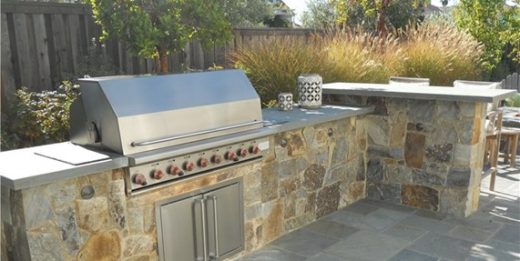 https://www.landscapingnetwork.com/outdoor-kitchens/veneer/stone.html
If you're looking for a pristine and elegant look, stonework is the way to go. Opt for those with color if you want to add vibrancy to your kitchen. The beauty of stone is that you can use it anywhere.
Create interesting seating arrangements, mounting pillars, and patios with stone. Get a timeless design that adds to the aesthetic appeal of your outdoor design.
Combine Wood and Glass for a Mesmerizing Look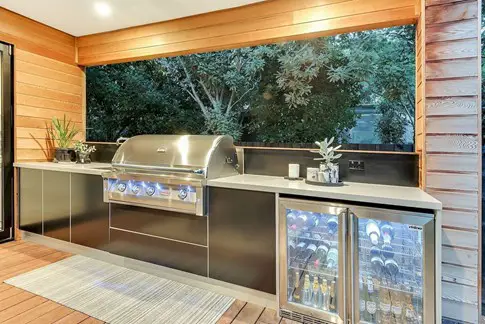 https://www.pinterest.com/pin/843580573934504122/
If stone is not your thing, go for wood and glass. Think large windows and doors looking out into the pool area. Glass has the advantage of accentuating the natural beauty of your surroundings while giving you scenic views. You will love how the blue of the pool looks as it shimmers through the glass.
Pay attention to the type and finish of the wood you choose. You want something that maintains a natural look while giving you an elegant finish. You also have the option of using wood on the ceiling to enhance the area further.
Stained Oak will warm up the place while seamlessly blending in with whatever decor idea you have.
Storage is Critical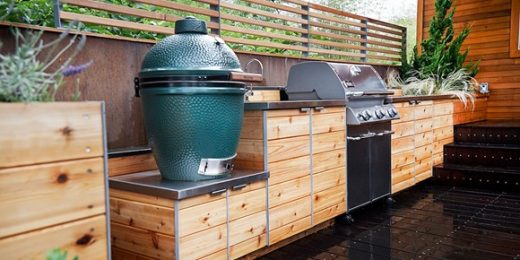 https://www.countryliving.com/gardening/garden-ideas/g1435/outdoor-kitchens/
When designing your outdoor kitchen, think about convenience. You don't need to carry things from the indoor kitchen every time you want to cook. It helps to have enough storage, so factor in plenty of kitchen cabinets. When choosing the material, make sure they can withstand exposure to the elements.
Stainless steel is a good option but look for those that are specific to outdoor use. The steel should be commercial grade, durable, and of superior quality. Some manufacturers will apply a powder coating to the finish to keep away the rust.
Other materials to consider are high-density resin and marine-grade aluminum. You have the option of customizing the storage as you wish.
Countertops and Food Prep Areas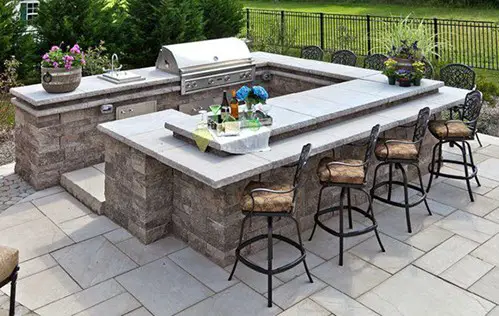 https://www.cadpro.com/drafting-software/best-outdoor-kitchen-countertops-options/
When looking for a countertop, ensure that you go for a resilient material. It should be able to handle your requirements for food preparation. The structure should be long-lasting. Whatever you choose must also complement the other decor elements of the kitchen.
Materials for the countertop include granite, porcelain, concrete, and marble. You want to resist stains, abrasions, and damages due to ultraviolet rays.
If you have space, an island with seating is a fantastic idea. It saves you the expense of having a separate dining area.
Take the Entertainment up a Notch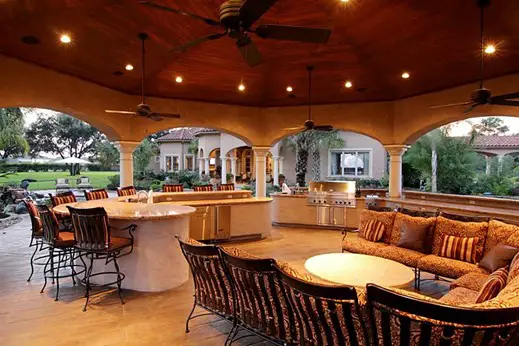 https://www.pinterest.com/pin/379780181047174170/
You will be doing a lot of entertaining in your outdoor area. It doesn't hurt to include a few features to make the space more comfortable. Think about a TV, music system, landscape lighting, and overhead covering.
9 breathtaking outdoor kitchen and pool ideas Final Thoughts
We have looked at some design ideas for your outdoor kitchen and pool area. You get functionality and the chance to infuse your personality and creativity into your space.
Do you have any other ideas to share with us? We would also like to hear your ideas.
Comments on this 9 breathtaking outdoor kitchen and pool ideas article are welcome.
Kitchen Design
Kitchen Articles
Installing Modular Kitchen in Your Home
Selecting the Right Storage Cabinets for Your Kitchen
Natural Stone Countertops in Your Kitchen
Building Articles
Residential Architecture
Comments / photos for the Guide to 9 breathtaking outdoor kitchen and pool ideas advice page welcome