Cutting costs of hot tub and swimming pool installation guide, Property spa tips, Home deck advice
Cutting The Costs Of Hot Tub And Swimming Pool Installation
15 August 2023
Swimming pool design and construction often come with a hefty price tag. However, some smart decisions and some savviness can lead to considerable savings. It is possible to lower the costs involved with hot tubs and swimming pools.
These installations are not simple and there will always be a significant amount to pay. But, by looking at different installation options and taking some practical steps you will find ways to save money on your hot tub or pool installation.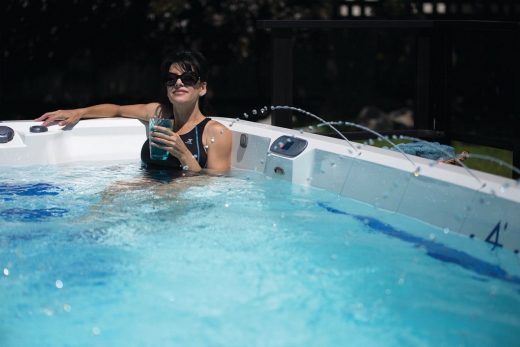 Reducing the cost of swimming pools and hot tubs
Installing a swimming pool is going to cost a not-insignificant sum. You should expect to pay $5,000 for the simplest kind of swimming pool. Above-ground pools are the most affordable choice. But, many people prefer to have inground-pool installations.
You can expect to pay about $35,000 for an in-ground pool. DIY Pools & Spas say this cost can be significantly reduced through the use of subcontractors. Avoiding swimming pool companies who charge a premium for designs and plans as well as installation is just one way to save money.
That option and 10 others are explained below. Here are twelve tips that are practical and will help to reduce the expense of having a swimming pool installed.
1 Work out your budget and search the market
Any renovation or house improvement requires budgeting. Set your own affordable budget and then search the market for what fits your finances. While this won't save you any money as such, it will set you up for the following tips.
With a price in mind, you can now set about reducing it to a more affordable level.
2 Don't dismiss second-hand options
Used hot tubs and swimming pools will be far more affordable than new models. However, this is only feasible if you are happy to have an above-ground swimming pool of course. Yet, if you find a well-maintained used hot tub you will make significant savings.
3 Use subcontractors
Cutting out the middleman will lead to very large savings in many areas. Swimming pool companies provide the complete service from architectural designs to installation. They will provide subcontractors for plumbing and electrics. And if you choose a reputable company, the work should be of a solid standard.
Nevertheless, you can side-step the pool company and go straight to the subcontractors yourself. Make up your own design and use one of the many DIY swimming pool firms for construction and installation. You could feasibly save $10,000 to $20,000 through this route.
4 Consider DIY
As long as you possess the skills you may be able to DIY your project. It is vital that you are honest with yourself about your competency though. Swimming pool installation can be complex.
Choose this route only if you are confident you can construct a pool without making costly mistakes. If you are skilled enough, you will certainly save cash.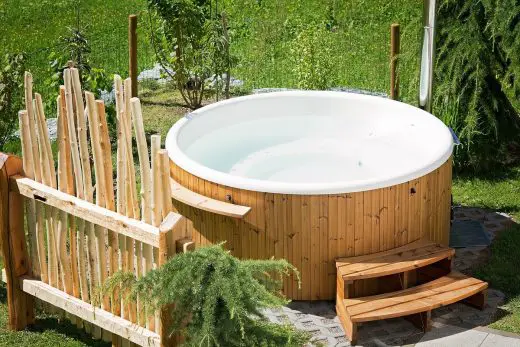 5 Consider your needs – size wise
There are some incredible swimming pool designs around the world. But, do you really need an Olympic-sized pool in your backyard? Instead, evaluate your real needs and choose a pool to match. Consider who is going to use your hot tub and choose one accordingly.
The smaller the hot tub or swimming pool, the lower the cost generally. Plus, maintenance costs should also be lower. And you'll need less water to fill them.
6 Compare swimming pool companies
If you prefer to go the traditional route then compare the swimming pool companies that service your area. Gain quotes and check out any hidden costs. You may find if you present a rival's quote to your preferred installer they agree to match or beat it.
7 Simplify your design and features
You may well be tempted to include complex water features and fancy lighting in your design. But, are they necessary? Quality materials are important, as is the aesthetic value of your pool. However, by simplifying certain features you will keep the price down.
Some swimming pool architecture ideas have the most intricate lighting and water features. And they are truly impressive. Yet, cost is a factor here.
Take control of the design yourself. Some DIY pool companies are happy to render client designs in 3D and then carry out the installation. A swimming pool company may charge around $3,000 for designing and planning. You can save perhaps 60% or more by drawing up your own designs.
8 Energy and water efficiency
So far, the cost of the pool design and installation has been the main aspect of these tips. Nevertheless, once the pool is installed it will continue to cost you money.
You can reduce running costs by using alternative energy sources. Consider solar power for pumps and heating. As a ballpark figure, swimming pools lose about ¼ inch of water per day. This can be limited through the use of solar pool covers.
Leak detectors can be fitted to plumbing to spot any anomalies early on and stop water wastage. The average amount of water to fill a pool depends very much on the size and type of installation. But, a 15-foot round pool that is 4 feet high will need about 5,300 gallons of water.
Saving energy and water will mitigate some of the extra costs you will see in your utility bills.
9 Choose the best season
Everyone wants their pool to be installed for the summer, but patience will save you money. Installers will have less work during the off-season. The benefits here include time and cost savings.
At this time you may find discounts, special offers, and more competitive pricing. Your budget can either be cut or you may opt for extra features that were previously unaffordable.
10 Use areas that will require less landscaping
Swimming pool and hot tub installation can require extensive excavation and landscaping. Your new swimming pool will transform your garden, but the work involved can be minimized.
Evaluate your space and choose an area where the minimum amount of landscaping will be needed. The less excavation or grading is needed, the lower the cost.
11 Reduce maintenance costs
As mentioned previously, simplifying the features of your pool can affect the cost positively. Your pool is an investment, and if planned well it will bring a return one day.
Swimming pools may add value to a home to the tune of around 7%. Yet, maintenance costs and servicing will negate this welcome bonus somewhat. You need to consider how the pool will affect the future sale of your home too.
A swimming pool may appeal to house buyers, but the need for constant maintenance may put them off. Use quality components for electrics and plumbing, but keep features functional but minimal. Also, stay on top of routine maintenance to reduce the need for repair work.
Summary
The costs of installing a hot tub or a pool can be cut simply by gathering quotes from different installation companies. But, far bigger savings can be made by cutting out the middleman and presenting your designs to DIY swimming pool subcontractors.
Reducing fancy water features and opting for a slightly smaller pool will also lower construction costs. Sustainable energy will keep running costs down, as will regular maintenance.
These practical tips may help to lower the cost of installing and running a pool enough to make it a reality instead of a dream. And don't forget your house might go up in value too.
Comments on this guide to Cutting costs of hot tub and swimming pool installation article are welcome.
Swimming Pools
Swimming Pool Design Articles
Swimming Pool Designs
Swimming Pool Building Designs
Important purchases for your new swimming pool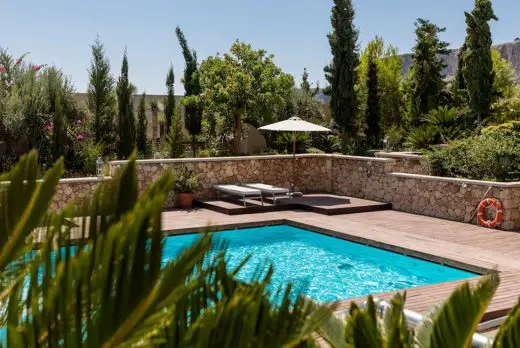 picture : Dim Hou
How to ensure your family swimming pool is child-friendly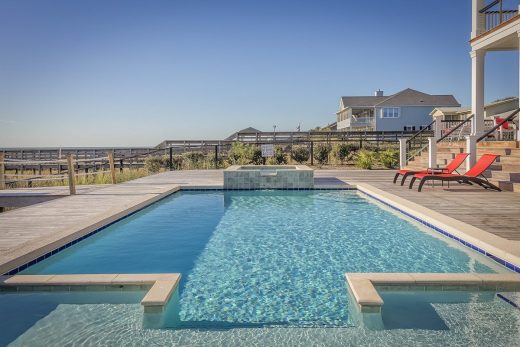 Swimming Pool in Belgium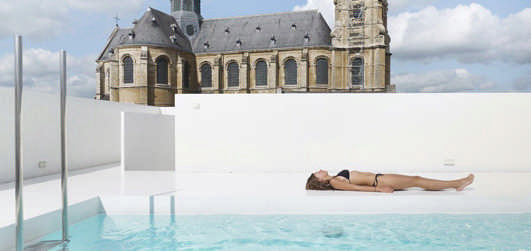 photo : Frederik Vercruysse
Thermal Baths in Bad Ems Building , Germany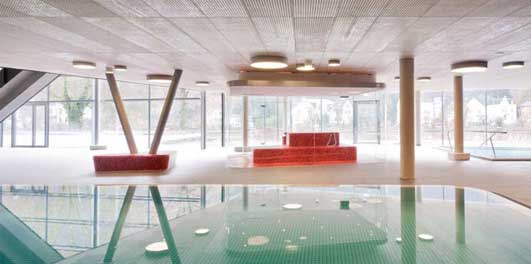 photo © David Matthiessen
Family House Revision & Pool for Art, Athens, Greece
Architects: Eleni Kostika Architecture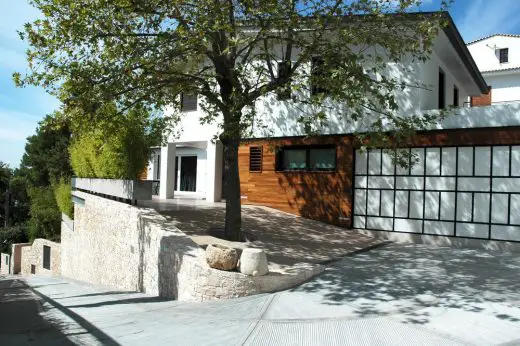 photograph © Alexandros Tsonidis
Family House Revision & Pool for Art
Property Articles
Comments / photos for the Cutting costs of hot tub and swimming pool installation advice page welcome