Swimming Pool Architecture Design, Outdoor Landscape Guide, Real Estate Tips, Home Style
Swimming Pool Architecture Design Considerations & Ideas
22 November 2019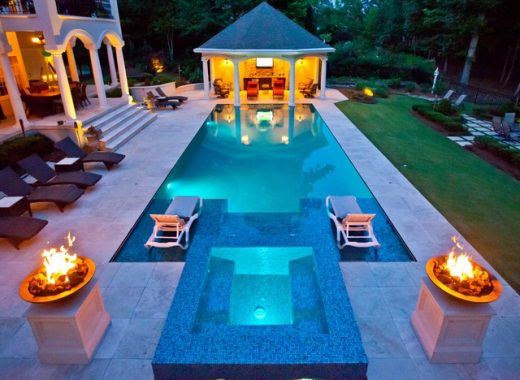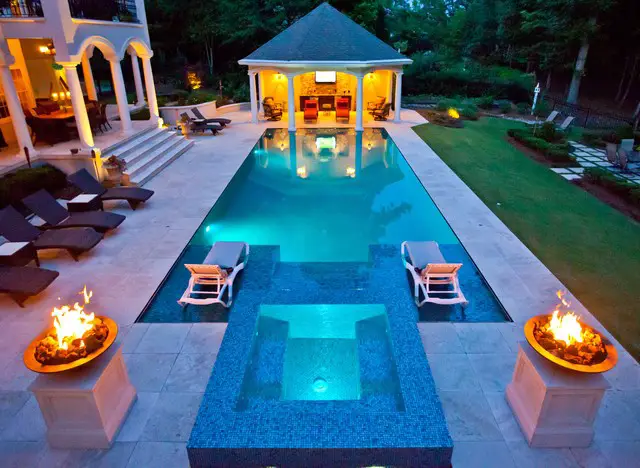 image courtesy of article provider
Swimming Pool Design Ideas
Whether you're a new designer or an architect looking to diversify your repertoire, the concept of swimming pool design will naturally stand out as one of the most attractive prospects. Before helping clients turn their dream homes into a reality with a luxury pool, though, you must first equip yourself with the tools and knowledge to master the challenges ahead. Architecturesideas do have some great swimming pool designs you can construct for your home.
Here's all you need to know about swimming pool design for residential and commercial jobs alike.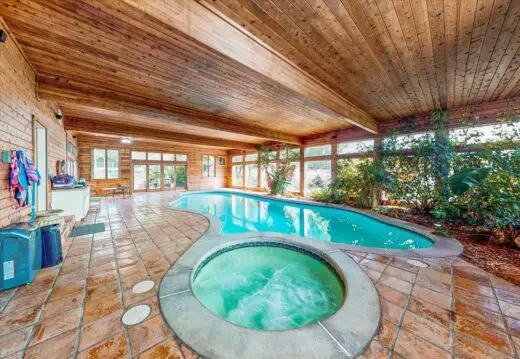 image with the courtesy HolidayKeepers
Pre-Project Considerations When Designing A Swimming Pool
Before starting any excavation work or investing in any materials, it's important to take care of the essential preparations. Whether planning to complete a swimming pool installation for your own home or on behalf of a client, you must consider;
The costs – a swimming pool installation in the UK will cost at least £15k, and probably in excess of £25k when opting for mosaic tiles. This is before considering unique design elements, bigger sizes, or uncommon challenges.
Location – internal and external swimming pools may offer similar purposes, but their design traits are vastly different while swimming pool heat pumps, and the surrounding garden or room will need to be considered.
Planning permission – as a rule of thumb, outdoor pools won't need planning permission unless they fail to meet certain guidelines. Indoor pools are likely to require permission. In either case, speaking to the authorities is advised.
Building regulations will also need to be met. Gain a deeper understanding of the situation, and you'll be able to make the process far smoother for the client.
Swimming Pool Architecture UK
The addition of a swimming pool is considered the ultimate home luxury while it can have a huge impact in commercial settings too. As a swimming pool designer in the UK, you'll be tasked with creating a safe, suitable, practical, and aesthetically-pleasing pool that suits the buyer's budget.
Focus on each of the following elements, and you won't go far wrong;
Pool Design Requirements
Swimming pool designs should always be built with the client's individual needs in mind. In addition to considering the financial limitations, architects must ensure that the design satisfy the personal preferences of the customer. This should cover the aesthetic and physical elements, including;
The size of the pool – is it a pool for exercise or leisure?
The depth of the pool – particularly in relation to whether children are using it?
The colour of materials – and will they contrast or match the surrounding patio or area?
The designs – will it use a simplistic block colour approach or have designs?
The accessories – what will the positioning of ladders and other items be?
The lighting – will the pool incorporate floor or wall lights?
The add-ons – does the pool require a hot tub or similar additions?
The functional accessories – will the pool benefit from swimming pool pumps?
When the swimming pool design takes these issues into account, success is assured.
Swimming Pool Construction Method
The right choice of construction method will lay the foundations for success throughout the project. The four most likely options are;
Concrete – the shell is reinforced with poured concrete to create the desired shape. Alternatively, Gunite and Shotcrete are options where concrete is blown onto the steel of the pool's walls and floor to produce the right shape.
Concrete Blocks – a concrete slab bed is topped with concrete blocks. The concrete blocks may be solid blocks or hollow blocks that are then filled with concrete once they have been successfully laid on the slabs.
Panels – constructed from either steel, a polymer material, or purpose-made insulation panels, they are laid on top of a concrete slab floor in the desired shape and design before being bolted or locked into place.
Fibreglass – the all-in-one shells are manufactured and delivered in one piece and can be easily installed once the excavation works are complete. As well as glass structures, they are available in polymer materials.
Lining – The lining of the pool is crucial to the function as this is what stops water from penetrating through materials and destroying the surrounding soils. The two primary options are tiles and PVC linings. The former offers greater versatility while the latter can be a lot simpler. Both are popular choices, but the selection will usually be dictated by the construction type.
It should be noted that the fibreglass option does not require a liner due to its waterproof properties, which is another rewarding feature.
Find title loans from a financially responsible company.
Popular Pool Design Choices
When considering swimming pool ideas UK, the unique wow factor is a key element. However, you can take inspiration by appreciating the latest trends relating to shapes, sizes, and styles. Of course, you'll already have a great understanding of the software and facilities needed to put your visions onto paper (or screen), but the biggest challenge revolves around the concepts.
Raised deck pools – are often best suited to smaller pools. The Raised deck pools option sees the pools incorporated into a raised deck. The style will usually opt for constructions that use PVC linings while garden lights will probably be selected over lighting within the pool itself.
Indoor pools – indoor pools are often focused on exercise, which is why they are often rectangular shaped and boast a long length. They often look pretty similar to a scaled down version of leisure centre pools and designed to match the colour of the surrounding spaces.
Sloped garden pools – if opting for a larger garden pool, it may be better to incorporate a sloped floor gradient that allows users to walk into the water. The shallow end can also incorporate a hot tub. It is a particular good way to work with an existing patio too.
You may even want to consider a natural swimming pond! It completely depends on preference and practicality.
Get eco-friendly junk removal services at your doorstep – WE JUNK.
What's Next?
Swimming pool design is a fairly complex challenge as you have to juggle the customer's aesthetic desires with functional needs and budget limitations. However, when you find the right selections, the results can be phenomenal – for the customer as well as your earnings.If you need assistance in covering some design costs, you could get extra money from car title loans.
Besides, it's a great way to flex your creative muscles. What are you waiting for, get out there and get designing a swimming pool today!
It is always best to fully consider pool maintenance and repair on a regular basis.
Swimming Pools
Swimming Pool Design Articles
Swimming Pool Designs
Swimming Pool Building Designs
Swimming Pool in Belgium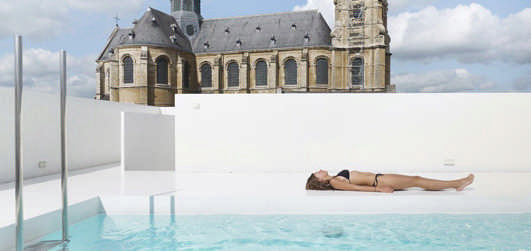 photo : Frederik Vercruysse
Thermal Baths in Bad Ems Building , Germany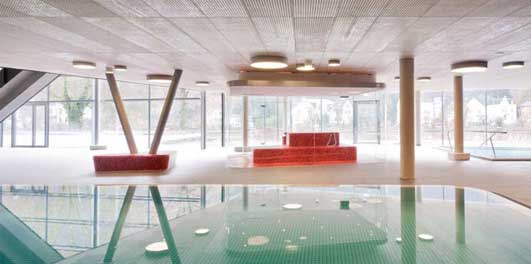 photo © David Matthiessen
Comments / photos for the Swimming Pool Architecture Design Considerations & Ideas page welcome