Construction site equipment every contractor needs, Building firm guide, Property contractor advice
Construction Site Equipment Contractors Needs Advice
9 Jun 2022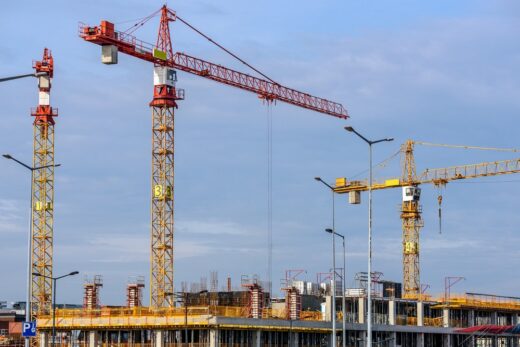 Being a contractor requires professionalism and attention to detail. Therefore, there is a need to use special tools and equipment to deliver the best service. However, this article will focus on the site equipment that each contractor needs.
Construction Site Equipment Contractors Needs Guide
Hoppers
Self-dumping hoppers are handy tools that are used for several tasks. For instance, we have different self-dumping hoppers, and we will explain them. Once you are through with the article, you will make an informed decision on the best equipment for your project.
Garbage Hoppers
Garbage hoppers are used by different brands ranging from restaurants, schools, and retail outlets to commercial buildings. They are available based on your preferences and can be one of the best tools that enhance productivity and help you minimize your operating expenses.
Waste Hoppers
Waste materials should not be kept on the construction site more than necessary. These are specifically created to dump waste materials such as gardening products, cardboard, and paper.
Recycling Hoppers
Recycling is great for the environment. If your site uses plastic, paper, and other recyclable items, using a recycling hopper is a fantastic idea for your business. It has an easy release system that enables you to recycle these unwanted items with ease.
Glass Hoppers
If you desire to store glass safely, a glass hopper is the best choice for you. It can retain about 8,000 pounds, and it can be loaded with glass material without issues.
Food Hoppers
Restaurants and grocery stores will find food hoppers to be a great deal. They are used to store food waste and prevent rodents from reaching the waste.
Scrap Hoppers
Scraps can cause injury on-site, and it is better to take off the scraps from the site. These scrap hoppers can be used for scrap glass, building materials, scrap metal, and other scrap items that need to be taken away from the site.
Excavator
Excavators are important equipment used in most construction areas for excavation purposes. They perform crucial functions such as heavy lifting, river dredging, tree cutting, and heavy lifting of items. They usually have a long arm and a digging bucket linked at the end.
They are available in tracked and wheeled forms.
Backhoe
This is earth-moving equipment that is used in the construction industry and should be owned by every contractor. It is used for digging holes, demolition of small places, excavation, digging of trenches, landscaping, and breaking of asphalt and concrete.
Bulldozer
Bulldozers are important equipment that its blade is used to push and remove the soil, sand, and debris on most construction sites.  When attached to a ripper located on the back of the bulldozer, it can be used to break pavement, concrete, asphalt, or surface rock.
Grader
Motor graders are used for road construction and are meant for the leveling of the soil surface. It has a horizontal blade between the rear and front wheels. These motor graders can also be used to remove snow and eliminate the unwanted soil layer from the ground.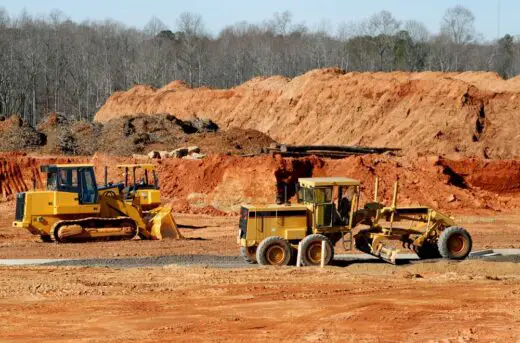 Wheel Tractor-Scraper
It is used for flattening the soil surface through scraping. Its front part comprises a wheeled tractor vehicle, and the rear section has a scraping part that involves a conveyor belt, soil collecting hopper, and horizontal front blade.
Loader
This is used on construction sites to load materials to dump trucks and dump boxes. They are used to remove materials from construction areas, and these materials could be demolition waste, excavated soil, and other raw materials required for the project. It could be wheeled or tracked.
Tower Crane
These are fixed cranes for hoisting when there is a need to construct tall buildings. You can lift steel trusses, frames, and concrete blocks with tower cranes. They comprise mast, jib, counter jib that lifts a counterweight on the crane's rear side, and an operator cabin.
Paver
The paver is pavement-laying equipment required by most construction companies for the purpose of road construction. It has a feeding bucket where you have to constantly load asphalt through the dump truck. It also ensures the asphalt is properly distributed on the road surface with slight compaction. It has an attached roller for proper compaction once the asphalt layer has been laid.
Trencher
This heavy equipment is commonly used on construction sites for the excavation of trenches in the soil. Trenches are required to lay cable and pipeline for drainage. Trenchers come in two forms and these are wheeled trenchers and chained trenchers. Both of them have a fixed long arm with a digging chain. Wheeled trenchers are great for the excavation of hard soil layers, and their wheels can dig trenches at uneven depths.
These are some of the equipment that every contractor must have to work on their projects. These are important for the delivery of quality service.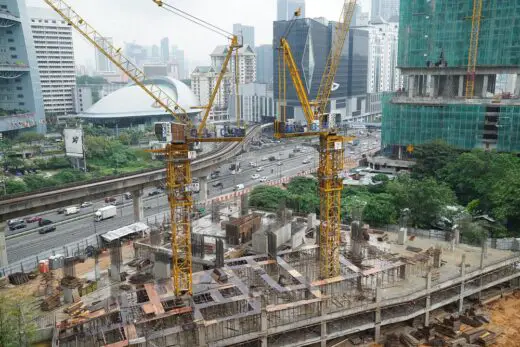 Comments on this guide to Construction Site Equipment Contractors Needs are welcome.
Construction
Construction Safety Posts
Why Construction Safety Is Important
Best practices to improve construction site safety
Safety rules and responsibilities for construction sites
Warehouse renovations: 6 tips for more efficient services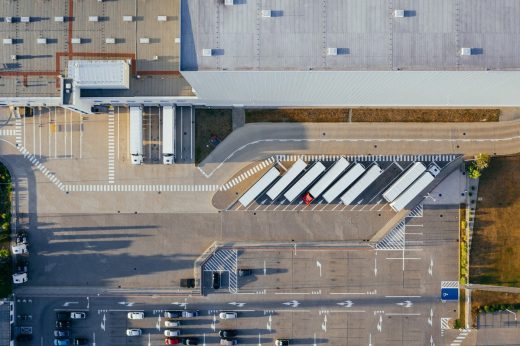 Building Design
Architecture
Comments / photos for the Site Equipment Every Contractor Needs page welcome