Choosing the best roofing material, City of London homes, Futureproofing cities, Regenerative building
Your Guide to Choosing the Best Roofing Material
10 Jan 2023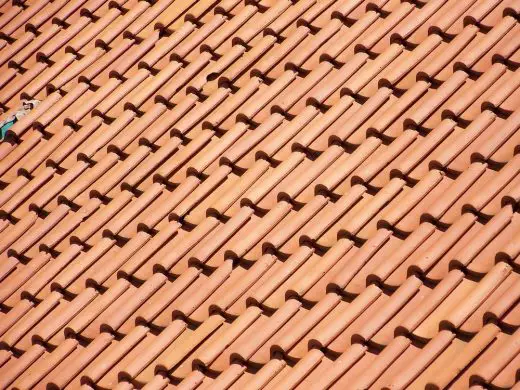 When it comes time to roof your home, the options can be overwhelming. Do you go with asphalt shingles, metal roofing, tile roofing? How do you know which material is best for your needs? In this blog post, we will explore the benefits of some popular roofing materials and help you make the best decision for your home.
There are many different types of roofing materials on the market today with many factors to consider. Each type has its own advantages and disadvantages, so it is important to choose the right one for your home or business.
Asphalt Shingles
Asphalt shingles are one of the most popular roofing materials in the United States, and for good reason. They offer a number of benefits over other roofing materials, including durability, affordability, and easy installation.
Asphalt shingles are made of a fiberglass or organic mat, saturated with asphalt and coated with mineral granules. This construction makes them resistant to wind and fire, and gives them a long lifespan. In fact, asphalt shingles can last up to 50 years with proper care and maintenance.
Asphalt shingles are also one of the most affordable roofing materials on the market. They are easy to install, which reduces labor costs, and they are available in a wide range of colors and styles to fit any budget.
If you're looking for a durable, affordable, and easy-to-install roofing material, look no further than asphalt shingles!
Metal Roofing
Metal roofing provides several benefits over traditional asphalt shingles. Metal roofs are more durable and can last up to two or three times as long as a typical asphalt roof. They are also much better at reflecting heat, which can help keep your home cooler in the summer months and reduce your energy costs. Metal roofs are also fire resistant, which can provide an extra level of protection for your home.
If you like the look of shingles but prefer the benefits of metal roofing it is possible to use roofing metal shingles that mimic the look of traditional shingles. You will still get all the benefits metal roofing provides, with the added bonus of a more aesthetically pleasing appearance. Metal shingles also come in a variety of colors to help you find the perfect match for your home.
Tile Roofing
Tile roofing is one of the most popular choices for homeowners and commercial property owners alike. There are many reasons for this, but chief among them is the fact that tile roofs offer a number of advantages and benefits that other types of roofs simply cannot match. Here are just a few of the reasons why you should consider tile roofing for your next project:
Fire Resistance. Tile is an extremely fire-resistant material, which offers peace of mind in areas where wildfires are a concern.
Energy Efficiency. Because tile reflects heat rather than absorbing it, tile roofs can help keep your home or building cooler in the summer months, leading to lower energy bills.
Low Maintenance. Tile roofs require very little maintenance, meaning you can save time and money over the lifetime of the roof.
Tile roofs offer a timeless look that enhances the curb appeal of any home or building.
If you're looking for a roofing material that offers all of these benefits and more, then tile roofing is the right choice for you.
Slate Roofing
Slate roofs are another option for those who want a durable roofing material. Slate is a natural stone that is extremely strong and long lasting. Slate roofs are also fire resistant and energy efficient. However, slate roofs can be very expensive and require specialized installation techniques. Additionally, slate roofs can be very heavy and are not suitable for all types of homes or buildings.
When you are considering the pros and cons of slate roofing, you need to think about your budget, the climate you live in and other factors. For example, if you live in an area that experiences extreme weather conditions or has many storms, then a slate roof might be a better option than tile. On the other hand, if you live in an area with mild weather, you may want to consider a tile roof.
Overall, slate roofs are a great choice for those looking for a long-lasting and durable roofing option. Due to its high cost and specialized installation, you should carefully weigh all the factors when deciding whether or not it is the right option for you.
Conclusion
There are a few key points to remember when choosing the right roofing material for your home. First, consider the climate in your area and the kind of weather your home will be exposed to. Second, think about the overall style of your home and what kind of look you are going for. Third, take into account the cost of the roofing material and installation. Lastly, consult with a professional roofing contractor to get their expert opinion.
No matter what type of roofing material you choose, it is important to consult with a professional roofing contractor to get their expert opinion. They can help you choose the best material for your specific needs and budget.
Comments on this Choosing the Best Roofing Material article are welcome.
Sustainable Architecture News
Sustainable Building Design
Sustainable Buildings Research Centre, University of Wollongong, Australia – engineered by Cundall: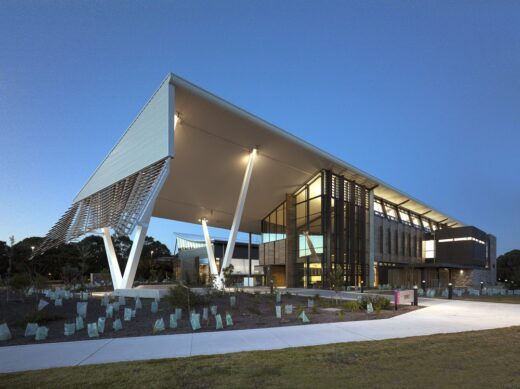 photo © Richard Glover / Matt Estherby
Sustainable Building News
Climate and biodiversity emergency
Climate and Biodiversity Emergency News: Landscape Architects
Eco Architecture
Contemporary Green Architecture Design
Comments / photos for the Choosing the Best Roofing Material page welcome