Chinese Building Development, Economic growth article, China Design Property, Image
Chinese Architectural Development : Building Discussion
Architecture Discussion by Harry den Hartog
15 Mar 2011
Chinese Architecture Development
Continuous opportunities for architects in China
While most designers in the Western world are trying to survive and repair the damage of the economic crisis, and while the architecture profession is searching hard for another paradigm, China continues to build happily enormous amounts of square meters up into the sky. More than a few Western designers flew to Shanghai and other booming cities last few years, to search for projects and pick some grains of the economic growth.
Opposed to Europe, the scene in Asia seems to be still dominated by international star-architects. They didn't fall into disgrace in this part of the world. In fact it seems that star-architects even get more chances and opportunities than they ever did before elsewhere. But small offices have to try much harder to get things done, since China is addicted to large scale and prestige.
Chinese TV Building
Design: Rem Koolhaas Architect / OMA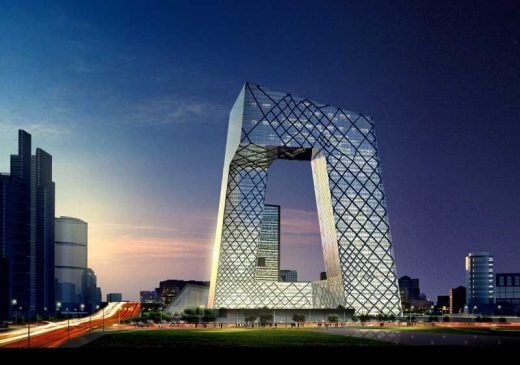 picture from architect firm
One of the earliest designers that entered the Chinese market successfully is Rem Koolhaas with his Office for Metropolitan Architecture (OMA). After a lot of praise and critics the CCTV and TVCC ensemble is finally completed, although partly burned down and meanwhile in reconstruction. Also OMA's second Chinese project, the Shenzhen Stock Exchange will be completed soon.
Shenzhen Stock Exchange
OMA



building image © architects
To work more efficiently on their Cultural Masterplan for Kowloon, OMA opened a new branch office in Hong Kong (besides their smaller Beijing branch). One can also move more freely around Asia from HK, which still has much better flight connections than Beijing and a milder climate. Mountains and ocean can be experienced from almost every street (visual) of this fantastic city. More and more Western offices rediscover Hong Kong as a safe and stable base to operate in China.
Also McKinsey & Company, the office that made several groundbreaking forecasts and researches about Chinese urban growth chose HK as their regional hub. OMA just brought McKinsey a brand new office design, an open space that can be adjusted to the needs by moving double-glazed walls. Also on the Asian market OMA seems to develop itself to an all-round office that operates both on large scale as on small scale and interiors, a fascinating and inspiring combination that makes the architecture profession healthy.
McKinsey & Company in Hong Kong
OMA



photograph © OMA
Also Zaha Hadid Architects continues to build heavily in China. After completing the Guangzhou Opera House (2010) and several small-scale projects, Hadid is commissioned now with two gigantic mixed-use buildings. One is situated in Beijing, the other in Shanghai.
Hongqiao Soho Shanghai, China
Zaha Hadid Architects



render from architects
Linkong Economic Park in Shanghai is a strategically located business cluster just beside Hongiao Transportation Hub, one of the largest hubs in Asia. The amoeba-like building is actually shaped with four almost parallel slabs, connected by a roof-structure and sunken courtyards.
Galaxy Soho Beijing, China
Zaha Hadid Architects



image from architects
Almost simultaneously Hadid got a commission for the Galaxy Soho in central Beijing, a 330.000m2 office, retail and entertainment complex. The signature of this 'grandmother of future architecture' is recognizable at a first glance on the fluent architectural expressions of both complexes. Hadid presents us two mixed-use complexes with internal "courtyards". According to Hadid, the giant interior courts in both projects are a reflection of traditional Chinese architecture.
Conveniently she is forgetting that traditional courtyards in China consist mainly of small-scale residential units, sometimes in combination with informal spaces for labour or commerce. It's obvious that Hadid's courtyards are of a very different character and scale. Nevertheless both complexes promise to become lively and glittering, with high-end workspaces, bars and restaurants for China's new middle class, while the past is being swept away.
Harry den Hartog http://www.urbanlanguage.org


photo from Harry den Hartog
Harry den Hartog is an independent designer and critic. After having worked more than 10 years as a designer within several architectural offices he founded Urban Language in 2004. With Urban Language he mainly works as editor, researcher, publicist and organizer but he is also still involved in various design projects.
Besides he guides design workshops and teaches frequently at various institutions and universities in The Netherlands and in China. Urban Language has a special interest in urban-rural relationships, fast changing social and economic conditions, shrink, public space, globalisation, etc. Since more than 10 years Harry den Hartog visits China more than yearly. Currently he lives and works most part of the year in Shanghai and surroundings.
In 2010 Harry den Hartog edited and wrote the book 'Shanghai New Towns – Searching for community and identity in a sprawling metropolis', 010 Publishers (the book is awarded with 'Best Dutch Book Design 2010').
Comments on this Chinese Architectural Development by Harry den Hartog article are welcome.
Location: People's Republic of China
Architecture in China
Contemporary Architecture in China
Headquarter of China Insurance Group
COOP HIMMELB(L)AU
Headquarter of China Insurance Group
Shenzhen 4 in 1 Towers Design
MVRDV
Shenzhen 4 in 1 Towers
Vanke Center
Design: Steven Holl Architects
Shenzhen Vanke Center : Architecture Competition winner
Architecture Articles
Architectural Articles – Selection
Architecture Context : article by Trevor Tucker. Sep 2010
Resisting Boredom : article by Joyce Hwang. Jan 2011
Sizing Identities : article by Sergio López-Piñeiro. Jan 2011
Sustainable Buildings – Building Issues : article by Adrian Welch
Comments / photos for the Chinese Architectural Development Discussion by Harry den Hartog page welcome