Can shipping containers be used in construction industry guide, Modular building tips, Module property advice
Can Shipping Containers Be Used in the Construction Industry?
21 March 2022
Construction sites need portable offices, storage space, recreation rooms, and meeting rooms. High-quality shipping containers provide innovative ways to fulfill these requirements.
Containers have gained popularity in the construction industry over the past few decades because of their strength, availability, and affordability. Certain builders even rely on them to build new homes. Containers are also more environmentally friendly than traditional building materials such as bricks and concrete.
You can customize a container office with HVAC systems, lights, plumbing, washrooms, pipes, racks, shelves, and furniture on construction sites. Shipping containers are also used to securely store expensive construction equipment. You can use a lockbox for additional protection.
Standard shipping container sizes are 10-ft., 20-ft., 24-ft., and 40-ft. with double door and high-security options. Read on below to learn more about the benefits of container-based architecture.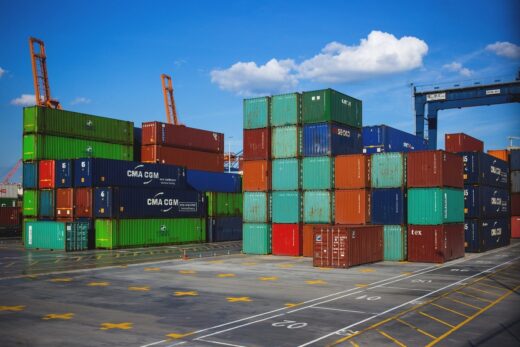 Shipping Container Architecture
Shipping container architecture uses steel intermodal containers. These are also known as cargo containers or Conex boxes. The structure consists of a steel frame and corrugated steel walls. Container architecture is growing in popularity because of its strength, weather resistance, portability, and sustainability.
History of Shipping Container Architecture
Malcolm McLean revolutionized the cargo industry when he designed the shipping container back in the 50s. The utility of containers expanded when the US army used them in the Vietnam War to ship supplies overseas.
Shipping containers have since transformed the building industry thanks to their convenience, efficiency, and structural strength. For years, Europe and Asia have used shipping containers for commercial and residential construction. Amsterdam's Keetwonen is now the world's largest shipping container housing complex. This green and efficient low-cost student housing is built per Europe's highest construction standards.
Shipping Containers for Housing and More
There is no limit to creativity when building with a shipping container. While the trend may have started as a way to provide affordable homes, it has quickly grown into a design revolution.
Permits for Shipping Container Buildings
Because shipping container buildings are built using repurposed containers, you may need to secure the following building permits:
International Building Code® (IBC)
International Residential Code® (IRC)
ICC 700 National Green Building Standard TM under the environmental protection agency (EPA).
Acceptance criteria AC462 under the international code council (ICC) standards.
You may also have to check your city's local building and zoning permit requirements.
What Can You Build with Shipping Containers?
Shipping containers are large enough to build residential and commercial buildings and small enough to transport on a flatbed truck. Years ago, some innovative designers saw an opportunity to stack or join containers for diverse and ingenious purposes such as:
Public Spaces – You can use shipping containers to create large arenas, theaters, stadiums, libraries, recreational spaces, and much more.
Apartments – You can build anything from luxury condos to affordable student housing with portable shipping containers.
Office Buildings – Get your business up and running quickly with a shipping container office complex. Assembling the containers and adding electrical and plumbing fittings make it quicker than building a brick-and-mortar structure.
Military Facilities – Build anything from training facilities to high-security storage spaces for military applications. The portability and modularity shipping containers offer provide significant advantages here.
Shipping Container Homes
From single-container-based 'tiny homes' to multi-unit container complexes, shipping container homes are gaining steam. Now familiar with the logistics, architects are becoming increasingly creative with the layouts they create.
7 Steps to Building a Shipping Container Home
If you are thinking of a shipping container home, here are a few points to consider:
Insulation – Since steel is a conductor of both hot and cold temperatures, you need to add insulation to your shipping container home. If done right, insulation will reduce your electricity bills and ensure that the container is habitable. Spray foam insulation creates a vapor barrier and is suitable for cold climates. Panel insulation is good for dry and mild temperatures.
Choose the correct shipping container – You have a choice of new, used, and single-use containers. New and single-use containers are usually in good condition but more expensive. Other used containers are cheaper but require more attention to detail. Make sure they are free of rust, chemical corrosion, dampness, mold, and big dents in the walls or the frame.
Zoning permits – Before you purchase land, visit the local planning department and ask about building and zoning permits in the area. If there are non-traditional buildings existing in your area, the chances are that you will get permission easily.
Planning – With little or no planning, you could end up with a half-finished or overly expensive project. Before you start building, plan the phases, building material requirements, interior, and exterior layout, plumbing and electricity lines and outlets, external roofing (if any), and landscaping.
Decide a budget – Running out of money halfway during the build is not a new story. Get an architect on board and make a total budget based on the bill-of-material. We recommend setting aside a 10% contingency budget in case you run into any unforeseen expenses.
Site planning – Most first-time builders forget about site planning. But it leads to problems and delays later. We suggest you consider the following factors before building:
Approach road for trucks or any smaller vehicles
Space for unloading and storing the material
Site for water tanks or septic tanks
It should not block structures on the neighboring land
Site leveling for the foundation
Water management through government supply or self-sustaining methods
Waste management and recycling
Rust prevention and treatment – Similar to concrete structures, which are prone to cracks and crumbling, container homes are susceptible to corrosion. While shipping containers are built using Corten steel coated with anti-corrosive paint, modifications may compromise their structural integrity. Be sure to take steps to prevent rust from forming. If the container does start to rust, you should treat it immediately.
The Pros and Cons of Shipping Container Homes
Before you start planning the shipping container home, let's review some pros and cons:
Pros of Shipping Container Homes:
Prefabricatedstructures – Shipping containers are sturdier than traditional prefabricated buildings.
Cost-efficient– A surplus supply of shipping containers drives its cost. After you redesign the container and make it fit for habitation, the project's overall cost is still low as opposed to conventional construction costs.
Design element– Office buildings, homes, and other commercial structures are increasingly looking at aesthetics. People are willing to pay high prices for repurposed and retrofitted shipping containers to create innovative and unique buildings.
Sustainability– Shipping container homes use existing containers that would otherwise go to a landfill. It will take a considerable amount of energy and emissions to melt the container and build something else. The container-based architecture eliminates the resulting carbon footprint.
Portable and modular – Shipping containers are easily transported on a standard flatbed truck. Once the containers reach your site, they are easy to store and install due to their standard sizes.
Cons of Shipping Container Homes:
Recycling and sustainability– Most factory-built units are built with brand new or single-use containers. If you feel that recycling and reducing your carbon footprint is important, it is best to repurpose a used container than purchase a brand new one.
Container modification – Be careful not to cut huge chunks of corrugated steel walls from the container without using reinforcement. Doing so may jeopardize the structural reliability of the steel frame.
Can shipping containers be used in construction industry Conclusion
Shipping containers are a perfect fit for the construction industry since they already meet all the essential criteria. They not only offer portability, but sustainability, design, budget, and modularity as well.
If you plan to use them as an office or a storage space at a construction site, you can also rent the container instead of buying to cut down costs.
FAQs
Are Shipping Container Homes Safe?
Shipping containers carry all kinds of goods, hazardous or non-hazardous. Once you purchase a used container, there could still be remnants of the goods it transported. It is best to inspect thoroughly or buy a new or single-use container.
How Long Does a Shipping Container Home Last?
Shipping containers usually last around 25 years or even longer if you maintain it regularly. Like any other home, shipping containers require regular inspection and maintenance. Rust is one of the biggest threats to a shipping container. So long as you treat any problem areas as you see them, you can prevent it from spreading any further.
Comments on this guide to Can shipping containers be used in construction industry article are welcome.
Shipping Containers
Modular Shipping Container Building Posts
Building a new home? Custom vs Modular
Modular building like a shipping container cafe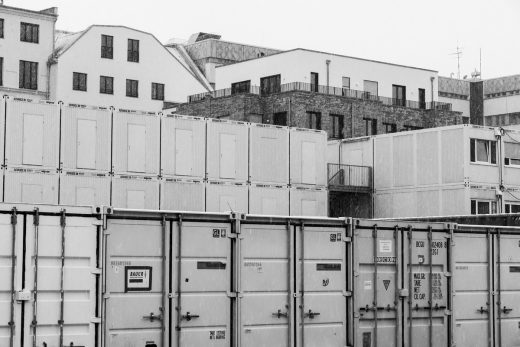 6 things to know when building shipping container home
Buildings
New Architecture Design
OUTSIDE the Box, Toronto, Ontario, Canada
Design: Weiss Architecture & Urbanism Limited with Wonder Inc.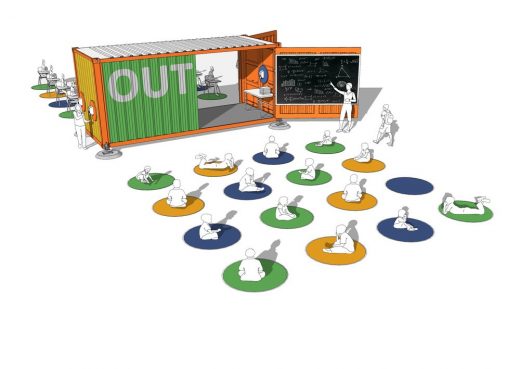 image courtesy of architects
OUTSIDE the Box
Comments / photos for the Can shipping containers be used in construction industry page welcome