Architecture Language, Architectural Article, Building Dialogue, Global Projects Design
Building Language : Architectural Dialogue
Built Environment Discussion article by Trevor Tucker
9 Aug 2011
How does a building speak?
I'm an English Lit prof. I'm also passionate about architecture. I now find myself doing some writing for an architecture firm here in Ottawa.


Trevor Tucker
A few weeks back, in our first meeting, I and the partners gathered around and discussed, essentially, what do words have to do architecture? They started in with, "What we arrive at is theory". I responded with, "I think it's a crazy question; we can't even think without words."
And we were off onto phenomenology.
"A building speaks for itself," says one partner. "To me I just build it and it sits there and the one looking at it can 'read' it however he or she wishes."
"But the problem is," I say to my now colleague, "that I pass ugliness every day on my way to work. Ugly communities that could be so much more." And then I add for emphasis, "This building we're in now, this is beautiful. And those people in those suburbs that have polluted the landscape….they need your gospel!"
We still need words, says I, as someone who spends his life immersed in these pesky little signifiers that not only communicate content, but also paint images and emotion even within the feel of their syntactic combination. So much more than the sum of their parts.
I think it was the proselytizing bit that got them, though.
I mentioned I'm a lit prof. On my night-table are Beowulf, Le Mort D'Arthur and The Best Poems in the English Language by Harold Bloom. I'm also a child of the West. The point is that when I drive down the road and see wide tree-lined boulevards, or heavy stonework on a house, or deep, shady porches or a thick wooden table with a beer tankard on it running down the centre of a great hall…these things all say something to me. I have a language and a history for them. The connotations are endless.
But, when I see a glass box I see a glass box. And, to make my experience of it all the more empty, the elite modernists who have built the box also don't seem to care to give my generation a language by which to interpret it. They refuse to, thinking that that is somehow more democratic for the viewer. The viewer, then, is left to try and guess, not what it feels like to him, but what it meant for the specific builder.
We have no language for it. And it frustrates me to no end.
So, it is with this axe to grind that I come to this week's offerings. Does it appear that the architect is reaching out to the public in any way? Does he or she care to?
The Gallery House in Brazil is probably the best example to illustrate my point. Look at this piece of sculpture. The feeling of motion, and flow and light. Even the images on the article have a kind of dynamism to them, drawing us through.
Gallery House, Vale dos Cristais, Brazil
Design: MACh Arquitetos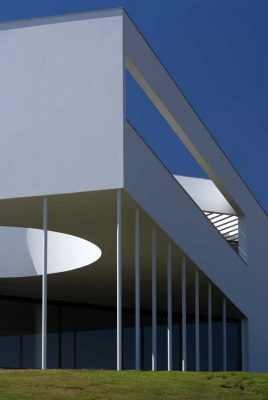 photo : Fabio del Rey
Now, the architects say this: "This house, which main purposes are permanent residence and place of storage and exhibition of a vast collection of artworks, presents an abstract and sculptural aspect, accordingly to the owners' expectations." And that begs the question: Across the board, while designers are weighing out the priorities of the owners' expectations, do they ever think about whether or not visitors will be able to read this thing?
Furthermore, have they opted to be so subtle and intellectual about the project that users are left guessing? Should architects of public spaces make their buildings more intellectually accessible to the common user than those of private residences? It seems to me that the immediate client gets the sole consideration, even if taxpayers are the ones footing the bill.
Just a pedestrian view. But the point is further illustrated in the Irving Convention Centre in Texas. The designers tout the environmental aspects to this project. The top-heavy building certainly does provide its own shade for the promenades and cafes below, and the openness for this convention centre is remarkable. Environmental and functional. But is there understandable, comfortable space?
Irving Convention Center, Texas, USA
RMJM Hillier Architects



image : RMJM Architects
If you ask me, the Four Seasons House in Iran is probably the most instructive house on the slate this week; my colleague at the firm here would say that no words of explanation are needed with this project. If not immediately obvious what the designers are trying to do, this house still calls aloud for viewers to invite all kinds of questions. It projects itself.
Four Seasons House, Iran
New Wave Architecture



render from architect
Even the writeup here is good, and speaks directly to my point: "Four seasons house creates a legible interactive conversation of dwelling and environmental veils: Spring, summer, autumn and winter" (italics mine). The description of the philosophy behind the house gives a good snapshot of the architect's response to trends in modern home design. And I love the sense of interactivity within a broad range of elements.
London Olympics Stadium Wrap, UK
Populous



image © Populous
Have a look at the London Olympic stadium, particularly the list of interesting facts. Personally, I'm a bit uncomfortable with the impermanent feel to all these Olympic fixtures—usable spaces, not buildings in which a person (and a society) can firmly plant their backsides. I'm reminded of a little anecdote on the concept of progress in Victorian England, where seats at the Royal Albert Hall could be leased for 999 years. Not so our modern sensibilities.
Asmaçatı Shopping + Meeting Point, Turkey
Tabanlioglu Architects



photo from architects
Speaking of those opulent Victorians, we turn to The Asmacati Shopping and Meeting Point, in Turkey. A friend who just returned from there, says, "There's just something about the air there in Turkey. It's just so easy to breathe." And this is the impression we get with this plaza that, even in its name, reinforces its public function, which is so much more than mercantile.
And you've just got to love the detailing on the ceiling. It's as though you are walking on a forest floor. Ornamentation and flourishes are certainly something that the West, with its vacuous sleek facades, devoid of whimsy, needs to recover.
FGMF Architects, Brazil
Chicago Athenaeum Award for Grid House



photograph from architects
Finally, the FGMF firm from Brazil has also received its second major international award. If you do anything after reading this article, at least go to their website; its one of the best I've seen. And the images will help you understand why they are so deserving of the award.
No matter how outlandish or subtle or traditional the design, then, the question for me is, Is the building's posture one of introspection—does it turn inward and hinder access to its meaning, or is it outwardly focused? Is its rejection of explanation and care for the person on the street actually so stuffy as to be alienating? Or, does that person feel welcomed, respected, and sense a deep feeling of home?
Trevor Tucker
The authoer of this Architectural Dialogue article: Trevor works as an editor and sessional professor of English literature, at the University of Ottawa in Canada.
ttucker(at)rogers.com
Comments on this Building Language, Architecture Dialogue article by Trevor Tucker are welcome.
Architecture Articles
Seasonal Architecture : article by Trevor Tucker. 15 Feb 2011
Architecture Context : article by Trevor Tucker. 21 Sep 2010
Architecture Narrative : article by Trevor Tucker. 24 Aug 2010
Sustainable Building Design : article by Trevor Tucker. 18 Aug 2009
Sustainable Design : article by Trevor Tucker. 15 Sep 2009
Nature Architecture : article by Trevor Tucker. 15 Sep 2009
Sustainable Buildings – Building Issues : article by Adrian Welch
Comments / photos for the Building Language, Architecture Dialogue Article page welcome