Benefits of steel tubing in architecture, Building design style tips, Home coffee table
The Benefits of Steel Tubing in Architecture
28 Feb 2023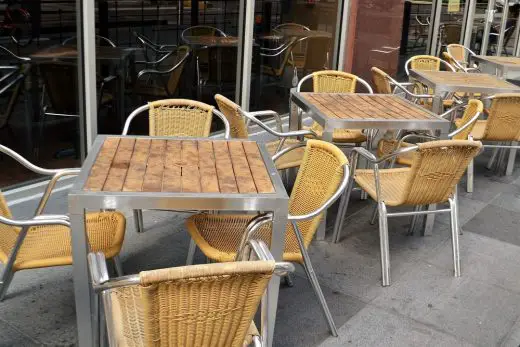 Steel tubing is a highly versatile material that finds wide applications in various industries such as engineering, civil construction, mining infrastructure, furniture, transport, and manufacturing. It is an essential component in building projects, providing structural support and offering corrosion resistance. With tubular processing capabilities, steel tubing can be cut, bent, welded, and formed to meet the exact specifications of a project. That's what makes it a fantastic material for modern day architecture.
Key Benefits
The benefits of using steel tubing in architecture are numerous. Steel tubing is lightweight and strong, making it easy to install and able to support a wide range of load requirements. It's also highly durable, resistant to corrosion, fireproof, and less prone to movement than other materials. Plus, its superior strength-to-weight ratio makes it a cost-effective and efficient material, enabling you to create structures that are both aesthetically pleasing and structurally sound. In addition, steel tubing can be finished in any color or with a number of decorative treatments, making it an ideal choice if you're looking to make an architecture statement.
Applications
The applications of steel tubing are vast and diverse. In the construction industry, it is used in both residential and non-residential buildings. For example, steel tubing is used in the construction of skyscrapers, bridges, and stadiums, where strength and durability are critical factors.
The processing capabilities of steel tubing are continually evolving, and the leaders in the industry utilize the latest technologies to improve efficiency and reduce waste for their clients. The latest processing techniques include laser cutting, robotic welding, and advanced forming methods. These technologies enable steel tubing to be fabricated quickly and with high precision, resulting in cost savings and improved quality.
Tubular Product Standards
Importing of steel tubing from other nations can sometimes be a challenge because there may be various minimum standards for architecture and construction that must be met.
Compared to other parts of the world, Australia's steel industry standards are generally considered to be stricter. For example, in some countries, steel manufacturers are not required to undergo any testing or certification processes before their products can be used in construction projects. This lack of regulation can lead to subpar steel products being used in critical infrastructure projects, with potentially disastrous consequences.
If you are unfamiliar with the requirements in your region, it is best to consult with an expert from your local steel tubing supplier before making a purchase.
Rectangular Hollow Sections (RHS), Square Hollow Sections (SHS) and Circular Hollow Sections (CHS) are all available in various grades of steel. RHS come in a variety of sizes from 20x10mm to 400x200mm, with wall thicknesses ranging from 1.6mm up to 12mm. SHS have been designed for use mainly in structural applications, and are available in sizes ranging from 10×10 mm up to 300×300 mm; commonly used wall thicknesses.
Quality and safety standards are essential when it comes to tubular products. A reliable supplier ensures that their steel tubing meets the strictest quality and safety standards, which reduces the burden of project compliance on the customer. These standards may include certifications such as ISO 9001 for quality management and ISO 45001 for occupational health and safety. By partnering with a reputable supplier, customers can have peace of mind knowing that their projects are using tubular products that are safe and of the highest quality.
Durability & Strength
One of the most significant advantages of steel tubing in architecture is its strength-to-weight ratio. Steel is incredibly strong compared to other building materials, and steel tubing is even stronger due to its tubular shape. This characteristic allows architects to design structures that are not only strong but also lightweight, making it an excellent option for projects where weight is a critical factor.
Steel tubing is also highly durable and resistant to corrosion. The material's corrosion resistance makes it an ideal choice for outdoor applications where the structure is exposed to harsh weather conditions. Additionally, steel tubing can be coated with protective coatings to improve its resistance to corrosion.
Conclusion
Steel tubing has found extensive applications in architecture, providing designers with flexibility, strength, and durability in their projects. The use of steel tubing has become increasingly popular in modern architecture due to its versatility and ability to create complex structures.
The flexibility of steel tubing makes it a popular choice for creating unique and complex shapes. Steel tubing can be formed, bent, and welded into different shapes and sizes, allowing architects to push the boundaries of their designs. Its versatility enables architects to create aesthetically pleasing and functional structures such as curved walls, arches, and cantilevers.
In conclusion, steel tubing has become an essential component in modern architecture, providing designers with the flexibility, strength, and durability required to create unique and complex structures. The advantages of steel tubing, such as its strength-to-weight ratio, resistance to corrosion, and environmental sustainability, make it an excellent choice for architects looking to push the boundaries of their designs.
Comments on this Benefits of Steel Tubing in Architecture article are welcome.
Furniture
Furniture Posts
Popular types of wood for furniture
Ideas for arranging a living room with corner sofas
Bauhaus inspired architecture and furniture
Property
Residential Architecture
Comments / photos for the Benefits of Steel Tubing in Architecture page welcome