artificial boxwood hedges, planter, horsetail reed bamboo, liriope, topiaries, flower wall, dried plants
Benefits of artificial boxwood hedges
30 May 2022
When it comes to planting thoughts for your commercial areas, strolling through the lawns of gorgeous stately open gardens is bound to inspire you. The neatly groomed boxwood hedges will separate you from the rest of the world, placing you in a haven of peace and relaxation that could easily be described as a secret garden.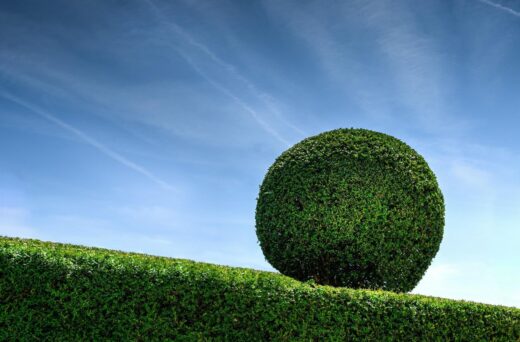 Various benefits of artificial boxwood hedges:
Consider creating a wall with imitation boxwood hedges if you want to break up the monotony of commercial space décor. Dried Boxwood plants are an excellent way to bring natural texture and color to a room without much space. They also have numerous miracles that make them ideal for commercial space decor. Just a few examples:
Boxwood hedges needs low-maintenance.
They are a great way to provide seclusion in the office and may also be utilized to divide up separate regions.
Transform your commercial space in minutes with artificial hedging:
Artificial Boxwood hedge walls may be a good option for freshening up your business's indoor or outdoor environment. They require far less upkeep and provide many of the same benefits as actual plants, making them a perfect choice for business owners who do not have the time to maintain them daily.
Artificial hedging has improved tremendously in recent years, making the product far more adaptable to various situations and designs. The current foliage appears to be 100 percent botanically correct and UV stable. It will not discolor or fade outdoors, making it completely carefree and look lush and healthy all year long. Will you hunt for ideas to help you get started on your dream decorating projects? This entire article will look at a few of the greatest ideas for artificial hedges.
Bars and restaurants with artificial hedges:
A first-time customer's only criterion for judging a bar or restaurant is appearance. People seek well-kept, secluded-looking establishments where they may picture wonderful meals and a pleasant atmosphere. Adding a boxwood hedge in a planter to the exterior of your commercial spaces can give it a more inviting vibe, attracting more first-time clients while maintaining a private atmosphere for your existing customers.
Privacy screening using an artificial hedge:
In your commercial space or any place of business, privacy is invaluable. Privacy is a comfort not just in conditions of aesthetics but also in conditions of protection. An artificial bamboo hedge can be built as small as possible, obstructing your view of unattractive objects like dumpsters. A hedge could also be built to shield your space from curious eyes and passers-by, and it offers more benefits for your beautiful space.
Windbreak using a fake hedge:
There is typically minimal protection from the wind in open areas such as balconies, roof terraces, and decking areas. This is particularly bad because these are the areas where you need to be shielded in order to construct mini suntraps for sitting outside and enjoying the greatest weather. Windbreaks can prevent dust and debris, such as fallen leaves, from drifting to overexposed areas and protecting against the wind. Artificial dried boxwood plants can provide wind protection from all sides while also enclosing and beautifying your space, and this can save a lot of time while sweeping, raking, and cleaning during certain seasons of the year.
Window boxes with a fake hedge:
Window boxes are excellent for bringing a splash of color, texture, and dimension to your commercial space and making it more appealing. Maintaining a space is sometimes enough of a hassle without having to add the additional work of maintaining and watering window boxes, which are often in inconvenient locations. Artificial boxwood and liriope hedging is an easy answer to this maintenance issue, and artificial hedge window boxes can be left to look attractive all year long with little or no upkeep.
Salon's interiors:
Do you own a beauty salon where consumers may get soothing services like facials, manicures, and haircuts? Preserved boxwood topiaries may be used to provide your services the wow element to give your consumers a fully immersive experience. Allow your customers to unwind and release tension in their bodies while enjoying the services they have come for in a green environment.
Areas for Work:
Boxwood flower walls can have numerous practical benefits in addition to being attractive to the eye. It is no mystery that being surrounded by green fixtures promotes a sense of tranquility, reducing stress levels among employees. They can also assist with area segmentation and noise management, two critical aspects of any indoor commercial environment.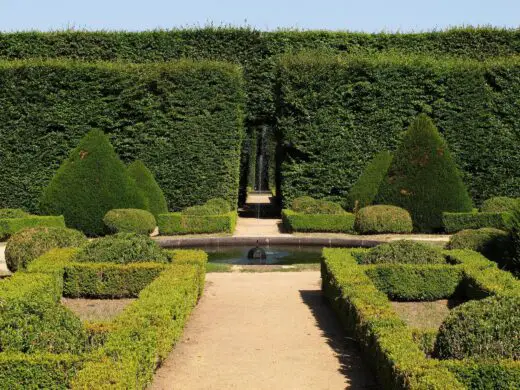 Balconies:
Do you have a balcony where you like to sit and relax when the weather is nice? If that is the case, a splash of green on your balcony can instantly change the vibe. You might use boxwood pom pom topiary and smaller plant pots throughout the space to create a welcoming and friendly atmosphere.
Spas:
Do you have a wet room, sauna, or indoor spa in your commercial building, either for staff to use or serve to pay customers? Today, treat yourself and your visitors to something luxurious. Artificial hedge walls are a terrific concept for promoting the sense of quiet and relaxation that visitors will feel there. Artificial greenery eliminates the upkeep and difficulty of actual grass walls.
Bottom Line:
Finally, you can get the look of a living green wall without the maintenance with imitation boxwood hedges. You may enjoy all of the uses of a living wall without the effort of care and upkeep by making a living wall with artificial boxwood hedges. Including a live wall in your commercial space is a terrific way to breathe new life into the room while increasing productivity.
Source links:
https://www.evergreendirect.co.uk/blog/transform-your-garden-in-minutes-with-artificial-hedging/
https://unrealdesignsinc.com/blogs/news/four-beautiful-artificial-hedge-wall-ideas-for-your-business/
https://www.sunwinggreen.com/artificial-greenery-wall-for-commercial-interiors/
https://archeyes.com/dont-be-boxed-in-by-office-decor-create-a-living-wall-with-artificial-boxwood-hedges/
Comments on this guide to Benefits of artificial boxwood hedgesarticle are welcome.
Landscape Design
Landscape Posts
Landscaping and garden design ideas for your outdoors
Top 3 factors for planning new landscape design
Create a Relaxing Backyard Landscape Design
Building Articles
Residential Architecture
Comments / photos for the Benefits of artificial boxwood hedges advice page welcome