How to Get the Most Affordable Insurance Quotes Tips, Unsuring Home Advice, Property Security
A Beginners Guide to Dwelling Coverage
2 June 2020
Do you love your home? Probably yes. One of the reasons why you love it is because it gives you security and comfort. Among other things, your home is where you spend the rest of your life and build memories. However, protecting it from unforeseen damages is paramount. Beginners guide to Dwelling Coverage – here are the top reasons why you need dwelling insurance.
Understanding the Basics
Dwelling insurance covers the structure of your home and the specific risks that can damage your property. However, it's important to note that structures that aren't directly attached to your home, like a separate guest house aren't usually covered by dwelling insurance. But they might still be covered under other portions of your homeowner's insurance.
Standard dwelling insurance typically covers things such as lightning, explosions, fire, wind, theft, hail, vandalism, sleet, falling objects, smoke, and explosions. If a section of your home gets damaged by fire, for instance, dwelling insurance will cater for the repair or rebuilding costs.
Is Flood Damage covered?
Flood damage isn't covered by dwelling insurance. In this case, you'll need to purchase a separate flood insurance policy. Plus, this type of coverage doesn't also cover damage resulting from earthquakes or sewer backups. Whereas most parts of your home will be included in a dwelling insurance policy, things like fences, a detached garage, or an above-ground pool won't be.
So, take the time to carefully review your policy or consult with your agent to find out exactly what's covered by your dwelling coverage and what isn't.
Things that Affect the Cost of Home Insurance
There are numerous factors that can affect the cost of a home insurance policy. Some of them include the quality of your home and owning a specific breed of dog. Keep reading to find out more!
Home Design
Older home models are generally more expensive to insure since they aren't usually updated to local building codes.
The type of materials used and the roof type are also taken into consideration. Even more, security and safety features play a significant role. Installing the latest alarm systems plus smoke detectors, for instance, could result in a lower premium.
Location
Your home's location is another factor that can significantly impact the cost of your home insurance cover. If you live in a place that's vulnerable to hurricanes, earthquakes, or floods, for instance, you might need to purchase additional coverage. And this will significantly impact your rate.
Aside from your region, your home's physical location also matters. Close proximity to a fire or police station is another contributing factor.
A Beginners Guide to Dwelling Coverage Conclusion
Your dwelling generally includes the house you reside in, as well as, anything attached to the structure itself. Such things could include a garage, porch, or deck. Plus, it also incorporates any in-built appliances you might have
Safeguarding your dwelling against natural disasters, like fire, lightning, vandalism, theft, and falling objects is extremely important. The above article provides deeper insights into dwelling coverage and everything else you should know.
Comments on this A Beginners Guide to Dwelling Coverage article are welcome.
Residential Property Articles
Norra Tornen, Hagastaden, north of Stockholm
Design: OMA / Reinier de Graaf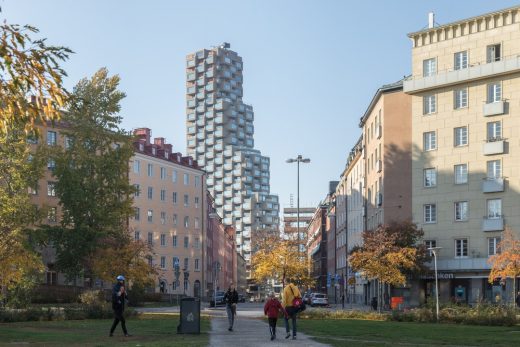 photograph : Laurian Ghinitoiu, Courtesy of OMA
Norra Tornen
Comments / photos for the A Beginners Guide to Dwelling Coverage page welcome