Alvaro Siza Architecture, Building Design, Homage, Portuguese Architect, Architectural Books
Alvaro Siza Architecture
Architectural Discussion by Dr. Peter Magyar
26 Feb 2013
Alvaro Siza Architecture Design
A few white lines of Alvaro Siza
Architects, designers of the other buildings in Barcelona, Detroit and Prague, published in this week's edition of e-architect, would hopefully forgive me of neglecting their beautiful projects, and bring forth some thoughts, related to my – and all of our – distant mentor, Alvaro Siza Vieira. These thoughts might be overly personal, another reason of apologizing in advance.
Just about twenty years ago, when I received my final degree from the Technical University of Budapest, many things previously 'verboten', started to unravel (the Russian equivalent would be more appropriate, but I don't know it). So I was in the first group after an almost forty years hiatus, who received their degree covered in a beautifully custom-tailored robe, even provided and presented to each candidates by the University.
Since that time I used it at least once a year, sitting on the stage at graduation ceremonies. Without exception, even in the company of some very loud ivy-league robes, I got compliments for the traditional beauty of the garment. It is made of plain black textile, but a black silk cord is sewn on the edges, and forms the buttonholes as well.
Really, quite simple, but thinking on it, my (our) other mentor's, Kenneth Frampton's, book, Studies of Tectonic Culture – the Poetics of Construction came to my mind. In this book, Professor Frampton introduced me to another evergreen source (interesting to apply this expression to architecture today!), Gottfried Semper's Four Elements of Architecture (published in 1851). The third of these elements is the 'enclosure', the walls, which "were said to have their origin in weaving" (from Wikipedia). So, in other words, the (practically) one-dimensional elements, the twigs or sticks in a fence, or the cord on the robe, are arranged in, or on, a two-dimensional plane, which then inhabits or creates a three-dimensional volume!
Volunteer Firefighters Barracks, Santo Tirso, Portugal
Architects: Álvaro Siza Vieira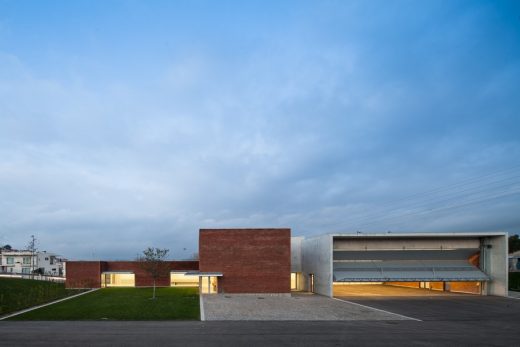 photo : Joao Morgado
Finally, back to the Volunteer Firefighters Barracks in Santo Tirso, Portugal. The Master here employs (in my humble opinion) the abovementioned strategy. A white line runs around the building, frees itself from it and creates a division between the different substances of the ground, and with this simple, but strong gesture, literally sews together the different elements of this large complex.
Other architectural indulgencies are offered to us by the contrast of the large "empty" space and the phenomenal and physical density of the support functions, with the interior outfitted in white and very pale grey colors. They evoke – at least from the photos – again "space", what is encapsulated so expressively by the large working hall. This latter, at least in my mind, loosely recalls the simple elegance of a much earlier work of Alvaro Siza, the Portuguese Pavilion at the Barcelona Expo.
Without thanking the Master for his 'black lines', his beautiful and expressive drawings, I can not finish this writing! We are grateful for his lines, in any colors!
Dr. Peter Magyar


Dr. Peter Magyar
The guest editor of this issue of e-architect is Dr. Peter Magyar, RIBA., an International educator, architect and author. Since 1989 he has been head and director of three Architectural Departments, or School, at the Penn State, Florida Atlantic and Kansas State Universities respectively. He is interested in the intuitive and cognitive processes of design, archived thousands of drawings in this field, some of them are published in his latest books: "Thought Palaces", 1999 Architectura & Natura Press, and "ThinkInk", 2010, Kendall Hunt. About a drawn Explanation of "Spaceprints" visit You Tube, and search for: video.
Three books by Dr. Peter Magyar: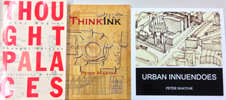 image from Dr. Peter Magyar
Architectural Articles by Dr. Peter Magyar
Architectural Scale : 20 Nov 2012
Architecture Masters : 2 Oct 2012
Architect Engineer Artist : 20 Mar 2012
Architectural Aura : 24 May 2011
Invention in Architecture : 7 Dec 2010
Portuguese Architecture
1032 Foz Housing, Rua de Gondarém 1032/1040, Porto
Architects: dEMM arquitectura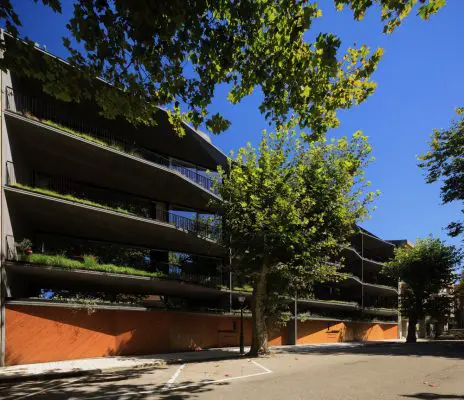 photography : FG+SG | architectural photography
1032 Foz Housing Porto
Comments / photos for the Alvaro Siza Architecture Design – Current Building in Portugal Article page welcome