8 questions to ask before you hire a handyman advice, Home repair and maintenance guide, Property fix tips
8 Questions to Ask Before You Hire a Handyman
6 March 2022
You should always have a handyman in your contact.
Why?
Well, this is because of the type of services they offer to their clients to make their life easier. From painting and shelving to repair and maintenance works, the range of services a handyman offers is limitless. And when it comes to such works for your house, you can never skip a good handyman, ever.
However, when it comes to hiring a handyman for your home, things might get a bit tricky. You need to interview the potential candidate thoroughly to find the best Handyman for you.
For the interview session, we have prepared a list of questions to ask so that picking the right one becomes easier for you.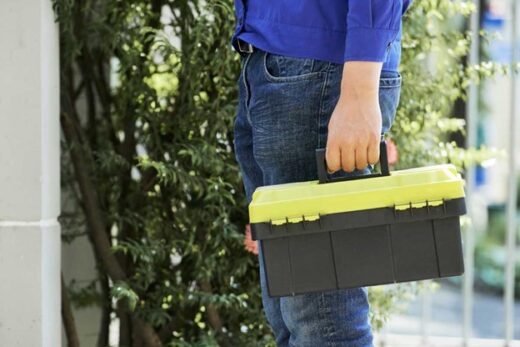 8 Questions to Ask Before Hiring a Handyman
What Type of Work Can You Do?
Not all handymen can do everything. And if you have a long list of repairs, Blue Door Management team advises that you must ask the shortlisted handyman about the type of work he can do, and if it matches your requirements or not
Also, don't forget to ask for work samples that back up his claims. This is because even though a lot of handymen claim to be a jack-of-all-trades, in reality, they might lack either in experience or knowledge.
Are You Licensed?
One of the most important things that you must look out for is whether the candidate is licensed per state law or not. Handyman in Dallas, as well as the rest of the US, comes with proper license. However, checking it is super important because a license certifies that the person is qualified to do the job perfectly, keeping in mind the specific law of the state.
If the handyman is not licensed, it's no use of him interviewing any further.
Are You Insured?
In addition to checking if the handyman is licensed, check if he is insured or not. This is also important because if the worker is not properly insured, it might cost you a whole lot of money for hiring him in the first place.
As there are a lot of things that can go wrong in a construction site, hiring an uninsured handyman might land you in great trouble.
While checking the certificate of insurance, make sure that the handyman is covered by both liability insurance and workers' compensation insurance.
What Is the Expected Timeline for This Project?
You don't have all the time in the world to let your home repair and maintenance work go for months and months. To finish the projected work as soon as possible, ask for a time estimation from the handyman.
An experienced handyman should be able to provide you with a time frame to complete the work properly. Also, don't forget to ask when he is going to start and when it would be done.
Do you Maintain Written Contracts?
A written contract shows the agreement between you and the handyman along with the terms and conditions. Even when the candidate is familiar to you, never forget to ask for a written agreement for the security of both parties.
What Is the Payment Schedule?
Ask how your handyman likes to get paid. If he demands the full amount in advance, it's a red flag. The standard method is to pay 10% of the payment in advance and the rest on the completion of different milestones. If the potential candidate fails to follow this standard rule, it's better to let him go.
However, if the job is relatively smaller, say a day or two's work, hourly payment could do. Talk with your handyman to know if he is comfortable with that.
How Many Other Projects Are You Currently Working On?
Asking about the other projects he is currently working on would give you an idea of how much concentration your handyman can actually offer you. So, don't forget to ask this question during the interview session.
If he has a number of projects in his hand, it would be quite difficult for him to pay the required attention to your work, and, might not be able to finish the work flawlessly.
On the other hand, if yours is the only job he has, it is clear that the handyman is not as good as he claims. Hiring him won't be a good idea.
Do You Have Local References?
When interviewing any potential handyman, remember to ask for the local references he has. As they heavily rely on referrals and word of mouth, he must have a sort of reference to provide you.
In any case, if your handyman fails to provide valid references, there are chances that either he is completely new at this job or he didn't do satisfactory work in his previous ones.
Wrapping Up
These are the essential questions that you should ask when interviewing a handyman for your house repair and maintenance work. You may also add a few questions to know more about him and the various types of works he does. However, don't forget to analyze the answers carefully so that you can pick the most suitable one from the lot.
Comments on this guide to 8 questions to ask before you hire a handymanarticle are welcome.
Home Improvement Articles
Home Improvement Posts
Home styling tips to decorate your house
Wall Art for Different Interior Styles
Home improvement ideas for budget transformation
Buildings
Home Improvement Articles
Comments / photos for the 8 questions to ask before you hire a handyman advice page welcome