6 innovative ideas for your bedroom in 2021 guide, Home Style Advice, Space Tips
6 Innovative Ideas For Sprucing Up Your Bedroom in 2021
21 Jan 2021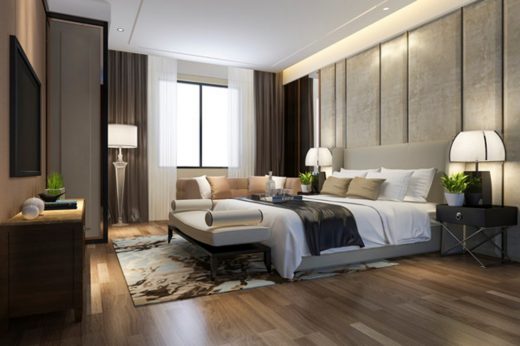 image source : www.freepik.com
Design aesthetics vary from person to person, but everyone deserves to live in a bedroom that is soothing and relaxing.
The selection of bedding, choice of color, home décor accessories are some of the elements that can help you craft a stylish bedroom.
Do you want to make your bedroom look as classy as possible but haven't got enough ideas? No worries, we've got you covered.
Here are some of the best ways of sprucing up your bedroom without exceeding your budget:
1.     Buy New Bedding
By far, buying new bedding is one of the easiest ways of sprucing up your bedroom. Your bed takes a significant portion of your room, so it has to be stunning by all the possible means. How about trying some printed and trendy comforter or bedsheet?
Once you buy them; bob's your uncle. You will see a significant change in your bedroom, and we bet you can't keep your eyes off it.
Expert opinion: At least wash your bedsheet once a week to make sure it looks as classy as possible.
2.     Pay Attention To The Bedside Tables
No matter how beautifully you've decorated your bedroom, there is no way it'll turn the eyeballs around if the bedside tables are not managed properly.
Decorating a bedside table is not expensive at all; however, you need to be creative to give it a desirable feel.
There is plenty of stuff you can place over your side tables like a lamp or an incense fountain for table decoration. Side table décor can help you grab every visitor's attention, and you'll surely receive compliments too.
3.     Keep It Light, But Keep It Bright
Have you ever noticed that white is the most used color in the latest home décor? Do you know the science behind it? White is one of the few colors that lend an expensive air and is known to make a place look upgraded.
If you have a room that is full of wallpapers and paintings, we recommend you replace them with a simple white paint to give it an enticing look.
Moreover, white color will simply go with home décors like shelves, posters, and frames. The bright the room – the better the look.
4.     Cozy Nook Is A Must-Have Thing
Do you want to add the "WOW" factor to your bedroom? There is nothing better than having a cozy nook (preferable near the window).
In that well-segregated corner, you can make yourself feel comfortable, read a book, watch a movie, and do plenty of other stuff.
Do you know the best part? Creating a cozy nook is not hectic at all. You just need to have an armchair, simple lamp, cushions, a rug, and your "quiet corner" is ready!
5.     Populate The Wall With Art And Crafts
We all want to decorate our bedroom without spending much, aren't we? Rather than buying new furniture and expensive stuff, how about you populate your wall with art and craft?
Not only will they make your place look staggering, but you won't have to empty your pocket too.
The use of frames, posters, and prints on your wall can change the entire environment of your bedroom. Haven't you seen gallery walls in the modern era?
These walls are trendy, so you should go for them. A music lover can hang a guitar on the wall, and it'll be more than sufficient to spruce up the bedroom.
6.     Declutter, Declutter, Declutter
Have you ever tried reorganizing the existing room's stuff to make your bedroom look not less than a sensation? No? You got to try it.
First of all, try to get rid of unnecessary stuff from your room. It'll not only provide a clear line of sight but help you manage your room in a systematic fashion. Just like you need to clean your house daily, it's compulsory to clean bedroom on a daily basis too.
Changing the placement of the study table, dressing table, and sofa can also do wonders when you are sprucing up your bedroom place.
6 innovative ideas for your bedroom Conclusion
A bedroom is a place where you spend most of your time, so it has to be perfect by all the possible means. We have given some ingenious ideas that can help you spruce up your bedroom without exceeding your budget.
We hope you like these ideas and implement them in your bedroom to make it look marvelous.
Comments on this guide to 6 innovative ideas for your bedroom in 2021 article are welcome.
Beds and Bedrooms
Bedrooms Posts
Ways to make your bedroom look like a million bucks
What was original purpose of headboards
How improving your sleep can improve your wellbeing
Home
Residential Architecture Articles
Comments / photos for the 6 innovative ideas for your bedroom in 2021 advice page welcome