4 Ways To Add Additional Space To Your Home, Property Style Advice, House Design Guide
4 Ways to add additional space in your home
Oct 12, 2020
The top complaint people have about their homes is that they don't offer enough space. And with the real estate market being what it is and hitting record highs, an increasing number of homeowners are attempting to find new ways to add extra living space to their homes rather than going through the stress and expense of moving out and switching homes. If this is a problem that you're currently facing and all of this sounds familiar, you're in the right place.
You might need the extra space because you've added more family members, you've started a home-based business, or perhaps you're adamant about transforming your place into your dream home.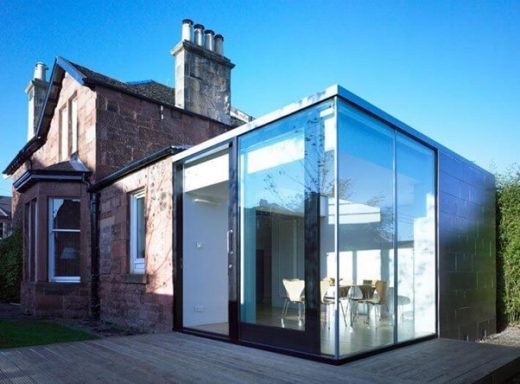 photo source : pixabay
While the reasons for expansions vary, one thing is sure. Adding that space to your home can be a pretty overwhelming and daunting task for everybody. Still, if you find just the right way to make the project happen, it can also be an unbelievably fun and rewarding project.
You can go out, you can go up, or you can transform the house that you already have. There are plenty of ways to add some usable square footage to your home and give yourself and your family more room to breathe.
In case you love where you live, there are no good reasons to sell and go somewhere else if you have the right expansion plans in place. With some creative thinking and advice from interior design professionals, you might be able to expand your home while at the same time making it a more stylish space to live.
In case you need the extra square footage, but you're not fond of putting your house on the market and moving on from your current home, here are our top four ways to add extra living space to your home.
Consider Adding A Single Storey Extension
Enlarging your residence with a single storey extension is a fantastic way to gain more space and connect your home with your garden. This type of home extension is advantageous if you're looking to add a large family-friendly open plan living space.
This cost-effective alternative to switching houses will undoubtedly allow you to design extra living space with a layout that accommodates how you use your home in a very cost-efficient manner.
The price of a single storey extension will predominantly depend on the size of the extension you want to build and the quality of the finish you will opt for. Small extensions come for as little as £20,000 for let's say a small side return extension with a basic finish.
Larger single storey extensions could come in the form of wrap-around extension with large amounts of glass in both the walls and roof and these could cost up to as much as £80,000 and more.
The average price of this type of house extensions is somewhere around £35,000, as this amount of money could give you a proper-sized rear or side extension and include the cost of a kitchen since it's the most common use for single storey extensions.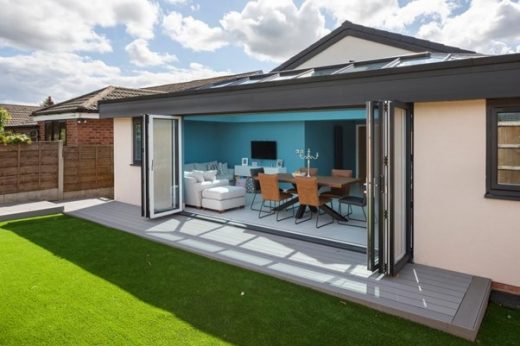 Photo from Pinterest
Contemplate Building Up
If you're not able to add an addition "out" onto your house like a single storey extension or your lot or neighborhood prohibits you, consider building "up" instead. Check with your local authorities if you need a permit to add a second floor to your home, a dormered attic space, or an apartment over the garage. Besides, building up can bring a new personality to your house and transform your whole curb appeal.
This popular way of adding additional living space to your home is especially great for spaces like garages. Consider adding a small in-law apartment or a suite for renters or guests, while maintaining full privacy in your own home. Consult with a renowned designer to ensure that your new space will seamlessly blend with your existing home's aesthetic.
Restructure And Transform Your Basement
Home basements are usually wasted square footage within each house that people use to store long-forgotten boxes, worn-out furniture, and holiday decorations. However, smart homeowners know that they can restructure and transform their old basements and add hundreds of liveable and beautiful square meters to their house.
Basements can be restructured and transformed into gaming spaces, entertainment rooms, wine cellars, second kitchens, bedrooms, offices, and studios. If you have kids, you can change your basement into an entertainment room for your kids during the week, and into a guest space on weekends and holidays. You can also add separate entrances, elevators, and almost anything you can dream of for your finished basement.
Gone are the days when basements had to be dark and damp. Today's basement transformations can be as airy and light as the other rooms on your main floor and upper rooms. With basement restructuring and transformation you might be getting the same amount of floor space as you'll get with a home expansion.
Do A Loft Conversion
Another great way to make use of the space you already have is a loft conversion. Besides, in addition to giving you extra room, a loft conversion can certainly increase your property's value up to 24% without having to gut your house. In many ways, loft conversions are less disruptive than other major house extensions and are more feasible.
It's essential to check if you have enough roof space for the loft conversion. Measure the internal height, check if your roof's pitch allows for the conversion, and ensure that the area you'll end up with will be worth the initial investment.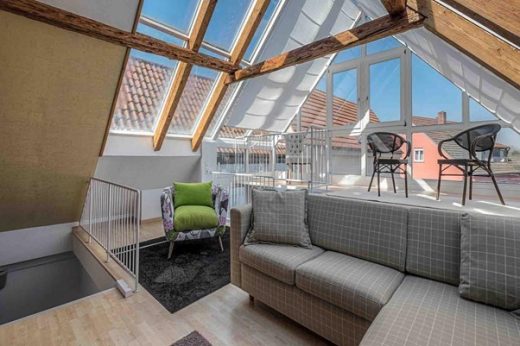 Photo from Pixabay
Final Words
There are many ways to gain square footage without selling your house and moving into a bigger one. Depending on your needs, preferences, and finances, you can start expanding your living space within your home by finding the appropriate home project to tackle.
Whatever project fits your home's needs, make sure to employ experienced professionals to undertake specific jobs like heating, ventilation, and all other essential things that go along with projects like these.
Comments on this 4 Ways To Add Additional Space To Your Home advice article are welcome.
Design Articles
14 Common Kitchen Design Mistakes to Avoid
How to design a kitchen: 10 essential design steps
What style of kitchen is perfect for your home
Building Articles
Comments / photos for the 4 Ways To Add Additional Space To Your Home Guide page welcome