What Style of Kitchen Is Perfect for Your Home Advice, House Interior Style Tips, Property Design Guide
What Style of Kitchen Is Perfect for Your Home
11 Sep 2020
A few years ago, the kitchen was a small space confined to the back of the house where dirty dishes were washed and meals prepared. In 2020, the kitchen has a more significant role than it had decades ago. Nowadays, the kitchen serves as a central focal point of the homestead and as a place filled with beauty and warmth. It is a venue where everyone meets at the start of the day or after a long day.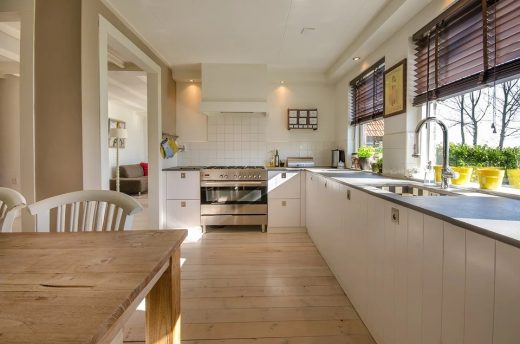 Irrespective of trending kitchen designs, the objectives of many homeowners still stand about the kitchen: everybody wants a comfortable and efficient workspace that looks nice and is good to cook in. On that note, this list uncovers the best ideal styles for your dream kitchen. Whether you want to remodel your kitchen space or plan a new one, your perfect dream kitchen starts here.
1.  The 'Painted Kitchen' Style
This is an ideal and practical style that offers a modern taste while still conserving the traditional look. This style encompasses both the architectural and furniture detail of your kitchen. This choice of kitchen design sits well with many homeowners since it combines well with the open concept remodel in kitchen in a house. An open-concept kitchen is ideal since there is more space and smooth traffic flow. Many kitchen styles that approach the 'painted kitchen' style choice rely on the ever-versatile grey color as the primary color, with slate grey and light grey being the most popular picks. When this style mixes with marble and concrete, then it will create a durable kitchen atmosphere that is classic and contemporary.
2.  Smart Kitchens Are Here with Us
In 2020, it's now possible to have a kitchen fully integrated with technology. Technology has stormed the kitchen in the form of fancy appliances and gadgets. A smart kitchen combines technology into every function and appliance – from the fridge to the lighting to the faucets. Experts have described these kitchens as an evolving aspect of technology. The perfect idea is to build a smart kitchen from the ground up. For existing older kitchens, smart gadgets and sensors can be added to suit your needs. A few smart add-ons to your kitchen include a smart oven that can suggest new cooking recipes and a smart faucet that you can ask to pour a set amount of water to refrigerators that can alert you via your smartphone when grocery or other items are running low. Also, update to a smart lighting system that allows you to control your tablet or smartphone lights.
3.  Eco-friendly Kitchens
In today's world, a big concern about environmental conservation is arousing interest in how to build eco-friendly gadgets that save energy with zero-emission. Eco-credential is a growing concern for many homeowners. By seeking out eco-friendly solutions, we can reduce the carbon footprint hence helping to build better homes of the future. This approach is attainable since many consumers have taken an ethical consumerism approach, with policymakers issuing guidelines on how to achieve the same goal. As a homeowner, you can take steps towards sustainable living by:
Adding recycling bins in your cupboard.
Installing a 3-in-1 hot water faucet
Using induction hobs to reduce the amount of energy use.
Look out for eco-friendly kitchen manufacturers who meet the requisite eco-credentials for their items.
4.  Colorful Kitchens
In the modern-day age, interest in vibrant yet tasteful colors in the kitchen is slowly growing. Many people are moving towards trendy colors, which never graced kitchens in the past few years. Mixing up vibrant colors such as deep purples and vivid greens with natural woodgrains is proving to be a popular pick with many homeowners.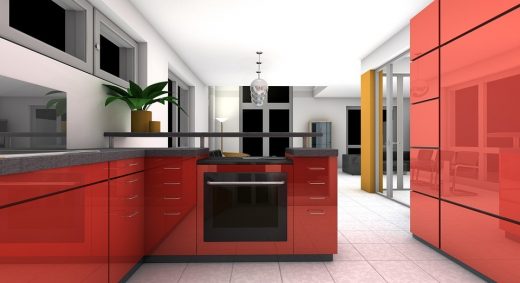 Many homeowners would go with the color green as it resonates well with nature, while also proving to be a classic contemporary style that embraces warmth and texture. Serene colors such as soft grey, sage green, and dusky pink also bring a refreshing and warm feel to the modern kitchen. You may again try a wine-inspired theme for your kitchen, which is a bold color choice that offers a friendly and warm feeling.
5.  The Curated Kitchen Style
Interior styling and designing have taken center stage in kitchen designs. Homeowners seek glazed cupboards and open shelving as they are well designed for a curated look and feel. These visual spaces are thoughtfully crafted and styled with decorative ceramics, cookery books, decorative ceramics, and other curiosities. This well-thought-out preference gives your kitchen a homely feel while complementing your overall personality.
In the modern-day age of digital lives and uncertainty, many people want a nostalgic space that is comfortable and secure where personal treasures and other items are within hands reach. Many homeowners are moving away from the old habits having to hide everything in cupboards and locked drawers. Instead, displays of silverware in glazed cabinets and racks is now a new trend.
6.  Kitchen Islands
The kitchen island concept is taking the industry by storm. Kitchen islands aren't something to be ignored since they turn out to be a kitchen hub and a focal point to your home. Adding a kitchen island is the perfect way to add space and extra storage in the kitchen space while creating the ideal space for a social place. Kitchen islands are outstanding, especially for a large room that works well in an open-plan setup.
Kitchen islands are a perfect and convenient way to separate the area between meal preparation, serving, and gathering. A few features have stood out with kitchen islands like dual sinks and the kitchen island dining table. The kitchen island dining table is an extension of the traditional island. It separates an isolated space for dining, socializing, gathering, and is a convenient option for your family and friends to cook, dine, and spend time together.
It's essential to understand your kitchen style requires more thought than just picking materials and colors. These tips mentioned in this article should give you an insight into kitchen styles but be sure to factor in critical aspects such as layout, space, budget, maintenance, and practicality when planning for your dream kitchen.
Comments on this guide to what style of kitchen is perfect for your home article are welcome.
Kitchen Design Style
Kitchens Style Posts
Unique design ideas for your kitchen
Kitchen design common mistakes to avoid
Bohemian style kitchen decor ideas for new homes
Building Articles
Contemporary Property Articles – architectural selection below:
Comments / photos for the What style of kitchen is perfect for your home advice page welcome