CharlesJames Developments, Builders Cardiff, Welsh Building Advice, House Tips, Guide
How to design a kitchen: 10 Essential Design Steps
28 Aug 2020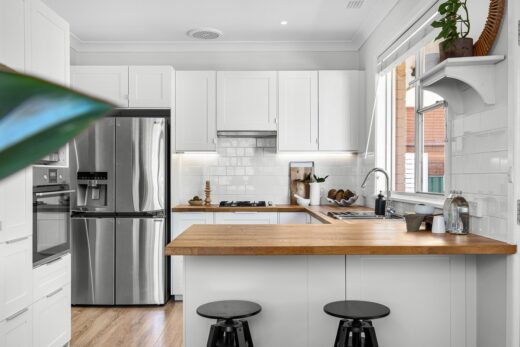 We do more than just preparing food in the kitchen; we hold discussions with family members and host our friends. Therefore, organizing the space and make it look beautiful is a great way to ensure that it is welcoming. We have shared ten steps that you can use to design your kitchen to look lovely. You can see more great ideas at Incredible Kitchens.
Kitchen Design Guide
Create a Budget
You might not be able to spend much, but you should examine your finances to figure out what you can use to redesign your kitchen. When creating a budget for renovation, try to stay a little below your figure to take care of unexpected emergencies.
Experts claim that home renovation typically repays between 80% and 85% of the total amount invested. Therefore, talk to your neighbours about the much they put on kitchen renovation so that you don't spend more than you will get back after selling your home.
Find The Best layout
The most common kitchen layouts include U shaped, G shaped, L shaped, gallery, and straight line. Note that the layout you pick should naturally fit your existing kitchen space unless you are ready to re-space it.
To find the best layout, you want to consider each item you will need in your kitchen. Also, create another list of things you will have to get rid of in your next kitchen. For instance, if you need an island bench, begin by working on your available space, move things around to see if you can achieve that. One means of finding the best layout is through enlisting the services of professional kitchen designer such as Charles James Developments based in Cardiff, South Wales.
Rework the Flooring
A good kitchen renovation should include redesigning the floor. But you can still maintain the current flooring if it is still in perfect condition, and the layout has not been changed. Ceramic tiles are standard these days for kitchen floors and are easy to lay parallel with the walls.
When giving a unique look, you might spend more to angle the tiles due to additional labour and waste. Laminated floors and hardwood can also be great alternatives, but you might need to place throw rugs in areas that tend to accumulate a lot of water.
Do Cabinetry Planning
Cabinetry plays an integral role when designing your kitchen. It reveals your style and hence, helps in proper planning. If you think carefully, you will have a cabinet that contains everything in a unique space. This is the time to choose whether your bowls and plates will go in large or small drawers.
Ask yourself whether you need pot drawers or if your cabinet will do great with divider drawers. Your cabinets should be carefully designed so that you don't struggle to find the things you need in your kitchen, such as knives, forks, spoons, plates, bowls, etc.
Hide Small Appliances
The first impression is made when you enter the kitchen, and you should make it as attractive as possible. Therefore, you must keep the counter-tops clear. The difference is enormous when the counter does not reveal rows of appliances. Besides, you will have lots of space while baking or cooking.
You should also consider having an appliance garage. These are storage cabinets featuring roll-up fronts that retract like garage doors. Talk to your interior designer and make sure that they make these things to help you keep away small appliances.
Create Continuity
Open floors have become quite popular these days. Most kitchens can be seen from the rest of the living room, and they need to be given the best design possible. Though we have mentioned a few things that can make your kitchen stand out, there might be a few more to do.
Think about the large bulky appliances in your kitchen. These days, most appliances come with integrated panel options, but they cost a little more. Therefore, consider hiding your appliances in panels to have a bright, continuous look in your kitchen.
Select Fittings and Appliances Carefully
Your kitchen appliances and fittings are some of the things that cost a lot of money. You probably have more appliances to consider, such as a cook-top, oven, coffee machine, microwave, etc. Based on your kitchen's original design, it is vital that you carefully pick matching appliances and fittings.
Once you have picked the right appliances, make sure to put together accurate measurement and power requirements. These details are essential because your kitchen designer will need to use them.
Consider the Lighting
Proper lighting is an important thing to consider when designing your kitchen. Think about blending the look you want and the light that you need for your cooking space. Besides the standard ceiling design, there are recessed fixtures that can help focus on where it is needed within your kitchen.
Consider Your Electrical Needs
The electrical needs have a close relationship with the appliances in your kitchen. This includes your ventilation, lighting, and heating. Based on the appliances that you choose, it might be necessary to upgrade the power coming into your kitchen.
Consider Dining Tables and Bar-stools
These are the items that make your kitchen look more like a family space. Therefore, based on the amount of space you have and the kitchen's overall design, pick dining tables and bar-stools that would effortlessly match the theme. There is a wide range of bar-stools that you can choose from, and they are sold at different prices. Even as you acquire them, make sure to stay within the budget.
How to design a kitchen – Bottom Line
Note that people use their kitchen differently. Thus, what works for someone else might not work for you. However, with the tips shared above, you can be sure to change your kitchen space into a piece of paradise.
Comments on this How to design a kitchen: 10 Essential Design Steps advice article are welcome
Kitchen Design
Kitchens Posts
Unique design ideas for your kitchen
Bohemian style kitchen decor ideas for new homes
Tailoring to your needs with a bespoke kitchen
Interior Designs
14 Common Kitchen Design Mistakes to Avoid
Common Kitchen Design Mistakes
Kitchen Countertops: Tiling & Backsplash Design
Kitchen Countertops Tiling & Backsplash Design
Comments / photos for the How to design a kitchen: 10 Essential Design Steps by Charles James Developments page welcome