Teeple Architects, Toronto Architect Studio, Building, Photos, Ontario Design Office
Teeple Architects Toronto
Toronto Architecture Practice, Ontario, Canada – Office News
post updated 26 Jan 2021
Teeple Architects News
Teeple Architects News
1 Aug 2019
Nunavut Arctic College Nunatta Campus Expansion, Iqaluit, Canada
Design: Teeple Architects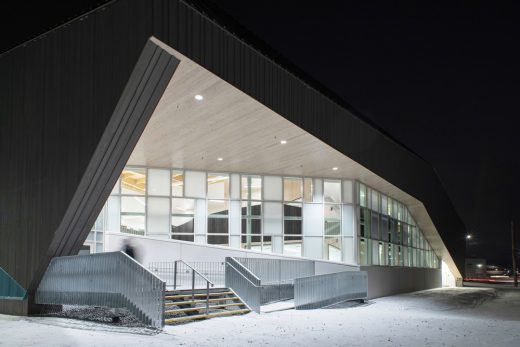 photo : Julie Jira
Nunavut Arctic College Nunatta Campus Expansion
23 Aug 2018
Bianca Condos, 420 Dupont Street, Toronto, Ontario, Canada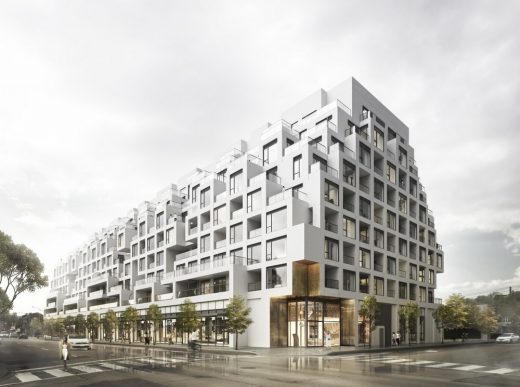 image : Pureblink
Bianca Condos
Bold in its architectural expression, Bianca is a nine-storey boutique mid-rise condominium featuring a contemporary, all-white façade and terraces that provide sweeping views of the neighbourhood. An artificial hillside is created by sloping the south side of the building that faces Dupont Street.
5 Jun 2018
Stephen Hawking Centre, Perimeter Institute for Theoretical Physics, Waterloo, Québec, Canada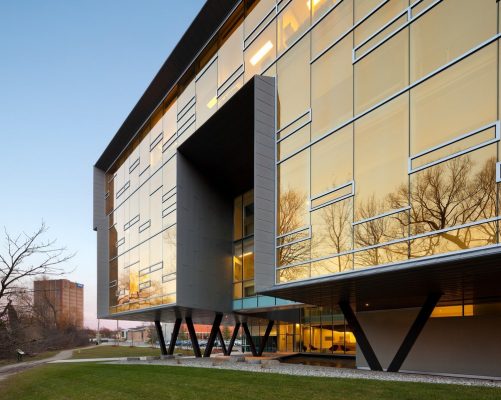 photograph : Scott Norsworthy
Stephen Hawking Centre in Waterloo
The design strategy focused on an idea of "organized collision": fostering collaboration by artfully combining dynamic physical and visual interconnectivity with a variety of ideal work environments – from quiet spaces for private contemplation and mathematical calculations, to blackboard nooks in circulation space, comfortable dedicated interaction areas, and formal presentation rooms.
Quinte Technology Enhanced Learning Complex, Loyalist College, Ontario, Canada
Teeple Architects Inc.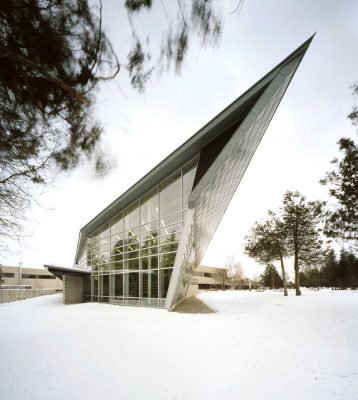 photograph : Tom Arban
Loyalist College Belleville
Teeple Architects – Key Projects
Featured Building by Teeple
Sherbourne Park Pavilion, Toronto, Ontario, Canada
2009-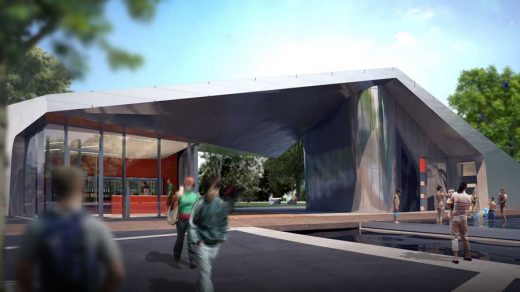 image from Teeple
Sherbourne Park Pavilion
More projects by Teeple Architects online soon
Teeple Architects – Current Designs
Langara College (Vancouver, B.C.) master plan completion:
– Creative Arts Building
– Gymnasium
– Building B renovation
Perimeter Institute for Theoretical Physics, Waterloo, Ontario
Sherbourne Park Pavilion, Waterfront, Toronto, Ontario
Georgian College Health and Wellness Centre, Barrie, Ontario
Simcoe County Administration Building, Barrie, Ontario
Clergue Elementary School, Sault Ste. Marie, Ontario
Hornepayne School, Hornepayne, Ontario
Waterloo Library and YMCA, Waterloo, Ontario
Durham College Student Services Expansion, Oshawa, Ontario
Milliken Park Community Recreation Centre, Toronto, Ontario
Clareview Community Recreation Centre & Library, Edmonton, Alberta
Cossette Communications Group Offices, Toronto, Ontario
M5V Condominiums, Toronto, Ontario
"Giraffe" Condominiums, Toronto, Ontario
Neilas Shepherd Road Condominium, Oakville, Ontario
318 Richmond Street West Condominiums, Toronto, Ontario
Port Hope House, Private Residence, Ontario
Neilas Private Residence, Toronto, Ontario
Teeple Architects – Select Projects 2003-09
Langara College Building C and Student Centre, Vancouver, B.C.
60 Richmond St. East, Toronto Community Housing Corporation, Toronto, Ontario
Montrose Cultural Centre, Grand Prairie, Alberta
Sisters of St. Joseph Convent, Peterborough, Ontario
Langara College Library and Classroom Building, Vancouver, B.C.
Scarborough Chinese Baptist Church, Toronto, Ontario
Morningside Heights Public School Redevelopment, Toronto, Ontario
Plastic Surgery Clinic, Mississauga, Ontario
Niagara Region Headquarters Office Building Addition, Thorold, Ontario
Jane-Dundas Library Renovation, Toronto, Ontario
Duncairn House, Toronto, Ontario
Chandler Mowat Community Centre, Kitchener, Ontario
Beausoleil First Nation Community Sports and Recreation Centre, Christian Island, Ontario
Burlington Central Library, Burlington, Ontario
Northern Ontario School of Medicine, Lakehead University, Thunder Bay, Ontario
Mnjikaning First Nation Early Learning Centre, Rama, Ontario
Stauffer Library Learning Commons, Queen's University, Kingston, Ontario
Brant Hills Community Centre and Tyandaga Branch Library, Burlington, Ontario
Heathdale House, Toronto, Ontario
St. Joseph Media Office Renovation, Toronto, Ontario
Pachter Residence, Toronto
North Campus Building, University of Western Ontario
Science Complex, Trent University, Peterborough, Ontario
East End Community Health Centre, Toronto, Ontario
Arnie Lowenberger Residence, Brock University, St. Catherine's, Ontario
Parrott Centre (Information Resource Centre), Loyalist College, Belleville, Ontario
Early Learning Centre, University of Toronto, Toronto
Thorncliffe Park Elementary School, Toronto, Ontario
Teeple Architects – Practice Profile
As one of Canada's top architectural firms, Teeple Architects is known for projects of exquisite spatial, material and textural composition. While the firm is well recognized for its iconic projects these evolve from the initial drive to provide practical solutions that respond to the client's needs and aspirations. Innovation and creativity are complemented by exceptional service that encourages a participatory design approach and a commitment to the entire construction process. The result is buildings of true architectural excellence which are efficient to operate and well adapted for day-to-day inhabitation.
Teeple Architects engages in a dynamic design methodology that balances practical considerations with a strong conceptual foundation. It begins with the specific context of each project such as the nature and opportunities of the site, the climate, a deep understanding of the inhabitants, their activities and preferences as well as budget and schedule. Stephen Teeple: "It is the relationship between the constructed idea and its origins that we find to be the intellectually and emotionally engaging aspect of architecture. To experience architecture is to witness its unraveling, to see before oneself the exposure of the constructed idea and to understand the conditions for its presence".
The firm believes in the value of a broad architectural practice and to this end, has completed work in all major architectural fields including commercial, institutional and residential applications. Numerous projects encompass public spaces including community and recreation centres, libraries, schools, university buildings and urban parks. Private projects include religious buildings, clinics, high-end residential homes and corporate interiors as well as condominium and town house projects. Overall, Teeple Architect's body of work is conceived in critical relation to the language of modernism in an attempt to extend and further enrich its expressive force.
Teeple Architects has received five Governor General's Awards, Canada's top architectural recognition. These were for the Scarborough Chinese Baptist Church (Toronto, 2008), The Chemical Sciences Building (Trent University, 2008), the Addition to the Albert A. Thornbrough Building – College of Engineering & Physical Sciences (University of Guelph, 2002), the Burt C. Matthews Hall Addition (University of Waterloo, 1997) and the Trent University Childcare Centre (Trent University, 1994). The firm is regularly recognized by the Canadian design community with awards from the Ontario Association of Architects, the Design Exchange and various municipal governments.
Sustainable Expertise
As recipients of the Holcim Award for Sustainable Construction (2005 – Langara College Library, Vancouver, B.C), Teeple Architects demonstrates its willingness to rethink the art of architecture and the ecology of buildings. The firm believes that the ramifications of a sustainable approach to building reach well beyond the sphere of good practice to inform the conceptual essence of each work of architecture. As such, sustainable design is a challenge to rethink the art of architecture. Indeed, in the work of Teeple Architects, environmentally conscious design has become an integral consideration in the formulation of architectural ideas and in the spatial experience embodied in each completed project – virtually every new project is undertaken with the goal of achieving LEED certification.
Location: Toronto, Ontario, Canada
Toronto Architects Practice Information
Teeple Architects Inc. studio based in Toronto, Ontario, Canada
Canada Architecture Design – chronological list
Select Awards by Architecture Firm (2003-09)
2009 Canadian Architect Award of Merit – Sherbourne Park Pavilion
Mississauga Urban Design Awards – Award of Excellence – The Plastic Surgery Clinic
2008 Governor General's Medal – Chemical Sciences Building, Trent University
Governor General's Medal – Scarborough Chinese Baptist Church
Ontario Association of Architects Architectural Award of Excellence – Scarborough Chinese Baptist Church
SAB Award – Langara College Library + Classroom Building
2007 Canadian Architect Award of Excellence – 60 Richmond St. E. Housing Cooperative
Ontario Association of Architects Design Excellence Award – Pachter Residence
Charles Pachter PLACHTA Award
Design Exchange Award – Residential – Pachter Residence
Design Exchange Award – Commercial – St. Joseph Media
2006 Ontario Association of Architects Architectural Excellence Award – Honourable Mention – Chemical Science Building, Trent University
Ontario Association of Architects – Honourable Mention – St. Joseph Media/ Category – Interior Design – Commercial
Design Exchange Awards – Residential – Pachter Residence
2005 Canadian Architect Award of Excellence – New Library and Classroom Building, Langara College
Holcim Awards Acknowledgement 2005/ North America/.Award for Library and Classroom Building, Langara College – Holcim Foundation for Sustainable Construction
Wood Works Building the Future – Architect Award
Wood Works Design Award – Heathdale House
Best of Canada Design Competition – Presentation for Outstanding Creativity and Excellence in Design – St. Joseph Media Headquarters and Bensimon Byrne.
Ontario Association of Architects – Bronze – Early Learning Centre
Ontario Association of Architects – Honourable Mention – Heathdale House
2004 Ontario Library Association Award (New Library) – Ajax Central Library
Ontario Library Association Award (Renovation) – Preston Branch Library
2003 City of Toronto Architecture & Urban Design Award – Eatonville Public Library
City of Cambridge Urban Design Award – Preston Branch Library
Canadian Architect Award of Merit – New Academic Science Complex, Trent University
Canadian Architecture
Comments / photos for the Teeple Architects Architecture page welcome
Website: www.teeplearch.com