Maggie's Centre Aberdeen, Royal Infirmary Snohetta Building, Foresterhill Project Design
Maggie's Aberdeen Royal Infirmary
Aberdeenshire Healthcare Building, Northeast Scotland design by Snøhetta Architects
post updated 2 Jan 2016 ; 31 Oct 2013
The new Maggie's Centre in Aberdeen has been awarded a Commendation by Aberdeen's Civic Society
Design: Snøhetta, Architects – based in Oslo, Norway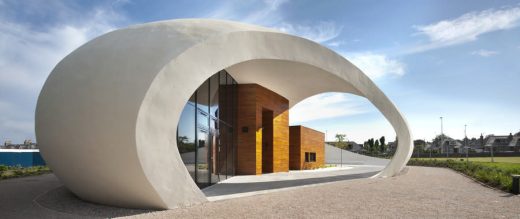 Photos by Philip Vile
Maggie's Centre Aberdeen Award News
Maggie's Aberdeen Is Awarded Commendation From Civic Society
Maggie's Aberdeen at the Elizabeth Montgomerie Building, designed by world renowned Norwegian architects Snøhetta working in association with architects Fraser Halliday Munro, was selected for the commendation in the Craftsmanship and Design category at the Aberdeen Civic Awards.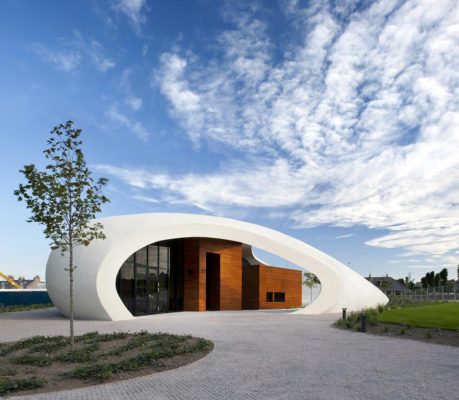 Robert Greenwood from Snøhetta said: "The Maggie's Centre has been a particularly meaningful project for Snøhetta to be responsible for. The emotional content and high aspiration from Maggie's has been a great motivation to our team. It is not often that we have the opportunity to work on a project that in every way transgresses the boundaries of most buildings, allowing the rich interior spatiality to form and shape the exterior shell.
"We are very grateful for all the support we have received from both Laura Lee and Maggie's, Ian Thomson and the team in Aberdeen and from all of the supporters of the center whose donations have made this building possible."
The Maggie's Centre at Foresterhill, next to the Aberdeen Royal Infirmary, was opened by HRH Sonja, Queen of Norway, and Maggie's President, HRH the Duchess of Rothesay, in September.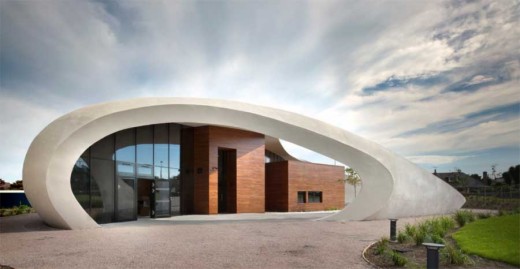 Golfer Colin Montgomerie, whose mother the building was named after, was also present on the day.
He established the Elizabeth Montgomerie Foundation in 2007 in memory of his mother, Elizabeth, who died of cancer in 1991.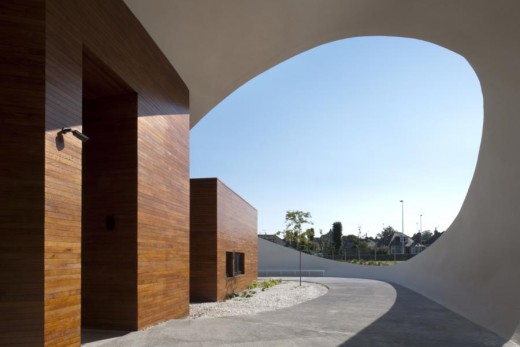 Working with Maggie's Colin set up an influential and committed local board in April 2012 to drive forward EMF's Monty's Maggie's Appeal to raise the £3 million needed to build a Maggie's in Aberdeen. The board is spearheaded by appeal Chairman Colin Welsh, CEO of Simmons & Company International.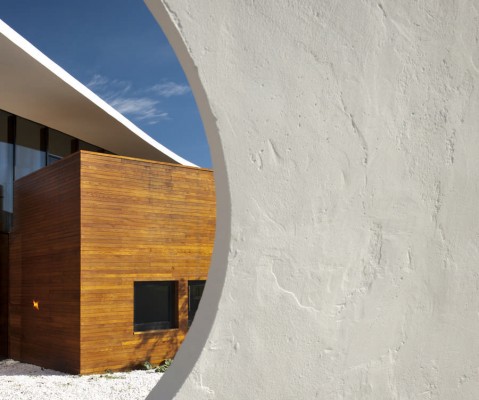 Golfer Colin said: "It is wonderful to hear the Civic Society has honoured Maggie's Aberdeen at the Elizabeth Montgomerie Building in this way.
"It is an incredible building carrying out vital work and I am truly honoured to have played a part in bringing it to Aberdeen and to have it named after my Mum."
EMF is also committed to raising funds for a new Maggie's Centre in Lanarkshire on which work began in April 2013.
Maggie's Centres are places that help to support people with, through and beyond cancer. Each one is distinctive and different, and yet each offers the same informal, comfortable surroundings that make it easy for those dealing with the trauma of cancer to engage with professional help and connect with others going through a similar experience.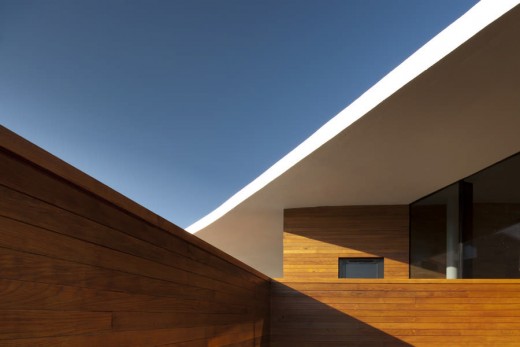 This is why each Maggie's building is so special and why Maggie's chooses the most imaginative and talented architects of our day, because they are a critical component of what Maggie's does.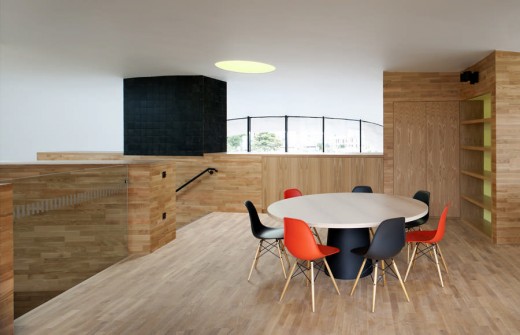 Maggie's Aberdeen Centre Head Susan Sutherland said: "It is a great honour for Maggie's Aberdeen to receive this commendation from the Civic Society, especially as we at Maggie's understand what a huge part our buildings play in enhancing our unique programme of support to people with cancer as well as their friends and families.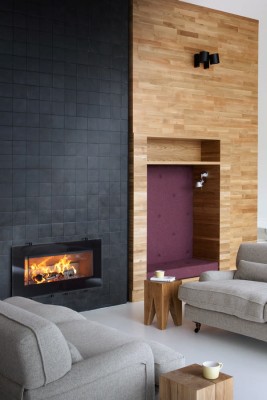 "As Centre Head it was also a huge privilege to be present at the awards ceremony with Bjørg Aabo from Snøhetta on behalf of Maggie's and I know being commended by the Civic Society will help greatly in spreading the word about the support Maggie's has to offer."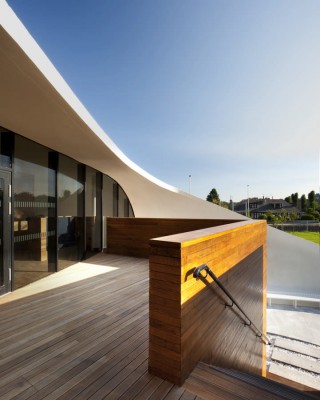 Speaking on behalf of the Aberdeen Civic Society Alex Urquhart said: "The committee were impressed by the novel and impressive design of Maggie's Aberdeen and were particularly impressed by the quality and workmanship taken with such a different design."
New photos of this building in Aberdeen by Snøhetta:
24 + 23 Sep 2013
Maggie's Centre in Aberdeen
Official Opening of SNØHETTA`S Maggies Cancer Caring Center
Design: Snøhetta, Architects – based in Oslo, Norway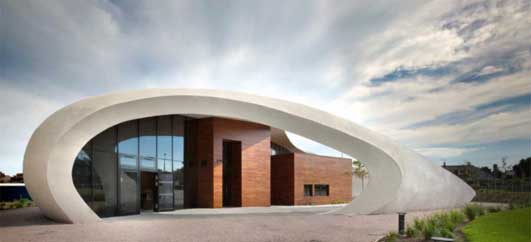 photo from architects
Maggies Cancer Caring Center was officially opened on September 23, 2013.
Maggie's Aberdeen at the Elizabeth Montgomery Building is located at Aberdeen Royal Infirmary, Foresterhill Hospital and was built as a part of the Elizabeth Montgomery Foundation fundraising campaign.
The Maggie`s Centre is not a treatment Centre but a place where individuals can meet, connect and receive help and guidance. The number of visitors will be varying throughout the day.
Location
Located on the Southern boundary of Forester Hill Hospital Maggie`s Cancer Care Centre is a free-standing Pavilion at the edge of the Westburn field. This open green field situation is suitable for Maggie`s Centre since it is one both connected to the hospital whilst at the same time being set apart and independent. Nestling in the row of trees marking the course of the Westburn, the Maggie`s Centre enjoys views across the field and ample sunlight from the south and west.
Architecture
The building is conceived as a pavilion in its parkland setting. The soft exterior form envelops the whole of the centre and defines the courtyard garden. The exterior shell creates the framework for the centre and sculpts the main spaces, whilst the timber interior buildings create to more intimate rooms and spaces that the Centre requires. The centre is primarily on one ground floor level with a smaller mezzanine area devoted to the office functions. The building is approximately 6m above the existing ground level.
Landscape
The most important landscape aspect to the grass covered field within which the Centre sits. The texture and cutting pattern of the grass is proposed developed to form a large-scale pattern within which the pavilion building forms an integral part. The existing tree line along the Westburn is to be retained and strengthened by new planting of maple trees to the western end.
To mark the entrance, a group of Beech trees are planted, contrasting in colour and texture to the existing trees. The external technical area is enclosed by a hedge of English Yew and the solar array panels are integrated into the general landscaping pattern.
The courtyard garden is at the heart of the centre and forms a secluded outdoor space. The courtyard is covered with a mix of hard and soft surfaces. The in-situ concrete paving around the edge frames a soft ground cover and centrally planted Flowering Cherry tree.
"It is a great honor for Snøhetta to design the new Maggie`s Centre in Aberdeen. For Snøhetta the relationship between form and content is central to the development of our architecture, and we are proud to have been working together with Maggie's rising to the challenge demanded by this building that is small in size but immeasurably larger in content", says Kjetil Trædal Thorsen, partner and co-founder at Snøhetta.
Maggies Cancer Caring Center Aberdeen images / information from Snohetta
14 Sep 2012
Maggie's Centre Aberdeen
Robertson commences work at new Maggie's Centre in Aberdeen
Design: Snøhetta, Architects – based in Oslo, Norway
Robertson, the infrastructure, construction and support services company, has started work on the new Maggie's Centre in Aberdeen.
Maggie's Centre Aberdeen: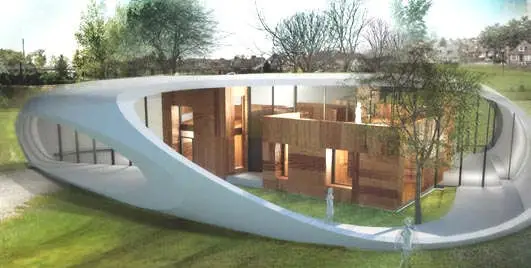 image from architects
The new centre is being built at Forester Hospital in Aberdeen through an ambitious fundraising campaign by Maggie's and the Elizabeth Montgomerie Foundation (EMF), which was founded by golfer Colin Montgomerie in memory of his mother.
Construction will last just over 40 weeks, with completion expected by June 2013. The contemporary building was designed by Snohetta, the Norwegian architects behind the National September 11 Memorial Museum Pavilion in New York, alongside Aberdeen-based firm Halliday Fraser Munro.
The new Maggie's Centre is the latest in a line of health-related construction projects for Robertson, which is currently building the new Emergency Care Centre in Aberdeen.
By the time the Maggie's Centre is five years old it will support up to 40% of all new people diagnosed with cancer in the Aberdeen and wider Grampian area each year.
Keith Taylor, regional managing director of Robertson commented: "The new Maggie's Centre will help thousands of people in Aberdeen. The contemporary design of the building makes it an interesting project in terms of construction and will lead to an extremely tranquil, positive environment for people with cancer and their families.
"Around 40 Robertson staff will be involved in the construction and as always we will be using local expertise and skills whenever possible. This centre will be a real asset for Aberdeen and we're very proud to be involved."
Laura Lee, chief executive of Maggie's, commented: "Our new centre will be located on the grounds of the hospital, just a stone's throw away from where people are being treated for cancer; and we will have a uniquely designed building, providing a welcoming and inspiring atmosphere to visitors.
"The fundraising campaign for the new centre, which is ongoing, has had terrific support so far and it's really exciting that construction work has now started on site. We are proud to bring Maggie's to Aberdeen and to be part of such a good support network for people affected by cancer across the region."
Robertson has vast experience in the healthcare sector, delivering construction and facilities management projects to hospitals, GP surgeries, dental health centres, psychiatric hospitals and centres for charities such as the Scottish Spina Bifida Association.
Maggie's Centre Aberdeen image / information received 140912
20 Dec 2011
Maggie's Aberdeen Healthcare
Maggie's Aberdeen Cancer Care



image from architects
Maggie's Cancer Caring Centre Aberdeen : background information
Maggie's Aberdeen images / information from Snohetta
Maggie's Aberdeen design : Snohetta – Norwegian architects
Maggie's Cancer Care Centre Buildings
Location: Aberdeen Royal Infirmary, Foresterhill, Aberdeen, Northeast Scotland
Aberdeen Buildings
Aberdeen Architecture Design – chronological list
Maggies Centre : Buildings



photo : Martine Hamilton Knight
Aberdeen University Library
Schmidt Hammer Lassen Architects



photo © Niels Lomholt
Union Terrace Gardens Design Contest
Robert Gordon University Garthdee Campus
BDP architects
Comments / photos for the Maggie's Centre Aberdeen – Snøhetta Scotland page welcome